Andy Hills Has a Bluff Catcher, But Can He Call?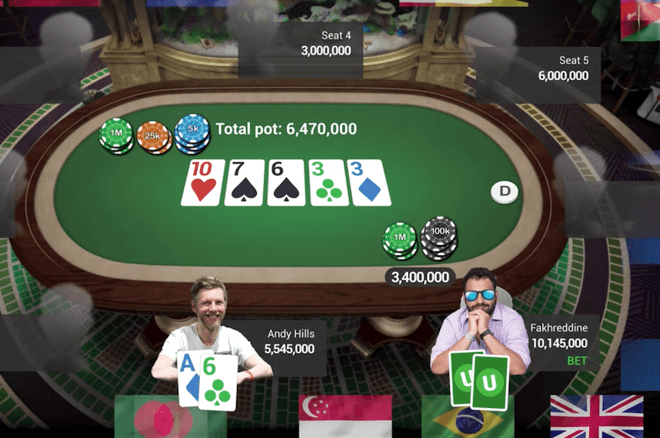 UK poker pro Andy Hills has collected over $1 million in tournament winnings, and in 2019 alone has cashed in 18 different countries. He's also terrific with hand analyses — and he is sharing a great one with us today together with the guys from The Chip Race.
The hand took place during the Battle of Malta late last year, a key one played by Hills on his way to a final-table finish in the event.
With 15 players left and the stakes 80K/160K/160K, action folded around to Abdalah Fakhreddine in the small blind who raised to 480,000, and Hills called in the big blind holding
. At the time Fakhreddine was among the chip leaders with about 15M at the beginning of the hand while Hills had 7M to start.
Hosts David Lappin and Dara O'Kearney agree with the call, while Hills expresses some trepidation about the situation. The flop then fell
and both players checked, with Hills explaining his motivation at this point to keep the pot small.
The
fell on the turn, Fakhreddine bet 975,000 (a big bet of more than 85 percent pot), and Hills called. Here Hills points back to an especially quick flop check as having suggested to him his opponent wasn't slow playing a big hand.
With just over 3 million in the middle and Hills with a little more than 5.5 million behind, the river
completed the board and Fakhreddine made a big overbet of 3.4 million.
"He's now extremely polarized," says Hills, noting how his opponent's bet signaled he was either very strong or very weak, which meant Hills had to decide whether or not to call with his bluff catcher.
Watch and listen as Hills and The Chip Race hosts discuss factors affecting this close decision, including the tournament situation, the relevance of his opponent being an amateur player (with a big stack), Hills' live reads and use of table talk, and other factors.
The Chip Race is a weekly podcast sponsored by Unibet Poker, and can be heard on iTunes and anywhere else you listen to podcasts. Follow David Lappin on Twitter @dklappin and Dara O'Kearney @daraokearney.