Caught Off Guard: Three-Betting Without a Plan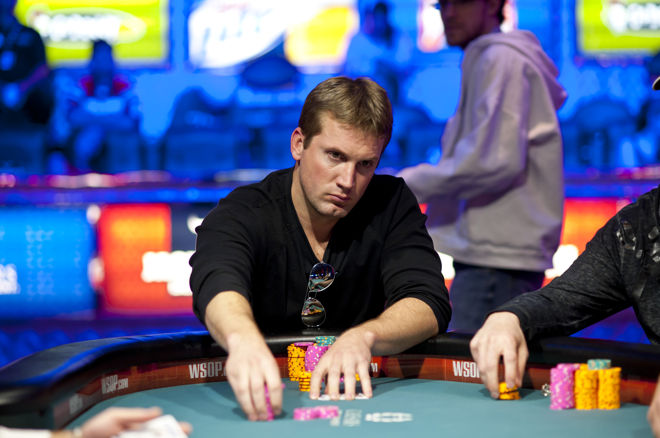 Covering live poker tournaments for a living affords me the opportunity to see countless thousands of hands played out, many of which offer interesting and potentially valuable insights into how players — both amateurs and professionals — play the game. In this ongoing series, I'll highlight hands I've seen at the tournaments I've covered and see if we can glean anything useful from them.
The Scene
After the deep run in the $365 reentry at the World Series of Poker Circuit Horseshoe Council Bluffs — where I had a big stack late but fizzled out and finished 20th — the next big opportunity for a score was the $1,675 Main Event.
It was Day 1b of the Main Event, and after busting out on Day 1a, this was my last chance to put some chips in a bag and give myself a sweat for Day 2.
I had managed to work up a decent stack of about 50,000 with blinds and antes at 300/600/75. One player who had just sat down two seats to my right and had played only a hand or two was Scott Stanko, who had won this same event in 2012 and has collected about $369,000 in tournament cashes. (That's Stanko pictured above, making a bet at a WSOP event.)
The Action
Stanko was in middle position, and when it folded to him he opened for 1,200. I looked down at
in the cutoff and reraised to 2,800, and the players behind me got out of the way. Stanko thought for a little bit and then said he was all in for just under the starting stack of 20,000.
After thinking myself for a while and studying Stanko in a futile effort to get some sort of read, I decided to fold.
Concept and Analysis
Three-bet or just call with a strong but not nutted hand in a good position against a player we don't know anything about? That's the essential question in this hand, and one for which I probably came up with the wrong answer.
The first consideration is stack depth. Stanko was a little more than 30 big blinds deep.
-suited is a great hand, and one you can comfortably get that many blinds in with in certain situations — say, when facing an aggressive opponent in a button vs. blind battle. (Recall, here he was middle position and I was in the cutoff.)
Then there's the possible strength or weakness of my opponent's hand. I haven't really seen my opponent play a hand yet, so I have no idea if he's opening light or not. Furthermore, he's not necessarily in a position like the button or cutoff where you expect lots of players to be playing wide ranges.
However, this is a player whom I was aware has put up some decent results and those players tend to be more on the aggressive side. And it's not like he was under the gun. All in all, I just don't have that much information on how he plays.
Finally, there's the mental, intangible side of things. One factor that initially made me want to three-bet here is that this was the first hand my opponent had played. I figured since he hadn't seen me do anything yet, he'd be more likely to give me credit. Plus, I expected him to only be shoving super-strong hands as most players aren't going to want to go bust right after buying in to a tournament.
Then again, some players don't mind that at all, and there's a very decent chance Stanko could be in that category. After all, he had banked a six-figure score when winning this event in 2012 and had another similarly-sized score from a WSOP final table. He likely wouldn't be too bothered if he went bust.
Overall, this was just a conundrum that resulted from a lack of planning.
-suited is a hand with tons of postflop playability, and one that can also be played aggressively preflop. It's important to have a mental map of what branches on the decision tree you'll be faced with when opting for a certain path, and I should have been ready for the possibility of a shove.
The fact that I was caught off guard and faced with either calling off 30-plus big blinds or dumping a strong hand and wasting the equity it had in position means I probably shouldn't have been three-betting in the first place.
Want to stay atop all the latest in the poker world? If so, make sure to get PokerNews updates on your social media outlets. Follow us on Twitter and find us on both Facebook and Google+!