Dealer's Choice Poker Strategy with the 2016 WSOP Champion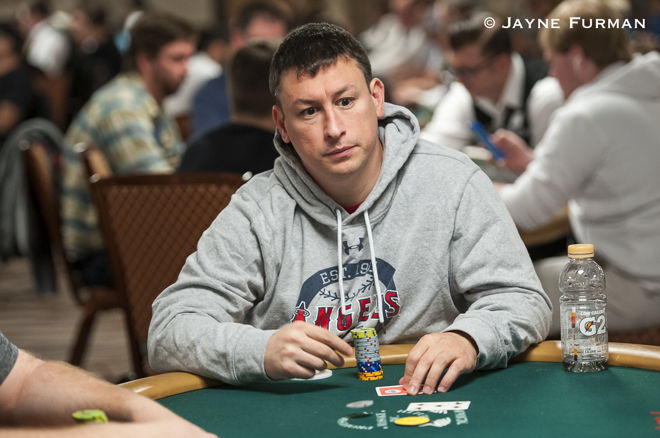 Larry Berg knows a few things about games other than hold'em. The 39-year-old Pittsburgh native notched his first bracelet in 2016 in the $1,500 Dealer's Choice 6-Handed event for $125,466. The 2017 event kicked off on Monday and the $10,000 version of the tournament set for Thursday. In an event featuring a double-digit number of games that could possibly be dealt, certainly knowledge of at least most of the games and having some insight into what to expect might help prepare for the barrage of varying forms of poker.
Berg, who grew up like many playing "dealer calls" poker with all kinds of random games, spoke with PokerNews about his views on how to play an event like this. He doesn't necessarily have a certain strategy going into this event, but the ability to adapt and alter a line of thinking certainly helps. A good general body of knowledge about poker also helps.
"I play a lot of mixed games in casinos, so I'm playing a lot of these games regularly," he says. "I just go and play, I don't necessarily 'prepare' for tournaments. But this tournament's definitely a lot different from all the other ones because there's so many different games. You don't know what game you'll be playing mostly depending on your table and what they pick and what you pick. It's not like H.O.R.S.E., where you know what games you'll be playing."
Know Your Game and Adapt
Players should use the format to their advantage, he says, picking games that suit their skills and that they know best. Picking a less familiar game is simply a good way to siphon off valuable chips.
However, another key is the ability to adapt and pick games that you notice others at the table may be less experienced at or seem to struggle and have less interest in getting involved in hands.
"I pick the games that are better for me, unless I see someone making really big mistakes at the other games that someone else picks"
"I pick the games that are better for me, unless I see someone making really big mistakes at the other games that someone else picks," Berg says. "Then I'll just picks those games."
When it's his turn, Berg often picks Big O or Badeucy. Big O is a form of Omaha Hi/Lo 8 or Better, in which players begin with eight cards instead of the traditional four. The extra card adds even more gamble to the game. In Badeucy, players are dealt five cards and pots are split between the best Badugi hand (using only four cards) and best 2-7 Lowball hand. In Badugi, players try to make the lowest hand, all of differing suits, with the best hand being A-2-3-4. But in Badeucy, because it is a split between between 2-7 (in which aces are always high) and Badugi, the best hand Badugi hand in Badeucy is 2-3-4-5 of differing suits.
Got all that? One could see where a deeper understanding in these games might be of use in an event like this. Knowing the intricacies of some of these more obscure games gives players an advantage, which is important to exploit.
"They're rarely played by regular poker players who don't play mixed games," says Berg, who now live in Orange County, Calif. "They're two very different games that I feel like I'm good at and I think that people make a lot mistakes in those games."
Some less-experienced players tend to pick games seemingly at random, Berg says, or those that just seem like fun after another player may have chosen it, which doesn't work in their favor. They may have enjoyed the game or even won a pot, but it still may not be a game they have experience playing and may prove costly if they continue playing it and make some mistakes along the way. In other words, the Dealer's Choice is not a tournament to learn new games and play them on the fly.
Know the Format
It's also important to understand the differing blind and ante structures of the differing types of games. Berg points to a specific example from last year's tournament in which a player made a key game selection mistake in regards to antes that proved costly.
"Last year, we were really deep, maybe 24 left and this guy was really short and he had the button," Berg says. "We redrew tables and he could have picked a game where he could have seen like six hands without an ante, but instead he picked a stud game where you ante every hand, so he had to get it all in on his first hand. That was a pretty big mistake by him."
The player lost the hand and was out – missing an opportunity to extend his seat in the tournament a few more hands.
"He missed a chance to double up and then you never know what could have happened," Berg says. "He could have seen like six free hands without putting any money in and picked the best one to go with. Instead, he anted so he was pretty much committed on his first hand."
The tournament has been played since 2014 and has been well-received by players. Playing the in the Dealer's Choice? Click here to see the entire structure sheet and get your game together. Good luck!
Be sure to complete your PokerNews experience by checking out an overview of our mobile and tablet apps here. Stay on top of the poker world from your phone with our mobile iOS and Android app, or fire up our iPad app on your tablet. You can also update your own chip counts from poker tournaments around the world with MyStack on both Android and iOS.