Do You Continue Value Betting or Go for Cheap Showdown When Turn Completes Flush Draw?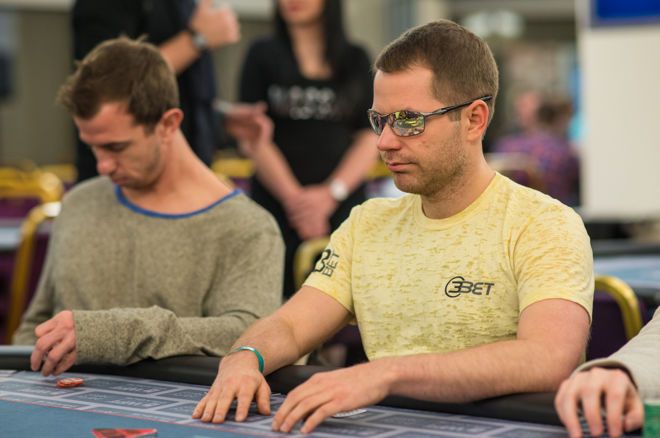 When I played the $5,000 buy-in Seminole Hard Rock Poker Open last year, it was very early on Day 1 when a big hand developed. With the blinds at just 100/100, we were really deep-stacked when I look down at the
in the cutoff and raised to 400 off of our 40,000 (400 BBs) stack.
Both the players in the small and big blinds, who were sitting on the same stack, made the call and the flop came down
. Both players checked to me and I continued for 500. Looking back, I think I prefer a bet of like 800 to build the pot a bit and to price out some draws. Here, my opponents can call pretty wide, and that's what the small blind did.
The big blind folded and the
turn put three hearts on board. Now I had to decide if I want to keep betting when my opponent checked to me. I lose to a lot of hands as my opponent could have a flush, but if you think about the flush draws my opponent is likely to have in the small blind, a lot of those are normally the ace-high flush draw, which he can't have because the ace of hearts is on the board.
A lot of other likely combinations are also blocked given the cards on the board, so there really aren't all that many combinations of flush draws he's likely to have. This is a scenario where even though the board got worse for my hand, I'm still going to bet. That's because, with less of a chance of my opponent having a flush, chances are they have some sort of made hand that I beat.
"At most small and medium stakes, when they raise you on the river they have almost no bluffs in their range, so you should probably be folding out most everything."
If I bet the turn and get raised, I am just going to fold. I actually have one of the weaker hands in my turn betting range. Given that, and its lack of playability on the river, I think it's a fine spot to value bet with the idea of folding to a check-raise.
I do bet 1,400 into 2,300 and my opponent called before checking the
river. Again, we have to figure out if we can go for value. I think this is a situation that a lot of people mess up. A lot of people aren't check-raising in this situation because they have to be worried about raising into a nut hand. At most small and medium stakes, when they raise you on the river they have almost no bluffs in their range, so you should probably be folding out most everything. However, as long as your opponents don't properly check-raise the river, you can get away with value betting relatively thin.
When my opponent checks, I think I need to go for a bet of 2,200 into the pot of 5,100. That's because I'm trying to get called by a marginal ace or perhaps a jack. If I go bigger, say 4,000, my opponent will fold out many of those hands. So, to ensure we get called I like a small bet size in this situation.
Do make sure you don't get into the habit of betting small only with your marginal hands. If your opponent's know you're capped at a marginal hand, they get to raise you more. Work in some small bets with both your bluffs and super strong hands to balance things out.
Anyway, I bet the 2,200 and my opponent folded. I don't know what he had, but if I had to guess, maybe he had a weak ace or a hand like five-six. It's kind of hard to think of hands that will fold to such a small river bet.
For a more thorough breakdown of this hand, check out my thoughts in the following video:
Jonathan Little is a professional poker player and author with over $7,000,000 in live tournament earnings. He writes a weekly educational blog and hosts a podcast at JonathanLittlePoker.com. Sign up to learn poker from Jonathan for free at PokerCoaching.com. You can follow him on Twitter @JonathanLittle.