Fedor Holz Runs a Crazy Bluff With $808K Up Top!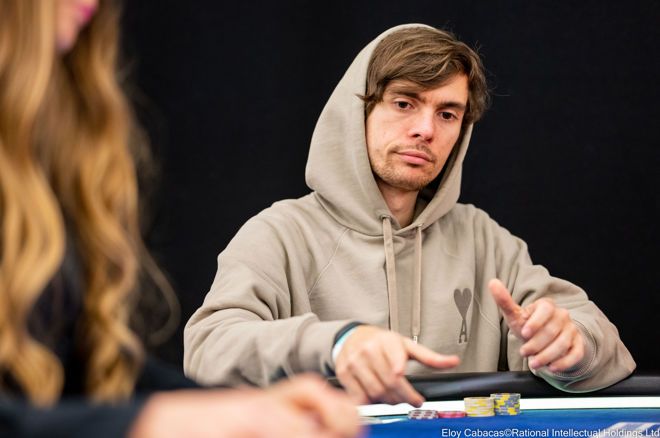 Fedor "CrownUpGuy" Holz is no stranger to high-stakes poker tournaments and here he is battling against Russia's Viktor Kudinov as part of the Triton Poker Cyprus series in September 2022.
Fedor's style is known to be extremely aggressive and he puts his opponents in extremely tricky situations often having to call all-in for their tournament life.
In this hand from a $30,000 No-Limit Hold'em 6-Handed final table, Holz opts to raise from the small blind with six-four offsuit with a covering stack. When there are payout implications and you have a large, stack you should be raising a very wide range to put pressure on the small and medium stacks. Kudinov in this hand only has 22 big blinds which means he will be one of the shorter stacks left in the field.
The action really picks up on the turn when Fedor decides to start bluffing with just six high. Kudinov only has ten-high and is facing a bet on the river. Can he sniff out the bluff in this Triton poker tournament?
Back to the preflop action with blinds of 50,000/100,000/100,000, Holz raised to 240,000 with 6♦4♣. I like this play given that Kudinov only has 22 big blinds and there are payout implications that mean he will have to play tight. Holz should be raising incredibly wide from the small blind, which he does here.
Kudinov in the big blind then called with 10♣9♠, which is a little loose but a call that I would probably make as well.
The flop landed Q♥2♣K♥ and Holz checked. I like Holz's check because his hand is absolute trash and Kudinov is going to have a strong range that connects well with this flop when he calls in the big blind. I think Holz can reasonably check-fold.
Kudinov checked as well with his gutshot, which I think is the right play given that he doesn't want to put more money in the pot given the payout implications.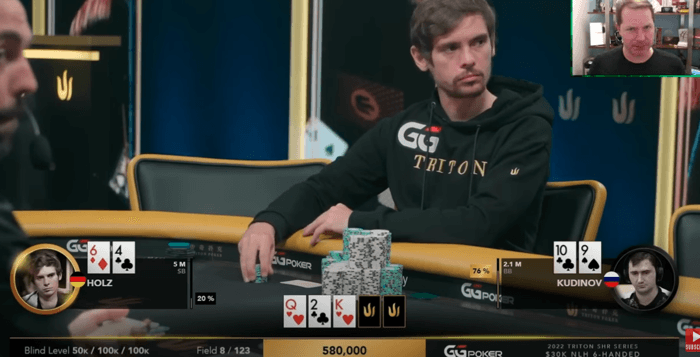 The turn brought the K♠ and Holz bet 175,000 with his six-high. I like this bet after Kudinov checks back on the flop since Holz will sometimes have checked the flop with hands like a queen that will get folds from Kudinov.
Kudinov then decided to call with his gutshot and ten-high, which I think is the only play that makes sense given his equity and the fact that he is actually ahead of some of Holz' low-card bluffs.
The A♣ river completed that board and Holz put his opponent to the test with a bet of 390,000 for around half-pot. I'm not sure about this one because I don't think Holz has a lot of AxXx in his range. I also don't know if he would go for super thin value with a queen. I would have preferred if Holz bet bigger when bluffing with six-high.
What gives you the best feeling at the poker table?
Big Fold
Hero Call
Sick Bluff
With action on Kudinov, he did not immediately fold his ten-high and instead thought about a call, which he eventually made. He must've put all of the pieces together and realized the Holz likely had a king or nothing.
This could have gone horribly wrong if Holz had bet the turn with ace-high or decided to go for thin value on the river, and I suspect he will actually do that some of the time.
Ten-high was good in this situation and Kudinov chipped up nicely at the Triton High Roller final table.
For more on this hand check out my breakdown in the following video:
Jonathan Little is a professional poker player and author with over $7,000,000 in live tournament earnings. He writes a weekly educational blog and hosts a podcast at JonathanLittlePoker.com. Sign up to learn poker from Jonathan for free at PokerCoaching.com. You can follow him on Twitter @JonathanLittle.