Road to the 2016 WSOP: The 300-Day Grind Begins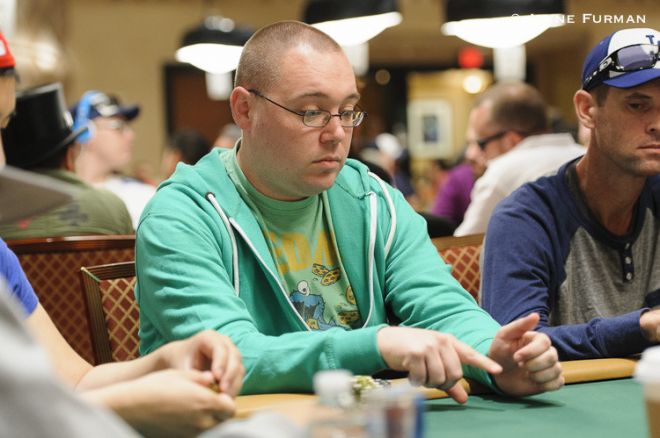 Have you seen the Zack Snyder directed fantasy film, 300, starring Gerard Butler and Game of Thrones' Lena Headey among others? Well, this article has absolutely nothing to do with it! Okay, that's a little white lie because the number 300 is quite significant if I am honest and stop pulling your leg.
Way back when I first discovered the fantastic game of poker, I had no idea that there was such thing as the World Series of Poker. Of course, I was plenty aware of fabulous Las Vegas, but wasn't aware then of the tradition of thousands of poker players making their way there every summer, each sharing a similar goal of returning home with a little gold bracelet adorning their wrists and a suitcase stuffed with $100 bills.
Then I began working in the poker industry and soon became very familiar with the WSOP, the World Poker Tour, the European Poker Tour, among other tournament series. I was fortunate enough to be given the opportunity to provide live updates from both the EPT and WPT, and for a time the only missing part of the blogger's Triple Crown for me was to cover a WSOP.
I completed the trio of tours in 2011 (kind of) when I flew to Cannes to report on the WSOP Europe series, but I missed out on the actual WSOP in Las Vegas. The same was true in 2012 when I stayed at home, but in 2013 I received the call to pack my bags and head to Sin City for six weeks.
While it was a hard slog, I was in Vegas, baby, and loved almost every minute of it. Although I didn't take much money with me — I didn't have much money, to be fair — I managed to play a few cash games, win some tourists' spending money, and had a superb time overall.
The following year I made it back to Las Vegas for another summer full of reporting, where I had a chance to play in the $500 Casino Employees Event, making my WSOP debut as a player (and being caught on camera above). Again I spent much of my occasional down time at the cash tables, not getting a chance at any other touristy stuff as I would like to do.
I wasn't there this past summer as various circumstances got in the way, among them breaking up with my girlfriend of eight years and not wanting to leave the kids for six weeks shortly afterwards. I didn't think that I'd miss it, being around the hustle bustle of the Rio All-Suite Hotel and Casino where the constant riffling of chips sounds like the chirping of a hundred happy crickets.
I did miss it, though. More than I thought I would.
This is where the "300" comes in. Counting from today, there are exactly 300 days until the end of May 2016 which should be right around the time the 2016 WSOP begins. This happens to be, in my opinion, ample time for me to build a Vegas bankroll and get back to the Rio next summer, this time as a player — 300 days to "prepare for glory" (as the tagline goes).
My plan between now and then is to grind a mixture on online cash games and tournaments, with the occasional live cash game and tournament thrown in for good measure. My goal will be to try to build a 2016 Vegas war chest that will give me the freedom to play three or four events at the WSOP and other casinos, a ton of cash games, plus do some of the cool stuff like shoot guns, go dune buggy racing, visit the Grand Canyon, and all that malarkey without it costing me a penny.
A rough calculation puts the figure at between $10,000-$15,000 which perhaps doesn't seem all that much at first glance. However, when you consider my average buy-in when playing online hovers around $8-$10 as a rule and that I've probably only played 1,100 online MTTs (plus a few thousand more 180-man turbos), then it starts to look like a rather ambitious total.
Throw into the mix the fact I have three kids who need their dad, have a full-time job that requires at minimum eight hours of my time per day (and sometimes as much as 12 to 14), am a season ticket holder for my beloved Leeds United, just joined the local gym, and will be attempting to get back into the dating game at some point, getting anywhere near that goal is going to be a challenge requiring a lot of hard work.
Here at PokerNews we often have some of the world's top poker talent talk about spending the year preparing all year round for their next bracelet quest in Vegas. This "Road to the 2016 WSOP" series is going to be similar, albeit from the standpoint of an everyday working Joe.
We'll see if I can reach my lofty total — whether I do or not, over the course of this series you'll get an insight into many important aspects of poker such as bankroll management, dealing with losing, adapting to live poker, moving up stakes, taking notes, record-keeping, hand analysis, and a whole lot more.
I'll be checking in a couple of times per month between now and next spring to let you know how things are going. Meanwhile, I'll try my best to keep matters interesting and hopefully I'll see a few of you out in the Nevada desert in approximately 300 days' time.
Want to stay atop all the latest in the poker world? If so, make sure to get PokerNews updates on your social media outlets. Follow us on Twitter and find us on both Facebook and Google+!