Road to the 2016 WSOP: Mental Toughness Will Be Key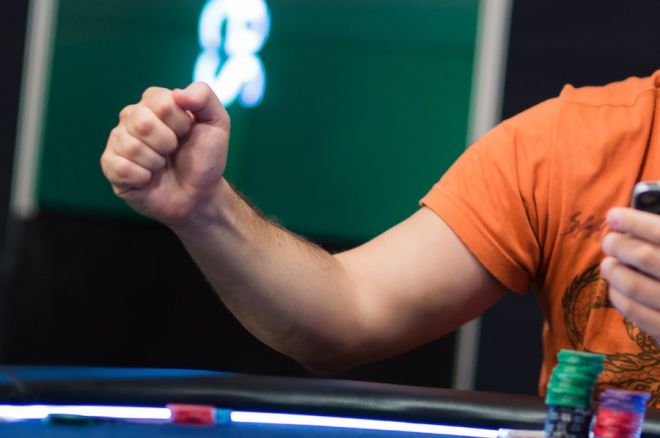 PokerNews Strategy contributor Matthew Pitt continues his series chronicling his 300-day journey toward building a bankroll to play at the 2016 World Series of Poker in Las Vegas.
Before we kick off here, I'd like to thank those of you who have taken the time to leave positive comments either here on PokerNews, via Twitter, or at my personal blog (where I am also trying to write 300 consecutive posts!). I wasn't sure what the reaction to the challenge would be when I first pitched it to the strategy editor, but it appears that my goal of appealing to the everyday poker player has worked, at least in the first instance.
Positivity is crucial to success in any walk of life and especially so when it comes to succeeding in any poker-related challenge. It's a game where you actually have little control over your short term results — luck plays a much larger role than we care to admit. And because we use money to determine whether a session was successful or not, something that has real-world value, we can often find ourselves fixated on those short-term results because we tend to think along the lines of "I've lost the equivalent of a week's wages" when we hit a bad spell.
Getting off to a good start in this 300-day challenge, in any challenge actually, was crucial. The worst thing that could have happened would be to run or play badly, and find myself in a sizable hole that I'd then spend the next couple of hundred tournaments trying to get out of.
The worst thing happened.
Sadly, I have gotten off to one of those starts and I have plenty of rebuilding to do before I am back to break even, never mind being in profit, but that is for another article.
Today, I am going to highlight a handful of strategies that I'll be employing in the early stages of this challenge, strategies that should yield results and keep my mental state positive when the chips are literally down.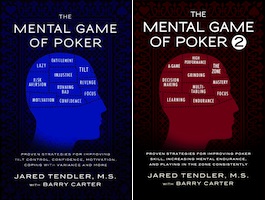 The mental side of poker is something that I've struggled with in the past. Those who have followed my personal blogs over the years will attest to this after seeing me start (then inevitably give up) dozens of similar challenges in the past. They'd also tell you that I'd frequently get impatient and change the games that I play — one minute playing MTTs, the next cash games, the next 180-man turbos, and so on.
The reasons for the changes and giving up on challenges in the past are actually a form of tilt, something that I've been working on by rereading both volumes of The Mental Game of Poker by Jared Tendler and Barry Carter. I can't stress enough how great these books are and how they can pay for themselves after only one read through.
To prevent me from sliding down the slippery slope towards the tilt monster, I'll be employing the following strategies:
1. Not looking at money won or lost
Instead of thinking of my wins and losses in terms of money, I'll be I'll be thinking of them in terms of buy-ins for cash games and average buy-ins for tournaments. It's easier to deal with losing 20 buy-ins than it is $300, plus thinking in terms of buy-ins can help you see more clearly that your wins and losses are in line with what you'd expect normal variance to be.
2. Examining key hands
It is too easy to blame others for your losses and then put your wins down to the fact you have skills superior to those of your opponents. Going through key hands and using tools to analyze your play is a way to keep your feet on the ground, can help you extract more value in a similar spot in the future, and can help improve your hand-reading abilities.
3. Only playing when I want to, not because I can
When you're trying to achieve a monetary goal or a volume-related goal (two goals that I actually advocate not making, ironically), it's tempting to squeeze out a few more tournaments or cash game hands than you're comfortable with. By only playing when you actually want to, you improve your chances of bringing your A-game to the table and having positive results. This is something I've already adopted in the first 10 or so days of the challenge — again, more on that in a future article.
4. Play in games where my expected EV is higher
It is much easier to play a lot of tournaments if they have a turbo blind structure. However, the variance in these games, particularly the large-field turbos at PokerStars, is massive because your average return on investment (ROI) is small.
By playing in games that have slower, deeper structures, any skill advantage you may have is magnified, plus your ROI is likely to be higher. It's not surprising that my best results have come in rebuy tournaments (where there are more chips in play) and in games such as the 1R1A (one rebuy, one add-on) or 2R1A (two rebuys, one add-on) formats.
5. Not playing while I am working!
Working from home often means it is tempting to fire up one or two tournaments to play even while I am on the clock (so to speak). When you do that, though, you're not actually playing poker — you're minimizing the screen, acting within a second or so, and not concentrating on the task at hand. While you may get lucky every now and then, you're more likely to set fire to a couple of buy-ins by not concentrating on the game properly.
In the next update, I'll hopefully have some positives to draw on and highlight a few hands of note from the first 2-3 weeks of the challenge. I'll also provide an update on what I have struggled with and what seems to be coming naturally. Until then, good luck at the tables!
Want to stay atop all the latest in the poker world? If so, make sure to get PokerNews updates on your social media outlets. Follow us on Twitter and find us on both Facebook and Google+!