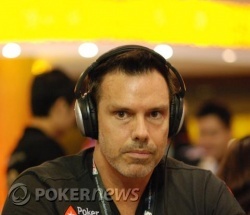 Chad Brown just chopped a pot with Michael Pedley. Almost 10,000 chips were in the middle, with the board showing
, but neither player could come up with anything other than the nut no-pair:
for Brown,
for Pedley.
"But I have the ace of clubs!" said Brown as the dealer started chopping the pot. The dealer panicked for a moment, then laughed when he realized Brown was just teasing.