A$25,000 Pot-Limit Omaha
Day: 2
A$25,000 Pot-Limit Omaha
Day 2 Completed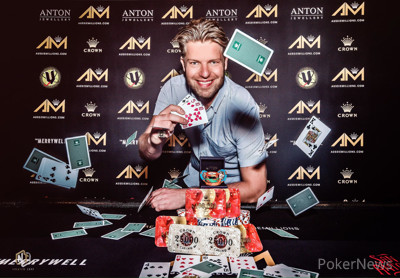 On the week that Jorryt van Hoof got engaged to his fiancée Sophie, the Dutchman now has a second reason to celebrate after victory in the 2020 Aussie Millions A$25,000 Pot Limit Omaha Challenge for A$467,280 (~US$322,400).
He defeated start-of-day chip leader Hun Lee heads-up to notch the second-biggest cash of his career. Meanwhile, Lee, who had dominated proceedings all day, came unstuck three-handed and would have to settle for second place and his biggest live score to date as well.
2020 Aussie Millions A$25,000 Pot Limit Omaha Challenge Results
| | | | | |
| --- | --- | --- | --- | --- |
| Place | Player | Country | Prize (in AUD) | Prize (in USD) |
| 1 | Jorryt van Hoof | Netherlands | A$467,280 | $322,400 |
| 2 | Hun Lee | Australia | A$297,360 | $205,164 |
| 3 | Najeem Ajez | Australia | A$198,240 | $136,776 |
| 4 | Martin Kozlov | Australia | A$155,760 | $107,467 |
| 5 | Stephen Chidwick | United Kingdom | A$113,280 | $78,158 |
| 6 | Fabian Brandes | Austria | A$99,120 | $68,388 |
| 7 | Farid Jattin | Colombia | A$84,960 | $58,618 |
Winner's Reaction
Van Hoof, who moved atop his country's all-time money list in mid-December, was overjoyed with happiness shortly after the victory.
"I mean the engagement is probably more important for me," Van Hoof told PokerNews. "I'm very happy and I totally love her!"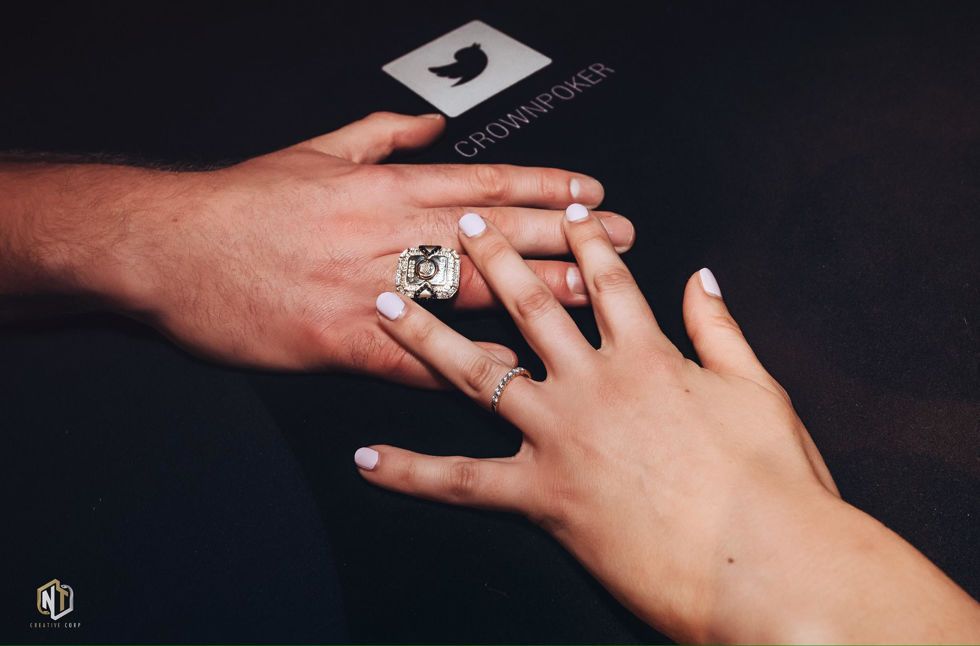 The 37-year-old is most known for his third-place finish in the 2014 WSOP Main Event, but says he only recently switched to tournaments a few months ago.
"I've switched to playing tournaments, and I'm running pretty good. So I can't complain!"
The dynamic throughout the tournament was a strange one, with Lee holding a commanding lead for much of the contest.
"Preferably you have the chips yourself," said Van Hoof. "But if you can't have them yourself, in general, it's just really good to have a big chip leader.
"It's because in the process he's busting out players, of course, so there's huge value if he continues to do that. But also I guess it certainly created a strange situation. I like to think I have a fairly good plan when I'm playing and pay a lot of attention to different stack sizes.
"But this was new territory for me. I liked it, because it's where people aren't used to it."
Reaching the Final Table
Sylvain Loosli, Marc Rivera and Xue Wu all departed before the first break, with Lee moving even further ahead. The final table would be reached in the third level of the day, with Stephen Chidwick picking up his second elimination of the day, eliminating Tam Truong in tenth.
This elimination boosted Chidwick into second in the counts, but Lee still led with more than double Chidwick's stack.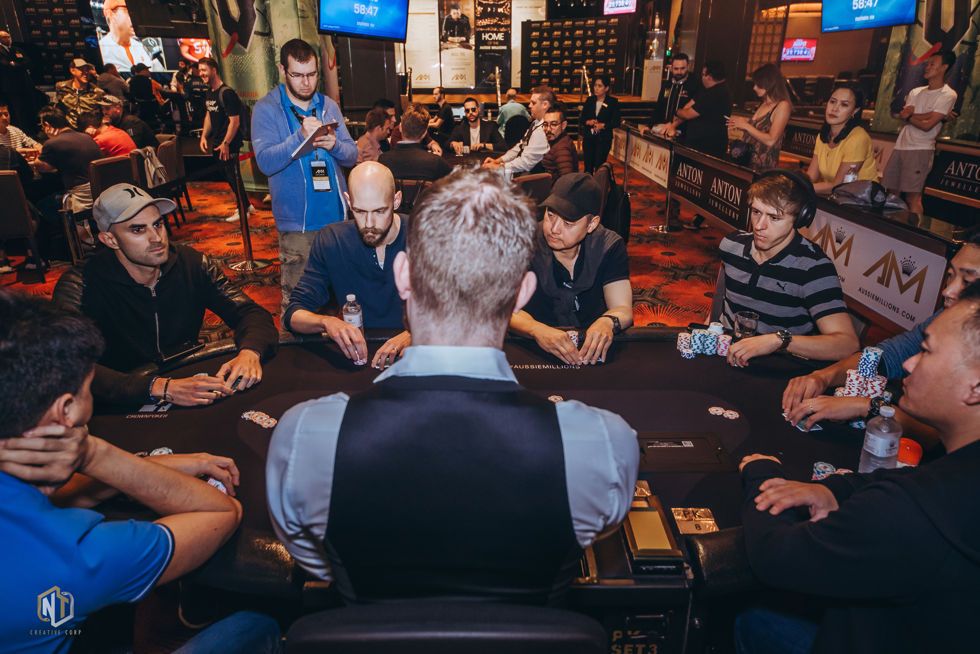 Don't Stop Lee Now
That wasn't enough for Lee though, who eliminated Benjamin Pockett and bubble boy Miroslav Sheynin in quick succession. Sheynin had flopped the nut straight on a three-heart board, but Lee had flopped the nut-flush to send him to the rail.
Another flopped nut-flush for Lee was enough to send 2019 runner-up Farid Jattin to the rail in seventh for A$84,960, and he made it four in a row with the subsequent elimination of Fabian Brandes in sixth, rivering two pair to crack the Austrian's aces.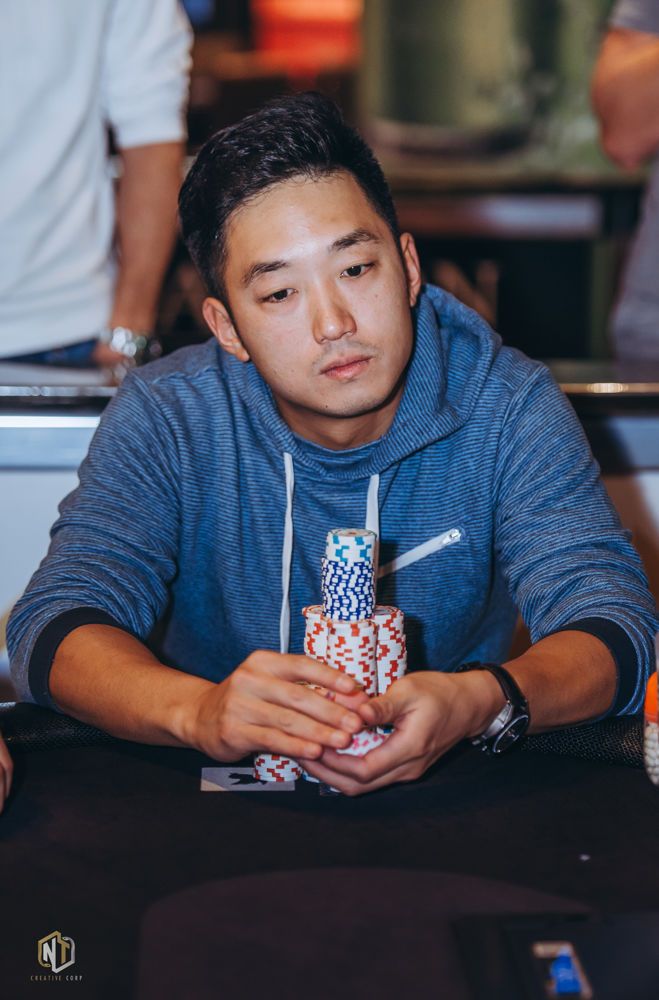 The remaining players at the final table were hamstrung in the face of such an onslaught but knew they would need to make a move if they were to close the gap to Lee. Despite coming into the final table second in chips, Chidwick crucially failed to pick up any momentum and was eliminated by Jorryt van Hoof.
After dinner, both Najeem Ajez and Kozlov would double through Lee, but he would once again take a hold on proceedings with the elimination of Kozlov.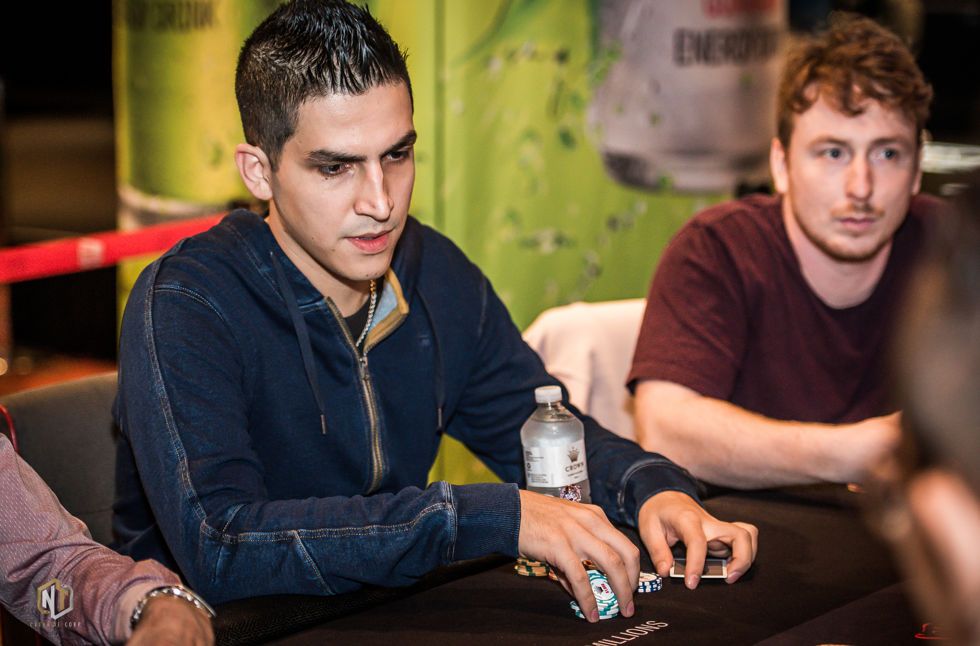 Ajez and Van Hoof Battle Back
However, what had seemed like a stroll for Lee suddenly looked in doubt after two doubles from Ajez saw Lee relinquish his hold on the chip lead. Suddenly, the three-handed dynamic was more fluid, with both Ajez and Van Hoof enjoying spells in the chip lead.
Lee would double back through Ajez, with Van Hoof then finishing Ajez off, bringing the tournament to heads-up. Van Hoof held the lead, but a "sick cooler" where Lee turned a full house after Van Hoof flopped trips saw Lee move into the lead.
Not for long though, as Van Hoof battled back into a 2:1 chip lead of his own, and at the second time of asking finished things off after flopping a set and turning a full house to leave his opponent drawing dead.
This concludes the PokerNews coverage of the first High Roller Challenge tournament at the 2020 Aussie Millions, but there are still plenty more tournaments still to be covered here in Melbourne!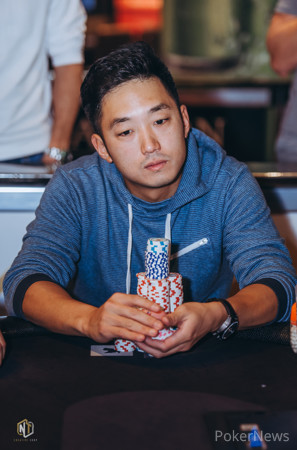 In a limped pot to the
flop, Jorryt van Hoof checked and Hun Lee made it 50,000 to go. Van Hoof raised it up to 225,000 and Lee raised the pot to 755,000, then called the shove of the Dutchman to end up as the player at risk.
Hun Lee:

Jorryt van Hoof:
The most classic of PLO setups provided top set for van Hoof while Lee had a wrap. It was all over once the
on the turn gave van Hoof an unbeatable full house and that made the
river a formality. Lee, who had been the dominating chip leader for the late stages of Day 1 and most of Day 2, has to settle for second place and a payday of A$297,360.
On his first visit to the Aussie Millions, van Hoof takes home the ANTON Jewellery Championship ring and a payday of A$467,280 for his efforts. A full recap of today's action is to follow.
Jorryt van Hoof limped in and Hun Lee raised the pot to 120,000, which the Dutchman called. On the
flop, Lee opted for a continuation bet worth 155,000 and van Hoof came along. The
on the turn was quickly checked and Lee also checked the
on the river. Van Hoof spent more than two minutes in the think tank, splashed in a bet of 235,000 and forced a fold from his opponent.
Level: 22
Blinds: 20,000/40,000
Ante: 0
Jorryt van Hoof in the big blind made it 75,000 to go on the
flop and was called by Hun Lee. They checked the
on the turn and Lee checked behind the
river.
Van Hoof tabled the
for a flush and dragged in another pot in the last hand of the level.
A button raise to 75,000 by Hun Lee was called by Jorryt van Hoof and he check-called a bet of 35,000 on the
flop. The
on the turn brought no action and the
river completed the board. Once again, van Hoof opted to check and Lee made it 175,000 to go.
One minute passed and van Hoof grabbed into his stack. He needed another half a minute to toss in calling chips and Lee tabled
, which van Hoof had beat with the
to regain the lead.
Picking up the action on the
flop, Hun Lee bet 85,000 out of the big blind and Jorryt van Hoof raised to 200,000 on the button, Lee called. They headed to the
turn on which Lee check-shoved for 525,000 when facing a bet of 275,000. Van Hoof called instantly and the cards were turned over.
Hun Lee:

Jorryt van Hoof:
Both had flopped trips nines but Lee turned a full house. Only an ace would end the event right there and instead, it came the blank
on the river.
"Such a sick cooler," Lee whispered while his stack was counted.
Hun Lee opened to 70,000 on the button and was called by Jorryt van Hoof. The
flop went check, check, and van Hoof bet the
turn for 30,000, Lee came along. After the
river, van Hoof bet 125,000 and found no resistance.
After a short break the heads up started with a button raise to 90,000 by Hun Lee and Jorryt van Hoof called. The flop came
and van Hoof check-called a bet of 85,000. The
turn and
river were checked and Lee tabled
, which van Hoof had beat with the
for two pair.