$5,300 The Return ($3,000,000 Guaranteed)
Day: 1a
$5,300 The Return ($3,000,000 Guaranteed)
Day 1a Completed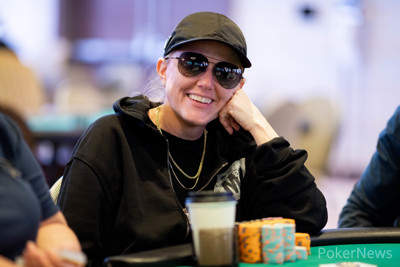 Day 1a of the $5,300 The Return as part of The Return - A Borgata Championship Event in Atlantic City has wrapped up after ten levels of play and saw South Carolina's Adam Adler bagging the chip lead with a stack of 366,500, followed closely by Texan Dusti Smith with 355,500.
Not far behind is Stephen Song, who as the tournament played out was officially named both the overall and Mid-Major 2022 Player of the Year.
And Song, who ended the day with 323,000, isn't the only 2022 POY who bagged on Day 1a. GPI Female POY Cherish Andrews will bring a stack of 135,500 into Day 2.
The first of two starting flights of the $3 million guaranteed event attracted 562 runners and only about a quarter of those players made it to the end of the day. Adler is looking to continue his run-good into the new year after finishing fourth in the World Poker Tour (WPT) World Championship in Las Vegas in December for $1.6 million. The fifth-place finisher of that event, Frank Funaro, also found a bag and will enter the second day of play with 249,500.
Those are hardly the only notables who survived the day. Other big names include 2021 GPI POY Chance Kornuth, Jesse Lonis, Adam Hendrix, Alex Foxen, Kristen Foxen, Chris Brewer, Nick Palma, Blake Bohn, Dan Zack and Ryan Dodd, who less than 24 hours prior pulled the single $250,000 bounty in $2,200 Mystery Bounty Event.
There were plenty of highlights throughout the ten levels of play on Day 1, including during the first level when Michael Wang made quads against the trips of Martin Zamani to leave the Floridian with crumbs. But Zamani climbed back and managed to bag a decent stack ahead of Day 2.
Another highlight was a serendipitous moment when World Series of Poker (WSOP) Main Event champs Joe McKeehen and Ryan Riess were seated side-by-side, undoubtedly bad news for the player seated to their right. McKeehen fell about halfway through the day while the 2013 champ bagged a stack of 72,500.
One more starting flight remains and it will play out on Jan. 5 at 11 a.m. local time and will follow the same structure as Day 1a. The survivors of both starting flights will combine for Day 2 on Jan. 6 as the four-day event gets closer to naming a winner.
Stay tuned as the PokerNews live reporting team is here in Atlantic City and will continue covering the $5,300 The Return and other events at The Return - A Borgata Championship Event.
Player
Chips
Progress

Adam Adler

366,500

Dusti Smith

355,500

Stephen Song

323,000

13,000

Dan Zack

305,500

25,500

Jesse Lonis

281,000

81,000

Nick Palma

266,600

186,600

Frank Funaro

249,500

Adam Hendrix

222,500

Tom Wheaton

211,000

119,000

Paulina Loeliger

171,000

101,000

Ryan Dodd

161,000

6,000

Alex Foxen

158,500

-6,500

Jacob Ferro

153,000

-57,000

Blake Bohn

139,000

14,000

Cherish Andrews

135,500

-14,500

Nick Pupillo

134,500

-185,500

Chance Kornuth

132,500

-2,500

Chris Brewer

132,000

92,000

Kristen Foxen

115,000

-115,000

Ryan Riess

72,500

-37,500
Day 1a has ended after ten levels of play with the clock showing 564 total entrants and 153 players remaining.
Stay tuned for a full recap of the day's events.
The tournament director has instructed dealers to deal three more hands before bag and tag time.
The cutoff opened to 3,500 and Dan Zack and Blake Bohn both called out of the blinds.
Zack and Bohn both checked on the flop of
and the cutoff checked back. Zack checked again on the
turn and Bohn bet 11,000. Both opponents laid it down to earn Bohn the pot.
Bohn was down to just a few chips earlier in the day but now is close to bagging a stack of around 125,000.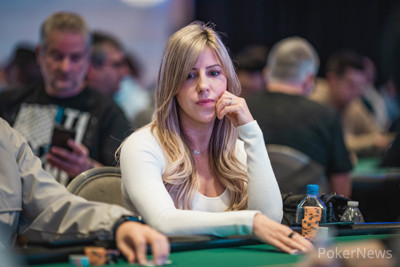 Kristen Foxen opened to 3,200 in middle position and the hijack three-bet jammed a stack of 15,100. Foxen called with a bigger stack when the action got around.
Hijack:

Kristen Foxen:
The flop landed
to give Foxen a big lead and nothing changed on the
runout to mark the opponent's elimination.
Player
Chips
Progress

Dan Zack

330,000

70,000

Nick Pupillo

320,000

304,000

Stephen Song

310,000

130,000

Martin Zamani

215,000

40,000

Jacob Ferro

210,000

90,000

Jesse Lonis

200,000

30,000

Ryan Dodd

155,000

155,000

Chance Kornuth

135,000

-95,000

Ryan Riess

110,000

80,000

Matthew Wantman

60,000

60,000

Yi Klassen

50,000

50,000

Blake Bohn

40,000

35,000
The last level of Day 1a is now underway and will last for 75 minutes before the remaining players bag and tag for Day 2.
Level: 10
Blinds: 800/1,600
Ante: 1,600