Event Info
Level Info
| | |
| --- | --- |
| Level | 28 |
| Blinds | 40,000 / 80,000 |
| Ante | 10,000 |
Main Event
Day 3 Completed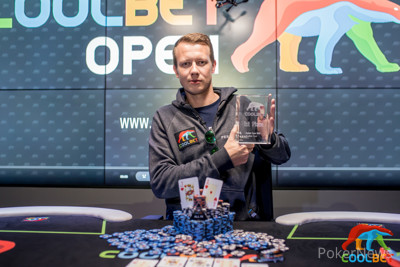 Finland's Sebastian Wahl outlasted a field of 425 entrants to win the first-ever Coolbet €550 Main Event at Olympic Park Casino and the Hilton Tallinn Park for €50,100.
In addition to the top prize, Wahl walks away with a Coolbet Open package valued at €1,200 for the next festival in Tallinn in October that was added to the prize pool by Coolbet to all final table participants as well as a Las Vegas package for two valued at €5,000 added for the winner.
The win is the biggest thus far for Wahl, who after the tournament was celebrating with friends and the runner-up Sander van Wesemael, also known to many as "The Weasel" as a take on his last name.
The inaugural Coolbet Open festival was a huge success in many ways, especially in terms of the attendance which far exceeded expectations in both side events and the Main Event. The 425 entrants generated a massive €206,125 prize pool. In addition, the festival featured 26 side-events to create an action packed 27 event schedule.
2018 Coolbet Open Main Event Final Table Results
| Place | Winner | Country | Prize |
| --- | --- | --- | --- |
| 1 | Sebastian Wahl | Finland | €50,100 |
| 2 | Sander van Wesemael | Netherlands | €33,000 |
| 3 | Jaagup Luhakooder | Estonia | €20,500 |
| 4 | Kyosti Isberg | Finland | €15,300 |
| 5 | Kristoffer Skolem | Norway | €12,100 |
| 6 | Jan-Mikael Kesanen | Finland | €8,500 |
| 7 | Niko Mykkänen | Finland | €6,100 |
| 8 | Espen Vaksdal | Finland | €4,900 |
| 9 | Craig Timmis | United Kingdom | €4,200 |
The second day ended when the money bubble broke with each player guaranteed to take home €1,155. Estonia's Ave Lepik finished in 40th place to bubble the tournament when her ace-king didn't outflip the pocket jacks held by countrymate Jaagup Luhakooder. Lepik didn't go home empty-handed as Coolbet added a ticket to the next Coolbet Open €550 Main Event in October for the player that bubbled the tournament.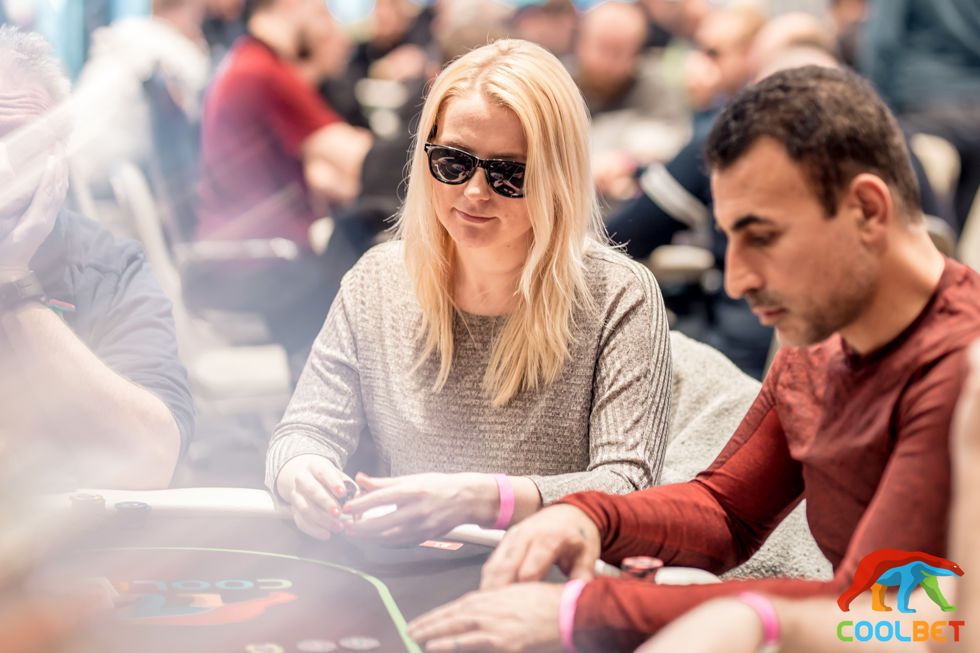 The final table began after Finland's Thanh Doan finished in tenth place for €3,650 after his ace-king couldn't outflip his opponent's pocket tens.
A dinner break then took place and when play resumed it was Van Wesemael holding a minor chip lead over Kyosti Isberg with Wahl sitting comfortably in fourth place.
United Kingdom's Craig Timmis was the first casualty at the final table in ninth place for €4,200 after his pocket fives proved to be no match for Wahl's pocket kings.
Norway's Espen Vaksdal bowed out soon later in eighth place for €4,900 when his pocket sevens couldn't catch up to Van Wesemaul's pocket tens.
After that, the chip lead bounced over to Norway's Kristoffer Skolem before it was relinquished to Wahl and eventually local Estonian player Jaagup Luhakooder.
Skolem then took out Finland's Niko Mykkänen in seventh place for €6,100 after his pocket fives out-flipped his opponent's ace-king.
Not too much later, Jan-Mikael Kesanen hit the rail in sixth place for €8,500 when he three-bet jammed a short stack with king-jack suited and couldn't hold after Wahl called with queen-jack suited.
Skolem then suffered a huge cooler when his pocket queens ran up against Wahl's pocket kings to leave him with scraps. Skolem then collected the fifth-place prize of €12,100 after he jammed a short-stack with ace-seven suited and didn't hold against Luhakooder's queen-ten suited.
Finland's Kyosti Isberg then picked a bad spot to bluff on the river against Wahl and walked away with the fourth-place prize of €15,300. After this hand, Wahl had the chip lead and never looked back.
Luhakooder then attempted to win a huge pot by making a hero call with ace-high but instead bowed out in third place for €20,500 when Wahl turned over a flush.
This left Wahl with a 3.5:1 chip advantage over Van Wesemael to start heads up play which quickly was extended to a 5.5:1 chip advantage.
The heads-up match went for almost three hours with Wahl maintaining the lead the entire time. Van Wesemael was able to close the gap at one point to a 7:5 chip deficit before his opponent regained a bigger 4:1 chip advantage when the final hand took place.
Van Wesemael called a four-bet jam from his opponent with pocket nines and was racing against ace-jack. A jack hit the flop and the turn and Van Wesemael was never able to catch up to eliminate him in second place for €33,000.
After some celebrations, both the runner-up Van Wesemael and the winner Wahl appeared together on a PokerNews video interview on Facebook.
This concludes the PokerNews Live Reporting of the inugural Coolbet Main Event. Stay tuned as we bring you coverage of big events from around the world.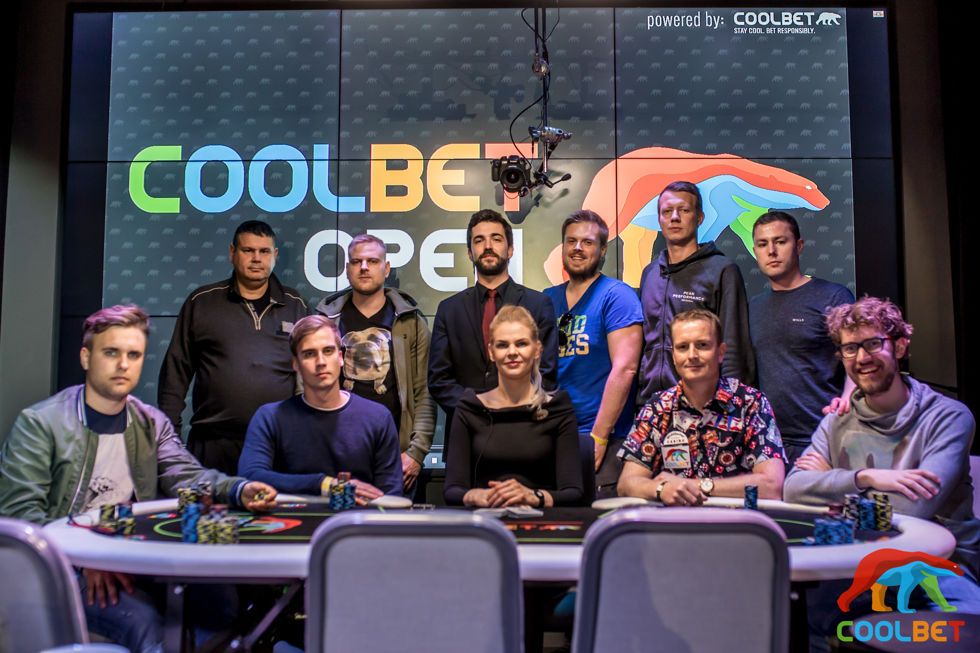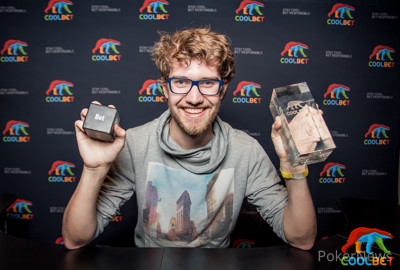 In the final hand of the evening, Sebastian Wahl opened for 225,000 on the button with
. Sander van Wesemael three-bet to 775,000 from the big blind with
. Wahl four-bet jammed and Van Wesemael who was at risk called for 2,500,000.
Wahl took the advantage in what was a classic coinflip after his jack paired up on the
flop. The
gave Wahl three of a kind leaving Van Wesemael drawing to one of the two nines left in the deck to save his tournament.
The river came the
and Van Wesemael finished runner-up in the tournament for €33,000. Meanwhile, Wahl not only won the top prize of €50,100, but also won a free Coolbet Open package valued at €1,200 awarded to all final table members and a trip for two to Las Vegas valued at €5,000 added by Coolbet to the winner's prize.
Stay tuned as we bring you the final recap of the inaugural Coolbet Open €550 Main Event.
Level:

28
Blinds:

40,000/80,000
Ante:

10,000
We are now on what is likely the last break of the Coolbet Open Main Event. Play will resume in 15 minutes.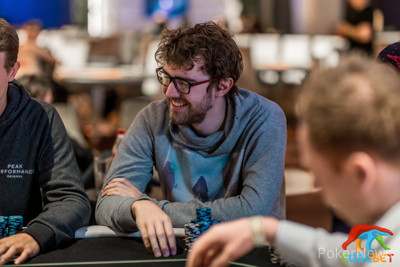 Sebastian Wahl opened to 180,000 with
from the button and Sander van Wesemael called with
from the big blind.
Both players checked the
flop. Van Wesemael again checked when the
appeared on the turn. Wahl bet 175,000 and Van Wesemael raised to 650,000.
Wahl called and the
completed the board on the river. Van Wesemael led out for 1,100,000 and Wahl tossed his hand into the muck.
The difference between the two players was only 2 million chips after the hand with Wahl still holding the advantage.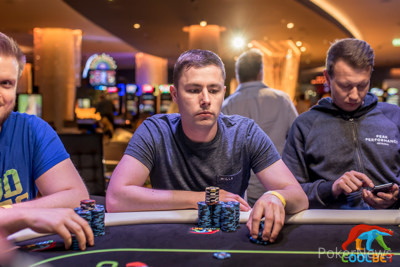 Sander "The Weasel" van Wesemael opened to 175,000 from the button with
and Wahl called from the big blind with
.
Wahl checked the
flop and Van Wesemael bet 220,000. Wahl raised to 600,000 and got a call from The Weasel.
Wahl then fired out a huge bet of 1,100,000 when the
appeared on the turn and Van Wesemael called.
The
completed the board on the river to give Wahl a straight. Wahl led out for 400,000 and Van Wesemael called.
Wahl once again has a firm command on the chip lead with an almost 2.5:1 chip advantage after the hand.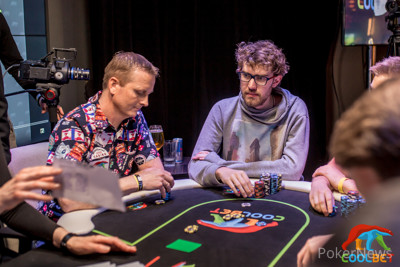 Sander "The Weasel" van Wesemael has been mounting a comeback. In a recent hand, he opened from the button with
for 175,000 and Sebastian Wahl called with
.
Wahl check-called a bet of 100,000 from Van Wesemael on a
flop. Wahl check-called again 285,000 after the
appeared on the turn.
The
paired the board on the river. Wahl checked again and Van Wesemael bet 525,000 and Wahl folded.
It's been small ball since the action went heads-up but Sebastian Wahl has been able to build his stack to 11 million and has a 5.5:1 chip advantage over his opponent.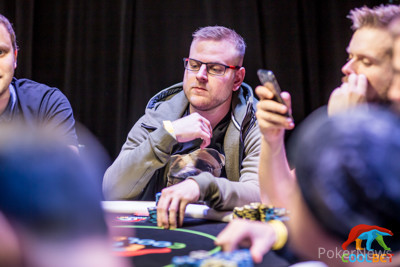 Jaagup Luhakooder is now out of the tournament after attempting a hero call.
The action began with Luhakooder opening to 135,000 from the button with
. Sebastian Wahl defended the big blind with
.
Wahl with a flush draw and an overcard checked the
flop before he called a bet of 300,000 from his opponent.
Both players checked after the
paired the board before Wahl jammed more than covering the 1,100,000 chips his opponent had behind when the
completed his flush on the river.
Lukahooder tanked and the commentators Andrew Hedley and Jordan Allen were running through what might be going through the Estonian's mind.
Lukahooder eventually made the call and was eliminated in third place for €20,500.
This left just Wahl and Wesemael battling it out for the title. Both players are guaranteed €33,000. However, the winner is set to win much more with the top prize set for €50,100 and of course the honor of becoming the first-ever Coolbet Open Main Event champion.
Wahl has a substantial 3.5:1 chip advantage over his opponent and it appears there was no discussion of the deal between the duo.