Main Event
Day 1a Completed
Player
Chips
Progress

Martin Schleich

182,100

Sam El Sayed

163,200

Marcello Marigliano

160,800

100

Michele Aniello

150,900

Dimitar Danchev

145,100

Arie Ori Miller

144,300

Ohad Simhon

135,800

Kevin Vandersmissen

133,200

Felix Bleiker

130,700

Ivan Starostin

125,700

Guillermo Garcia Gomez de Barreda

124,600

David Sonelin

124,400

7,400

Chris Moorman

122,975

Sybe Smit

121,300

Gabriel Goffi Moreira

120,600

Mickey Petersen

117,800

22,800

Gunnar Rabe

113,800

Andre Akkari

105,000

Michael Bonzon

103,900

Andrej Vinogrodskij

103,200

Dragan Kostic

99,000

Ignat Liviu

98,500

Simon Charette

95,900

40,900

Andrey Gulyy

95,600

Jeffrey Hakim

93,100
Level 9 : 400-800, 100 ante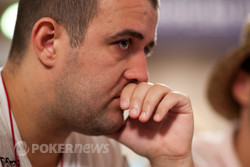 Day 1a of the PokerStars.com EPT Barcelona is nine levels old, and we've already seen a pretty fine turnout for the opening day. A total of 346 players showed up to the Casino de Barcelona to play Day 1a, and several hundred more are expected tomorrow. Betting the over on last year's record of 758 seems like the correct side of the action right now, but Day 1b will tell us for certain.
Among the Day 1a crowd were a solid cross-section of the Team PokerStars family. The host country, Spain sent Juan Maceiras and newly-minted Team Pro Ana Marquez to the felt, and they were joined by an international crowd that included Andre Akkari, Vanessa Selbst, Theo Jorgensen, Alex Kravchenko, Lex Veldhuis, and Sebastian Ruthenberg, among others.
The early stages of the day -- as is often the case -- belonged to Vanessa Selbst alone. Right out of the starting gate, Selbst began taking her table to task, and she was up over 170,000 -- nearly six times the starting stack -- before the dinner break! She cooled off a bit through the middle stages, then rebounded, then dropped again to finish with 81,500 chips into the bag here at night's end. The Team Pros who are still flush with chips include Sebastian Ruthenberg, Andre Akkari, and Ville Wahlbeck.
While some have gone out to the bar to celebrate a successful day, others were already gathered there much earlier as they drowned away the sorrows of Day 1a. Pierre Neuville (who brought along some amazing Belgian chocolates for the media today) had a particularly bad go of it. Very early on, all the money went in on the river, and Neuville's full house had been one-outed by quad fives to rob him of most of his chips. The rest of his stack went soon thereafter, and Neuville was joined on the rail by the likes of Johnny Lodden, Veldhuis, Martin Hruby, and Sandra Naujoks. Both halves of the Spanish contingent -- Marquez and Maceiras -- were also eliminated during the last third of the day. Apart from the PokerStars family, we also lost a big group of notable players like Joe Ebanks, Davidi Kitai, former EPT Grand Final champion Nicolas Chouity, Jake Cody, and last year's EPT Player of the Year, Fernando Brito.
At the end of today's nine levels, everyone's chasing Martin Schleich, though. The PokerStars player appears to be holding the top spot with his count of 182,100, and we'll peg him as our tentative overnight chip leader. The board shows about 179 players left. The survivors will have the day off tomorrow, but they'll be back here at noon on Monday for the combined Day 2.
First, though, we've got a Day 1b to get through, and that will kick of at high noon tomorrow with a big, fresh new set of faces.
Until tomorrow, all that's left is goodnight!
Level 9 : 400-800, 100 ante
Tournament Director Toby Stone stopped the clock with 12 minutes remaining of level nine and ordered each table to play six more hands before bagging up for the night.
Level 9 : 400-800, 100 ante
Mathew Frankland and Ben Wilinofsky are two more players that made it to, but not beyond the final level of the day.
We not sure how Frankland busted but we know Wilinofsky was unlucky. He got it all in with preflop
versus Kewin Charles Lambert with
. The board ran
to make the American a set on the river but he was already drawing dead on the the turn to the Swiss' straight.
Level 9 : 400-800, 100 ante
We just counted Olivier Busquet a moment ago, and he was enjoying a little up-trend to about 22,000. Just a moment later, though, we saw his seat card come across our desk, and that can only mean one thing. A quick check on his chair confirms the worst: Busquet is busto in Barcelona.
Player
Chips
Progress

Vanessa Selbst

131,000

23,000

Team Pro: USA

Sebastian Ruthenberg

125,000

-15,000

Andre Akkari

118,000

75,000

Ville Wahlbeck

115,000

58,000

Chris Moorman

105,000

13,000

Bryn Kenney

71,000

1,000

Antonio Mattias

66,000

Marcin Horecki

54,000

30,000

Team Pro: Poland

Nacho Barbero

53,000

-8,000

Team Pro: Argentina

Tristan Clemencon

45,000

-3,000

Jan Skampa

45,000

Luca Pagano

43,000

22,000

Team Pro: Italy

Martin Staszko

42,000

6,000

Alain Roy

41,000

Benny Spindler

28,000

4,000

Antonin Teisseire

25,000

Melanie Weisner

24,000

-11,000

David Vamplew

23,000

-7,000

Andrew Teng

23,000

-32,000

Olivier Busquet

22,000

6,000

Matt Waxman

19,000

7,000

Almira Skripchenko

18,000

Alex Kravchenko

15,000

-1,000

Team Pro: Russia

Theo Jorgensen

4,000

-6,000
Level 9 : 400-800, 100 ante
Team PokerStars Pro Sebastian Ruthenberg has added more to his chip stack after he eliminated Kent Ove Rod.
The Norwegian was short stacked and pushed with
after the German opened with a raise. Ruthenberg called with
and safely navigated the
board. He's at 140,000 now.
Level: 9
Blinds: 400/800
Ante: 100
Level 8 : 300-600, 75 ante
Chris Moorman just had to let a hand go on the flop but he's still going along nicely with 92,000.
Sharkota Siarhei limped from UTG and called along with Ignat Liviu (BB) when Moorman raised to 2,100 from late position. The flop fell
and Moorman's 4,200 c-bet was check-raised to 10,250 by Siarhei. Liviu folded in the middle of the action and Moorman's cards didn't take too long in hitting the muck as well.