Main Event
Day 4 Completed

Level 27 : 25,000-50,000, 5,000 ante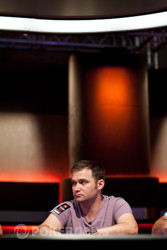 And then there were eight...
The final table of the 2011 PokerStars.com EPT Barcelona is set after about six and a half hours of play on Day 4. The field of 811 that began chasing the title a few days ago has been cut down to just eight with only one more day of play remaining.
Leading the final table is start-of-the-day chip leader Tomeu Gomila. He wrapped up play today with 6.985 million in chips. No one else has close to that amount as Saar Wilf sits in second place overall with 4.555 million. Bringing up the rear is the most notable player at the final table, Team PokerStars Pro Eugene Katchalov with 690,000. He'll be the only player returning with under seven figures.
Katchalov now officially has a chance to win poker's Triple Crown is he can earn this victory. He already has a World Poker Tour title and a World Series of Poker bracelet, so adding an EPT Main Event title would secure that achievement.
When the day began, 24 players returned spread across three tables. The eliminations came fast and steady all day long to end play right around dinner time here in Barcelona, Spain. An early night is cool with us, but that could make for a long day tomorrow. The average stack is deep, at just about 61 big blinds, and that means there should be plenty of play at the final table. With only Katchalov flirting with the danger zone, our guess is a long final table tomorrow.
The final table will commence at noon local time tomorrow and we hope to see you right back here at PokerNews following along with the coverage. Just seven more eliminations stand between one player and €850,000, so you won't want to miss out.
Player
Chips
Progress

Tomeu Gomila

6,985,000

110,000

Saar Wilf

4,555,000

-35,000

Raul Mestre

4,260,000

-10,000

Isabel Baltazar

2,270,000

-15,000

Martin Schleich

2,260,000

685,000

Dragan Kostic

2,155,000

-10,000

Juan Manuel Perez

1,090,000

-60,000

Eugene Katchalov

690,000

-10,000

Team Pro (Ukraine)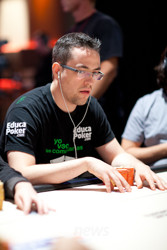 On the second hand back from the break, play folded around to Jose Miguel Esteban Nieto in the hijack seat. He pushed his entire stack of 650,000 into the middle. Play then folded over to Martin Schleich in the small blind and he tanked for a couple minutes after asking for a count. Eventually, Schleich reraised all in. Juan Manuel Perez quickly folded from the big blind and the hands were tabled. Schleich showed down the
to dominate Esteban's
.
The flop came down paired with the
falling to the felt. Schleich maintained his lead with ace-jack high while Esteban did pick up some outs to a chop now that the board was paired.
The turn added the
to the board and left Esteban needing a ten to win the hand. He could also find a nine or a three to chop, but anything else would send him out the door in ninth place.
The dealer burned one last time and then dealt the
on the river. It wasn't what Esteban needed and Schleich's ace-jack high was good enough for him to take down the pot. Esteban was eliminated in ninth place, earning €50,000 for his finish and officially setting the 2011 PokerStars.com EPT Barcelona final table.

Level 27 : 25,000-50,000, 5,000 ante
On the first hand back from the break, action folded to Tomeu Gomila on the button and he raised to 110,000. Everyone folded and Gomila won the pot showing the
.
Level: 27
Blinds: 25,000/50,000
Ante: 5,000
Level 26 : 20,000-40,000, 5,000 ante
That's the end of level 26. Let's have a 20 minute break.
Level 26 : 20,000-40,000, 5,000 ante
Tomeu Gomila bluffed Eugene Katchalov off a pot on the river a short while ago, and he's up to his old tricks again, it seems.
The pot began with Gamila raising to 85,000 from the cutoff, and Saar Wilf called in position. The two of them took a
flop heads-up, and Gomila kept the lead with a bet of 100,000. Wilf called quickly, flicking a single green chip off his stack and into the pot.
The turn
drew a check from Gomila this time, and Wilf took his cue to make a bet of two green chips -- 200,000. Gomila very quickly check-raised to 700,000, though, and Wilf spent the next few minutes mulling over the decision. He eventually settled on a fold, and Gomila showed him the
as he collected the pot.
Level 26 : 20,000-40,000, 5,000 ante
There's been a noticeable absence of action here in the first 20 minutes of nine-handed action. We did just find one shove a moment ago, though, and it came after Raul Mestre opened to 90,000 in the cutoff. Jose Miguel Esteban was on the button, and he three-bet shoved for 580,000 total. Mestre spent a few minutes considering, but he eventually surrendered to let Esteban slide through this time.
Level 26 : 20,000-40,000, 5,000 ante
Our final nine players are now huddled around the last table left in play, and the cards have gone back in the air. We'll play on for one more knockout to set tomorrow's official final table.