In addition to the usual drinks and good times, poker media members participated in a trial run of Split Hold'em, PokerStars' new game offering, during the Media Event at PokerStars and Monte-Carlo©Casino EPT.
An early day in the Main Event — the tournament bagged after less than four levels out of a scheduled five — meant a rare short grind for most of the assembled poker media. Everyone was ready to relax and unwind after a long week of work at Le Sporting in Monte Carlo, and about 25 players gathered around three tables when it time to start at 10 p.m.
The tournament director got everyone seated and announced that Split Hold'em would be played for the first 10-minute level, and players would be free to vote on whether they wanted to continue with the experimental format after that.
Split Hold'em, covered here on PokerNews, introduces one twist on traditional hold'em. The basics stay the same — two cards in the hole face down, community cards on the board face up — but two full boards are dealt rather than one. The best hand on each board takes down half of the pot, so players must show down two winners or force everyone else to fold in order to scoop the whole pot.
Cards hit the air and some of the first live Split Hold'em at a PokerStars event was under way. Players cracked beers and sipped — or chugged, in some cases — wine and tried to figure out the format on the fly.
A handful of PokerStars-sponsored players — Jake Cody, Fatima Moreira de Melo, Ben Spragg and Randy Lew sat in among the assorted poker media. As it happened, the latter three scattered around one table. As usual with media events, little folding ensued, making for some interesting contest pots in the double-board game.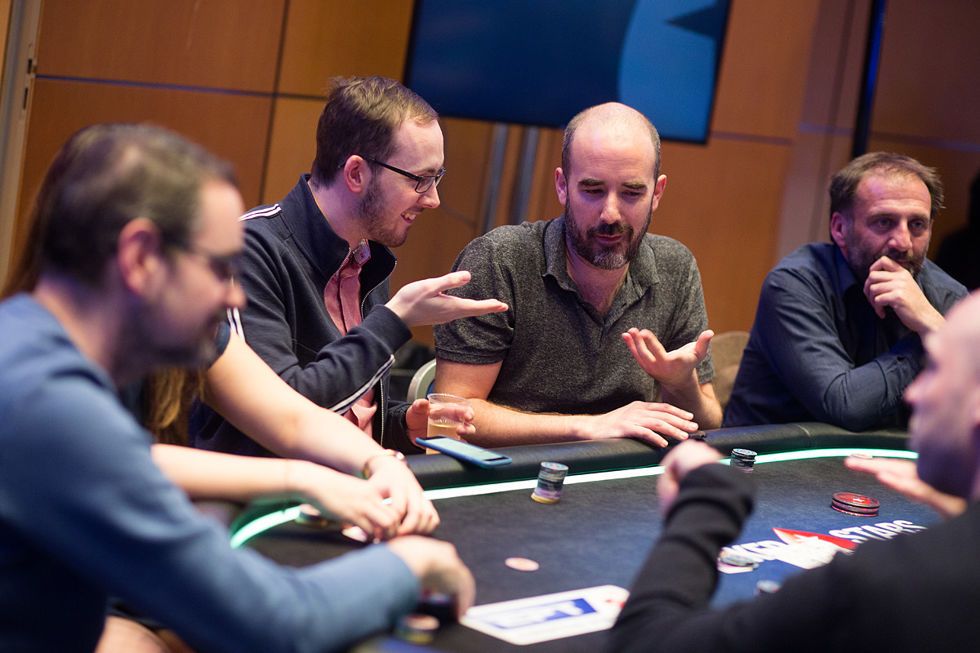 Lew and Moreira de Melo admitted they hadn't tried it, while Spragg seemed the most confident of the bunch. He entered a number of pots and shared some pointers with his tablemates.
Moreira de Melo didn't take his advice to make sure she had something on boards to heart, as she clashed with Lew in a big pot. With a pair of kings adorning the top board and queen-high headlining the bottom on the turn, she faced a shove from Lew.
"Which board am I playing?" Lew taunted.
She called with queen-ten, which didn't have anything on the top board, only to see Lew show a set of fives on the bottom board. Needing a queen or ten on the top to chop, she missed and sent a double over.
"Nothing you could do," Spragg needled. "Unlucky. Sometimes, you just get coolered."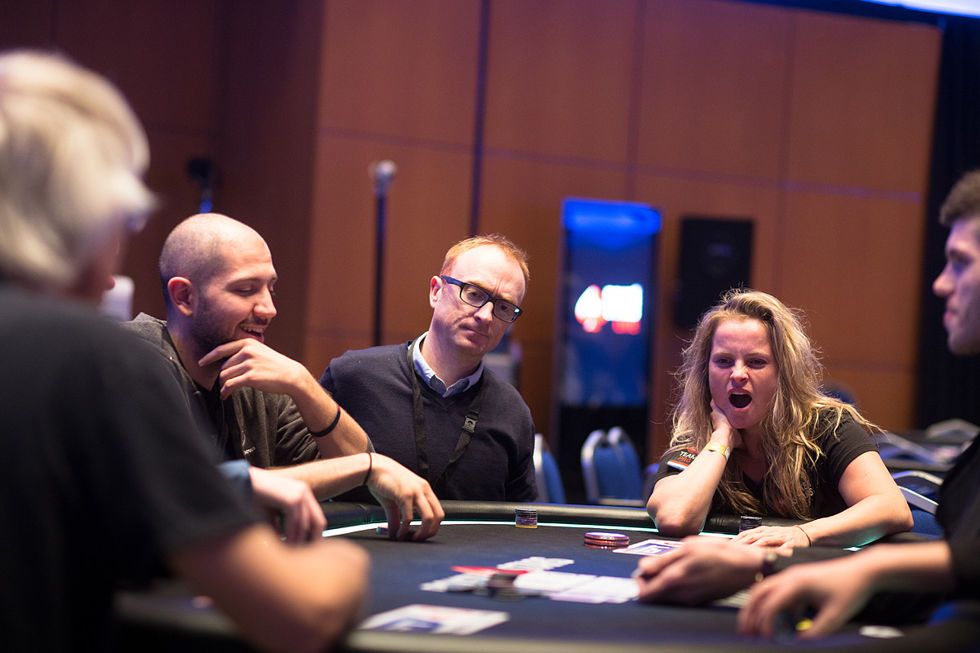 Some players wanted to continue playing Split Hold'em at the close of the level, while others wanted to transition to traditional hold'em so they could turn off their brains a bit and keep the adult beverages flowing. In the end, that's what happened, and the tournament progressed normally from there.
Overall, the game seemed to keep a fairly decent pace for a double-board game, although that could be a concern going forward if more PokerStars live events utilize the experimental format. The big blind ante helps alleviate some of the speed issues. Dealers and players didn't have any problems determining winners or getting the mechanics of the game right.
Strategically speaking, aggression and hand selection that focuses on suited connectors appears to be the way to go.
The former is of utmost importance as many hands at showdown are chopped, so the easiest way to scoop seems to be getting everyone else to fold.
On the latter point, having hands that have a wide spread of board coverage makes it easier to play postflop. For example, a fairly strong pair like pocket tens will often see one or more boards where the strength of the hand is dicey, while ten-nine suited might be able to make a pair on one board and a draw on the other to more comfortably continue.
If the game proves popular online in its trial run, expect a wider introduction to live events in the near future. If not, look out for the next innovation from PokerStars as the company continues to rethink aspects of poker in an attempt to find a new format that sticks.