£1,250 Main Event
Day 3 Completed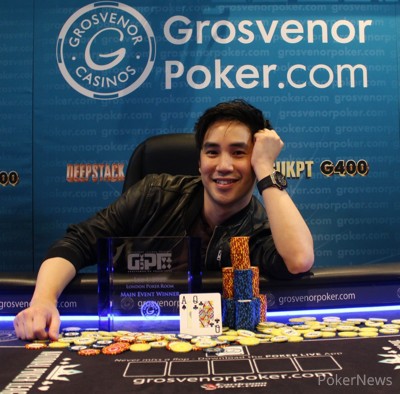 It was a marathon final day of over twelve hours, but Timothy Chung has won the GUKPT London Main Event after topping a 702-player field.
He takes home £185,560, which will see the self-confessed cash game player top $1 million in live earnings.
"Cash is temporary but tournaments are forever," he told PokerNews following his victory. "I run pretty bad in these events normally.
"I came into the final table as chip leader and had a really good image, but then I was short stack with five left and actually super annoyed. But I knew if I doubled up I'd quickly move back up the counts."
Chung defeated Anonymous Player D A heads-up, with his opponent narrowly missing out on the Main Event title after final tabling the Mini and Midi Main Events so far this week.
GUKPT London Main Event Final Table Payouts
| Place | Player | Country | Payout (GBP) |
| --- | --- | --- | --- |
| 1 | Timothy Chung | Hong Kong | £185,560 |
| 2 | D A | N/A | £128,650 |
| 3 | Giorgos Onisiforou | United Kingdom | £76,850 |
| 4 | Ludovic Geilich | United Kingdom | £48,050 |
| 5 | Harry Law | United Kingdom | £29,900 |
| 6 | Colin Gillon | United Kingdom | £21,550 |
| 7 | Matthew Bonham | United Kingdom | £14,750 |
| 8 | Al-Farouk Obe | United Kingdom | £12,500 |
| 9 | Lorenc Boci | United Kingdom | £10,200 |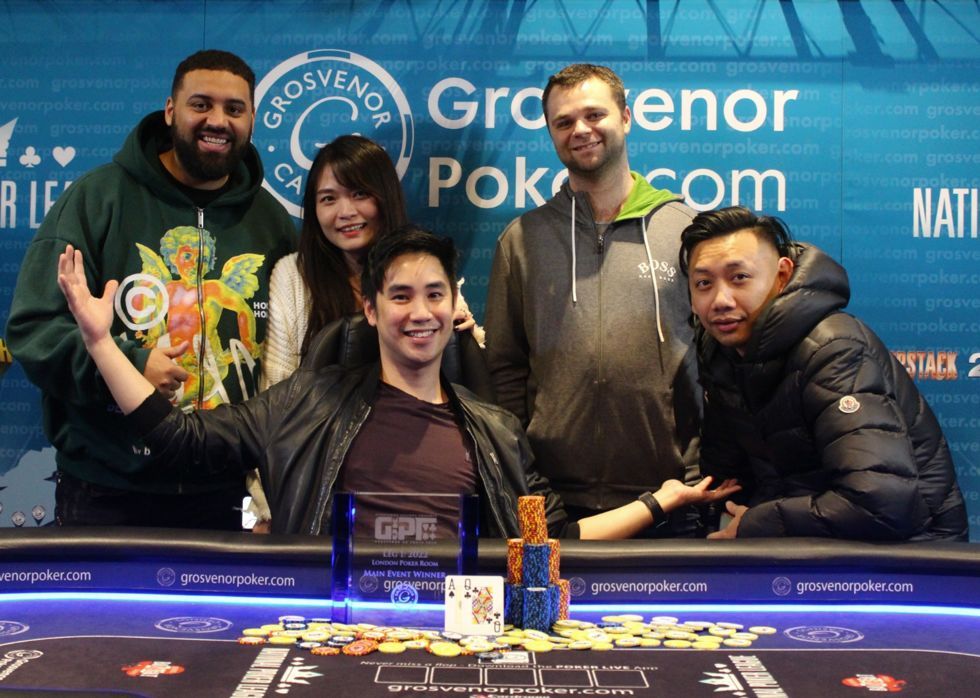 Winner's Reaction
A large rail had formed for Chung as he closed in on victory, something that he definitely didn't take for granted.
"I thought it was just some friends who came for me, but it was great to get a lot of support. It definitely helps because we're gonna be tired. "
The rapid-fire heads-up battle was at odds with the lengthy and sometimes extended periods of tournament play on Day 3, coming after Chung came into the day second in chips.
"It was a really weird day. Everyone was pretty close together in chips at the start of the day, but even with 33 players left any place you finish in you're going to be annoyed. You know, because it's the biggest GUKPT ever and £185,000 up top.
"So every position you finish in apart from first is annoying! It was a really top-heavy structure, so a lot of people were over-folding at the beginning. And having [Day 2 chip leader] Ludovic Geilich on my right meant he was used to putting pressure on people in these situations, so I was three-betting this and that. And he has to go all-in because of the stack sizes, so that was my plan.
He came into the final table as chip leader and navigated a tricky period five-handed before emerging victorious.
"I ran really badly for the first five hours, but in the end I enjoyed it. I just enjoy playing poker in general. Tournaments or cash games it's fine. Cash is temporary, trophies are forever."
Final Day Recap
A large field of 33 players returned for the final day with Ludovic Geilich leading the way. Three former WSOP Main Event final tablists (Antoine Saout, Antoine Labat and Nick Marchington) were eliminated in quick succession as Matthew Bonham took over the chip lead.
The rest of the field were forced to hold onto Bonham, who dominated the next few hours, at one point holding more than five times average chip stack.
And Bonham would have led heading into the final table, but for a stroke of luck that kept eventual winner Chung in the tournament. Bonham's queens had Chung's pocket nines dominated, only for a nine to appear on the turn. This meant Chung was in the driver's seat ahead of D A.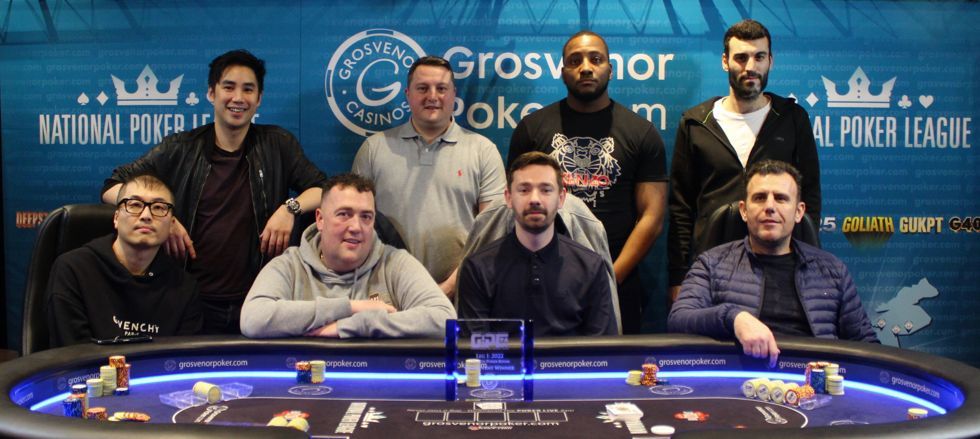 Bonham's fall from grace was spectacular, and after Lorenc Boci and Al-Farouk Obe were eliminated, Bonham also exited at the hands of Harry Law, but it was DA who still continued to lead after sending Colin Gillon to the rail in sixth place.
D A would dominate an elongated period of five-handed play, punctuated by Geilich hitting a one outer against him to stay alive, before Law ran ace-king into the pocket kings of Chung.
A short while later, Chung was in the lead himself after an audacious float against D A. He then sent Geilich to the rail after beating ace-king with his queens and also eliminated Giorgos Onisiforou who had quietly and expertly made his way to three-handed play.
Heads-up was a short affair, with Chung clinching victory after only a small number of hands. The biggest victory of his career was celebrated with tequila, toasting the fact that after bagging over £185,000 he didn't have to drive home!
2022 GUKPT Schedule
Now in its 16th season, that field was a record for a GUKPT Main Event field, with all signs pointing to the rest of the ten stops this season being a roaring success.
PokerNews will be live reporting from the GUKPT all this season, so stay tuned for our next coverage from Coventry at the beginnign of March.
| Leg | Venue | Date | Buy-in | Field | Winner | Payout (GBP) |
| --- | --- | --- | --- | --- | --- | --- |
| 1 | The Poker Room, London | 27 January-6 February | £1,250 | 702 | Timothy Chung | £185,560 |
| 2 | Coventry | 24 February-6 March | £1,000 | | | |
| 3 | Bury New Road, Manchester | 17-27 March | £1,250 | | | |
| 4 | Reading South | 17-24 April | £1,000 | | | |
| 5 | Edinburgh | 8-15 May | £750 | | | |
| 6 | Luton | 26 May-5 June | £1,000 | | | |
| 7 | The Poker Room, London | 23 June-3 July | £1,000 | | | |
| 8 | Leeds | 22 September-2 October | £750 | | | |
| 9 | Luton | 13-23 October | £1,250 | | | |
| 10 | Blackpool | 6-13 November | £1,250 | | | |
| Grand Final | The Poker Room, London | 1-18 December | £2,000 | | | |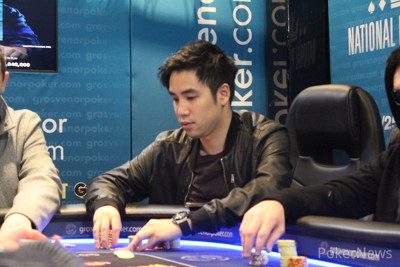 D A and Timothy Chung got their chips in the middle with the former at risk of elimination.
D A:

Timothy Chung:
Chung, the Day 1c chip leader, would scoop the pot and claim victory in the GUKPT London £1,250 Main Event with the nut flush after the
runout.
D A had already made the final table in the Mini and Midi Main Event but this deep run neeted him a substantial six-figure sum of £128,650.
Timothy Chung opened to 320,000 and D A made the call. Action checked through on the
flop to the
turn. D A led for 250,000 and was called. They then check-called a bet of 675,000 on the
river.
Chung had a straight with his
while his opponent called with the
for bottom pair.
Player
Chips
Progress

Timothy Chung

12,000,000

1,000,000

D A

2,000,000

-1,040,000
The remaining two players are on a short ten-minute break. Timothy Chung has a commanding chip lead and is the favourite to claim the title and £185,560 up top.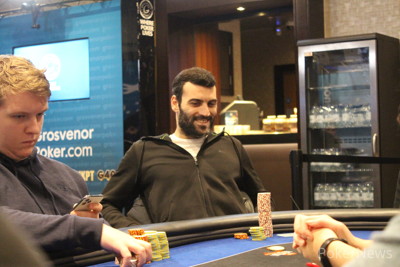 Timothy Chung opened on the button and then called the 1.2 million jam from Giorgos Onisiforou in the big blind.
Giorgos Onisiforou:

Timothy Chung:
Chung would claim the pot and another final table casualty after the
runout.
Level: 32
Blinds: 80,000/160,000
Ante: 160,000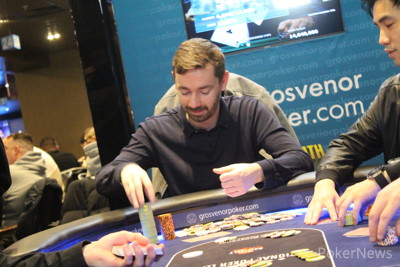 Timothy Chung opened from under the gun before calling the 1.6 million jam from Ludociv Geilich on the button.
Ludovic Geilich:

Timothy Chung:
Despite running well in these situations, Geilich was unable to scoop versus the pocket queens after the
runout.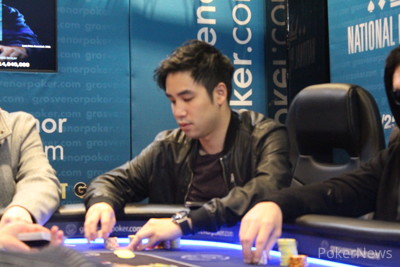 Timothy Chung
raised to 240,000 under the gun and called a three-bet from D A with
for 620,000 out of the small blind.
The flop came
and D A bet 425,000. Chung called.
The turn was the
and D A checked. Chung bet 550,000 and D A check raised to 1.4 million. Chung flat-called and the river was the
.
Both players checked and Chung took down the pot with his pair, moving into the chip lead after the biggest hand of the tournament so far.
Player
Chips
Progress

Timothy Chung

7,200,000

2,800,000

D A

4,200,000

-2,900,000