The Main Event
Day 3 Completed
| TABLE | 7 | |
| --- | --- | --- |
| 1 | Jeremy Ausmus | 144,000 |
| 2 | Mike Kucinski | 71,000 |
| 3 | Victor Ramdin | 1,600,000 |
| 4 | James Dowdy | 1,132,000 |
| 5 | Santiago Nadal | 347,000 |
| 6 | Bryan Barrile | 367,000 |
| 7 | Wade Townsend | 1,108,000 |
| 8 | --empty-- | --empty-- |
| TABLE | 8 | |
| --- | --- | --- |
| 1 | Bryan Leskowitz | 269,000 |
| 2 | David Peters | 370,000 |
| 3 | Govert Metaal | 157,000 |
| 4 | Joe Hachem | 610,000 |
| 5 | Alex Kamberis | 814,000 |
| 6 | David Paredes | 745,000 |
| 7 | Jaime Kaplan | 603,000 |
| 8 | Fab Gonzalez | 907,000 |
| TABLE | 9 | |
| --- | --- | --- |
| 1 | Chris DeMaci | 340,000 |
| 2 | David Baker | 286,000 |
| 3 | --empty-- | --empty-- |
| 4 | Taylor von Kriegenbergh | 1,213,000 |
| 5 | Romik Vartzar | 569,000 |
| 6 | Joe Gaultieri | 100,000 |
| 7 | Jose De Noronha | 334,000 |
| 8 | Joshua Field | 277,000 |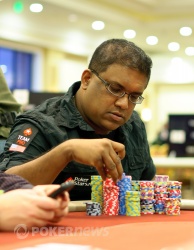 Day 3 of The Big Event Main Event started with the remaining 68 players of a 417-player field, all of whom were looking to crack the Top 56 and secure themselves a guaranteed payday. Not only was the money bubble broke, the field played down to the final 22 players. Amiable pro Victor Ramdin started the day as the monster chip stack, and didn't let up; in fact, he bagged up the most chips at the end of Day 3 with 1.6 million.
Others who survived the day include Taylor von Kriegenbergh, Alex Kamberis, David Paredes, David "ODB" Baker, Chris DeMaci, Govert Metaal, and Joe Hachem. Unfortunately, not everyone was so lucky. Vladimir Shchemelev (54th- $7,500), Anh Van Nguyen (47th- 48,000), Pat Pezzin (42nd- $8,000), Dusty Schmidt (40th- $9,000), Daniel Negreanu (37th- $9,000), Ali Eslami (35h- $9,000), and Jeff Williams (33rd- $9,000) all hit the rail on Day 3.
Negreanu's demise came after he raised made a preflop-raise to 13,500 and was called by Paul Chauderson in the big blind. Things heated up on the
flop with a series of raises and reraises, which ultimately ended in Negreanu moving all in with Chauderson making the call:
Negreanu:

Chauderson:
Chauderson had flopped a flush while Negreanu was looking for a non-six heart. The
turn was no help and it was down to the river for Negreanu's tournament life. Spectators surrounded the table as the dealer burned and put out the
. Just like that, Negreanu was eliminated from The Big Event in 37th place ($9,000).
Tomorrow the final 24 players will return to play down to the final table of eight. There are still a few big names left in the field, so the odds of one making it to there are fairly good. Who will thrive and who'll failt to survive on the way to a $500,000 first-place payday? Rest assured PokerNews Live Reporting Team is ready to help answer that question by providing you with all the live coverage straight from the tournament floor.
Joe Hachem asked us to send a shoutout to Australia for all the support from his fans this week, and we'll send a shoutout to our own fans for following along with our coverage too. We'll see you back here tomorrow!
As the tournament staff was trying to figure out how many players were left, two more eliminations took place. First, Tyer Cornell got unlucky when he was all in preflop with
and up against the
of his opponent. That doesn't sound unlucky, but when the board ran out
and gave his opponent a straight, well that was that.
We didn't get the details on the next elimination but can confirm that Thomas Jenson was knocked out of The Big Event by Victor Ramdin.
We're not quite sure what happened, but a flurry of eliminations just occurred here at The Big Event. Both Phi Nguyen and Greg Debora were standing at the payout desks as they've both been eliminated from the Main Event.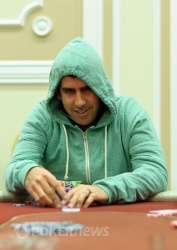 James Dowdy opened with a raise to 32,000 from middle position before Josh Prager shoved all in for his last 207,000. Dowdy asked the dealer to cut down the stack to eye up the potential damage before he made the call to put Prager at risk.
Showdown
Dowdy:

Prager:
Prager's Big Slick betrayed him as the board ran
to seal his demise.
Dowdy is up to about 1.2 million now and in fighting for the chip lead.
Level:

20
Blinds:

6,000/12,000
Ante:

1,000
Players are now on a break.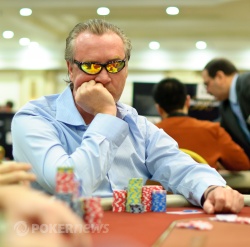 Action folded to Govert Metaal in the small blind and he moved all in for 121,000. The big blind gave it some thought, but ultimately mucked. Metaal has been nursing a short stack the past couple of hours and is picking his spots carefully. He has managed to collect a few chips, but is still short with around 135,000.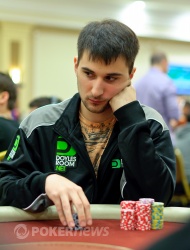 Alex Kamberis raised to 22,000 before Paul Chauderson reraised all in for 129,000. Tyler Cornell reraised and everyone folded back to Kamberis. He went all in and Cornell called.
Cornell:

Kamberis:

Chauderson:
The flop came down
to keep Cornell in front. The turn brought the
to give Kamberis a club draw. The river was the
and spiked the club that Kamberis needed to win the hand and double up. He also eliminated Chauderson in the process and is now up to about 775,000 in chips. Chauderson hit the rail while Cornell was left with 170,000 in chips.