The Main Event
Day 4 Completed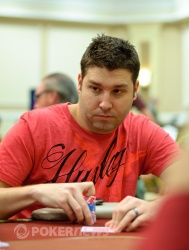 It was an easy day at The Bicycle Casino on Wednesday as the field of 417 had already been whittled down to just 22. Reaching the final table of eight took just five hours of action as the chips were flying around the felt.
Play began with Alex "AJKHoosier1" Kamberis and Josh "JJProdigy" Field exchanging a few not-so-pleasant words. Actually, the words mostly went in one direction as Kamberis welcomed Field to the room by saying, "You're a f***ing scumbag." The bad blood likely comes from JJProdigy's involvement in a number of online cheating accusations, and Kamberis certainly didn't hold anything back verbally. The two men were seated back-to-back at adjacent tables for a good chunk of play, and it's disappointing that we never got to see them share the same felt; both players failed to survive the fourth day.
Victor Ramdin came into the day with the chip lead, and he played just about every single pot as he was the very definition of the moniker "Table Captain." Ramdin eliminated Bryan Barrile early in the day, then tilted and crippled Wade Townsend and James Dowdy before their eliminations. At the end of the day, Ramdin bagged up 2,279,000 to put himself in second place overall.
That count would have been good enough for the chip lead if not for one Jeremy Ausmus. Starting the day with just 144,000 chips (12 big blinds), Ausmus got right to work as his
earned him a double up against Townsend's
. Ausmus worked his stack all the way up to 717,000 when he and his
flipped for his tournament life against Taylor von Kriegenbergh's
. The
board secured a double up for Ausmus, vaulting the one-time short stack up over a million. A big suckout elimination of Townsend pushed him into the chip lead for the first time in four days, and he took care of Dowdy just a short time thereafter. On the final hand of the night, David Paredes squeezed all in with
behind a raise and two calls, and Ausmus woke up with
to put and to Paredes' day and Day 4 as a whole.
Also falling over the course of the day was the runner-up of the 2010 NAPT event at The Bike, Chris DeMaci (20th place), David Baker (17th), Field (14th), and David Peters (13th).
That leaves just eight players to duke it out for the title, and the final table will commence at 1:00 P.M. tomorrow. Here's how the table will lay out when the players return:
| Seat | Player | Chips |
| --- | --- | --- |
| 1 | Govert Metaal | 149,000 |
| 2 | Taylor von Kriegenbergh | 1,810,000 |
| 3 | Santiago Nadal | 943,000 |
| 4 | Jeremy Ausmus | 4,008,000 |
| 5 | Bryan Leskowitz | 1,087,000 |
| 6 | Joe Hachem | 1,666,000 |
| 7 | Jose De Noronha | 568,000 |
| 8 | Victor Ramdin | 2,279,000 |
We'll be on the rail tomorrow to bring you all of the action from the final table as it happens, and we hope you'll join us as The Big Event crowns a champion.
Until then, all that's left is goodnight.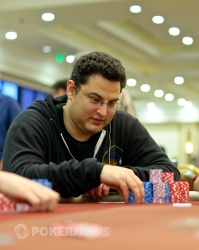 Jeremy Ausmus raised to 54,000 from early position and received calls from Brian Leskowitz and Joe Hachem, who were the next two players to act. When action reached David Paredes on the button, he moved all in for around 700,000. The blind got out of the way and Ausmus moved all in over the top. That cleared the field leaving Ausmus and Paredes heads up:
Ausmus:

Paredes:
Paredes was dejected that he ran in to aces. He needed some major help but received none on the
flop. The
turn gave him a flush draw to any heart but the ace. As fate would have it, the river was the
, giving him a flush but giving Ausmus a full house. Paredes was eliminated in 9th place, taking home $27,000, while The Big Event Main Event final table is now set.
Here's the table draw for the 'unofficial' final table:
| Seat | Player | Chips |
| --- | --- | --- |
| 1 | David Paredes | 580,000 |
| 2 | Govert Metaal | 208,000 |
| 3 | Taylor von Kriegenbergh | 1,850,000 |
| 4 | Santiago Nadal | 750,000 |
| 5 | Jeremy Ausmus | 3,300,000 |
| 6 | Bryan Leskowitz | 1,200,000 |
| 7 | Joe Hachem | 1,820,000 |
| 8 | Jose De Noronha | 400,000 |
| 9 | Victor Ramdin | 2,350,000 |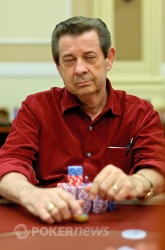 James Dowdy moved all in from under the gun for 101,000. Jeremy Ausmus called from the small blind and Victor Ramdin called from the big blind.
The flop came down
and Ausmus bet 150,000. Ramdin quickly called to see the
fall on the turn. Both Ausmus and Ramdin checked before the
completed the board on the river. Both checked again.
Ausmus tabled the
for a jack-high straight. Ramdin mucked and then Dowdy also tossed his hand into the muck without it being shown. Dowdy was left with nothing but the felt in front of him and was eliminated in 10th place.
Joe Hachem was under the gun and raised to 50,000. David Paredes was next to act and popped it to 152,000. Action folded back around to the 2055 World Series of Poker Main Event Champ and he took his time before making the call. Both players proceeded to check the
flop, as they did on the
turn.
When the
was put out on the river, Hachem checked to Paredes, who checked behind. "Oh, come on," Hachem mocked as he turned over
for a rivered flush. It was apparent he was hoping to get a little more action that he did.
Level:

23
Blinds:

12,000/24,000
Ante:

2,000
Players are on a 10-minute break.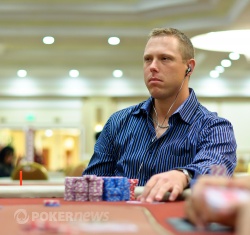 On a
flop, Jeremy Ausmus checked to his heads-up opponent, Wade Townsend who put out a bet of 75,000. After some time considering, Ausmus check-raised to something like 215,000, and Townsend proceeded to shove all in for about 500,000 total. Ausmus called, and the cards were on their backs.
Showdown
Ausmus:

Townsend:
Townsend was well in front, and the
that landed on fourth street was a great card as it took one out away from Ausmus.
River:
Townsend let out a screaming, "F**!!!" as the river card betrayed his best hand. Ausmus made a wheel with that offsuit four, and Townsend's day has been put out to pasture.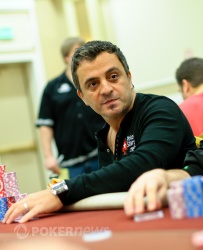 We picked up the action as Joe Hachem was betting 77,000 on a
flop. He was heads-up with David Paredes, and Paredes flatted to see another card.
It was the
, and this time both players checked to the
river. Hachem took control again, firing out 158,000. Paredes quickly called, and Hachem turned up
for the set. It was good, and Hachem moves up to about 1.7 million with that nice pot.
Paredes is down under a million now, knocked back to about 920,000.