Main Event
Day 1a Completed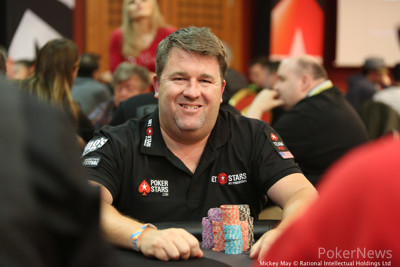 After 12 action-packed levels of poker on Day 1a of the PokerStars Festival Dublin Main Event, 42 players bagged up chips. Yuriy Boyko from Ireland ended as the chip leader finishing the day with a stack of 196,900.
In second place was another Irishman Seamus Cahill with 191,100 and Italian Antonio Merone ended in third with 189,900.
It was a sleepy start to the day as 60 players took their seats at 12 p.m. for cards in the air. The world famous Dublin hospitality, a victory for Celtic in the Champions League the night before and all-night cash games no doubt accounted for a few of the bleary eyes and modest start.
The Main Event soon picked up momentum though as the caffeine kicked in and the numbers steadily swelled to reach 137 total entries.
Team PokerStars Pro Chris Moneymaker gave a well-received "Shuffle up and deal!" at the start of the day but then kept his powder dry until level six when registration closed before taking his seat.
It all looked so easy for Moneymaker as he steadily accumulated chips without ever seeming to put his stack at risk. Indeed it was Moneymaker putting other stacks at risk and he busted a player in one of the last hands of the day to finish near the top of the leaderboard sitting on 179,900.
Many were unable to bag chips in this flight though. Among them was Terry Jordon, who likes to play an aggressive game and is always likely to have a ton of chips or none; today it was the latter. Jordan hit a four on the flop holding seven-four in Level 2. All the chips went in but Jordan's opponent had aces and held on to bust him.
Andy Black, number one on the Ireland all-time money list, was at the tables bright and early and in fine form, chatting up a storm and building a decent stack towards the middle of the day, but he fell short of bagging up chips.
Belgian poker pro Matthias De Meulder was another of the early risers and was cruising along until he lost a big pot in Level 5 when a river bluff on a paired board was picked off by Mark Buckley holding a baby flush. De Meulder was out later in the same level after losing a flip to Michael Mazilu.
For those who failed to carry chips forward to Day 2, there is a final chance Turbo with a 20-minute clock starting at 9:30 p.m on Friday. That includes those who bust Day 1b, which kicks off at 12 p.m. on Friday.
Day 1b notables are likely to include Team PokerStars Pro Jake Cody, Niall Farrell, Ludovic Geilich, Kelly Saxby as well as seven-time world snooker champion Stephen Hendry and ex-footballers Wayne Bridge and Michael Duberry.
Follow all the action right here as the PokerNews Live Reporting team brings you updates from the felt and beyond as the €700,000 guarantee PokerStars Festival Dublin continues.
Yuriy Boyko

196,900
26,900

Seamus Cahill

191,100
161,100

Antonio Merone

189,900
189,900

David Penly

187,600
159,600

Chris Moneymaker

PokerStars Team Pro

179,900
140,900

Joni Salo

174,200
174,200

Ivan Tononi

169,200
169,200

Mark Buckley

157,200
72,200

Daniel Nietrzebka

150,200
105,200

Rory Rees

141,000
141,000

Teunis Kooij

137,600
-22,400

Victor Ilyukhin

134,800
-20,200

Audrius Daugvilavicius

131,200
66,200

Edward Dark

125,300
43,300

Alan Ross Gilmore

119,900
119,900

Sean Foley

118,100
-6,900

Chris Wood

105,200
29,200

Peter Eichhardt

98,600
43,600

Tomas Murnikas

98,100
98,100

Fabio Esposito

94,000
94,000

Matt Hollis

93,200
-16,800

Italo Cassoni

87,900
87,900

Paul Delaney

84,500
12,500

Seamus Devlin

75,100
35,100

John Hanaphy

70,500
70,500
There will be four more hands of play before players bag up ahead of Day 2. There are currently just 44 players remaining from a starting field of 137, but don't rule out that number dropping further in the final stages of the day.
As the close of play approaches there has been a marked increase in the double up or die attitude with a number of players heading for the exits and the tournament now down to 45 players across five tables.
Level:

12
Blinds:

1,000/2,000
Ante:

300
Three players saw a flop of
. Two players checked and the third bet 5,000. Victor Ilyukhin called and Mario Navarro check-raised to 15,000. The third player folded and Ilyukhin called.
The turn was the
and Ilyukhin flung out a bet of 30,000. Navarro moved all in and Ilyukhin called.
Victor Ilyukhin:

Mario Navarro:
Navarro had flopped trip sixes but Ilyukhin had turned a straight. The river was the
and Navarro was eliminated. Ilyukhin turned and patted his masseuse on the arm, as if she had helped him knock out the player.
| | | | | | |
| --- | --- | --- | --- | --- | --- |
| Victor Ilyukhin | | | | 155,000 | 59,000 |
| Mario Navarro | | | | Busted | |
With a €170 buy-in and 10 seats guaranteed, the Festival Main Event qualifier that started at 7 p.m. is proving to be a big hit.
There are 128 entries on the board with 96 still in contention for Day 1b seats.
There is plenty of raucous laughter and a few pints being sunk for this late kickoff. Among them, Roffler in chief Will Kassouf.
A player in middle position raised to 3,300. Peter Eichhardt called in the hijack as did Seamus Cahill in the cutoff. Brandon Elliott was in the small blind and he three-bet shoved all in for 27,100. The initial raiser and Eichhardt folded, while Cahill counted out the chips and called.
Brandon Elliott:

Seamus Cahill:
There was a ten on a
flop. Then another on the
turn and another on the
river, meaning Cahill made quads to double through his opponent.
| | | | | | |
| --- | --- | --- | --- | --- | --- |
| Brandon Elliott | | | | 63,000 | 63,000 |
| Seamus Cahill | | | | 30,000 | -22,000 |
There are now just two more 45-minute levels to play before the bag and tag for Day 1a with 60 players still remaining in the hunt.