Main Event
Day 1b Completed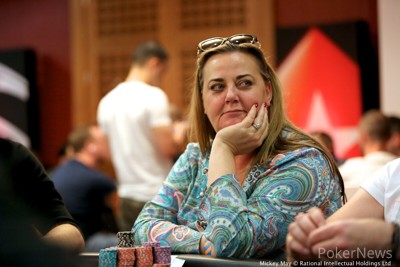 Day 1B attracted a total of 259 entrants creating a combined field of 496 players from both Day 1A and 1B of the PokerStars Festival Dublin Main Event. With one flight still to come, all remaining players will be looking forward to hopefully securing a slice of the €700,000 guarantee when Day 2 gets underway tomorrow.
Someone who will be casting their eye ever upwards is Day 1B chip leader Deborah Worley-Roberts who absolutely dominated to not just eclipse 200,000 (no-one achieved that feat yesterday) but 300,000, eventually finishing with 317,600.
Worley-Roberts took a huge step towards securing the overnight chip lead when she called with a set of sixes on a Broadway-card heavy flop after her opponent over-bet river.
Worley-Roberts had a bit of a late night last night and admits she loves the social side of poker and has a wide circle of friends in the game but had to struggle all day with a hangover.
"I wouldn't advise it, I am a bit the worse for wear."
Worley-Roberts made several impressive river calls on the way to the chip lead and she explained that she uses "live tells and betting patterns. When you play for a long time you have a lot of swings in your style."
At the WSOP in Las Vegas this year, Worley-Roberts finished second in the Ladies Championship for $83,459 but it was the worst day of her poker career.
"I've never cried so much. I knew I was going to win it, but the cards beat me. I've never been so gutted."
It did boost her confidence in her ability at the poker tables though, and she is looking forward to Day 2 tomorrow.
Asked if she would be getting an early night now to rest up for tomorrow Worley-Roberts shook her head.
"I don't know about that. Let's not get carried away. But I'm not going to drink anything that has the word 'bomb' in it."
Other big stacks advancing are Emmett Mullin (311,700), Daniel Jones (203,700), Andrew Grimason (263,000) and Sean Prendiville (260,000).
Today saw a bigger field than yesterday, attracting some top names. Team PokerStars Pro Jake Cody entered but busted early on, as did Will Kassouf. Joining the pair in failing to make it through to Day 2 were Wayne Bridge and Michael Duberry who both said they enjoyed their time in the Main Event, only to fall some way short. Bridge himself said that some of the players he had battled with were on a completely different level than his.
However, former world champion snooker player Stephen Hendry, sporting the PokerStars patch, had a see-saw day before bagging up 75,200.
"It's been a long day," said Hendry at the end of the day's play. "I lost half my stack queens against sevens, but then I got moved and doubled up with aces. The last two levels were stressful!
"I'm pleased to be the last one standing. My stack isn't great but alright."
Others joining Hendry in Day 2 are Jason Wheeler (83,900), Niall Farrell (93,000), Dermot Blain (96,000), Andrew Christoforou (97,100), Tomas Soderstrom (107,100), and Tom Hall (87,300).
There is a special turbo Day 1C with 20-minute levels kicking off shortly, available only to players who played and busted in one of the first two flights. Those advancing from that particular flight will join the remaining players from Days 1A and 1B in Day 2 which gets underway at 12:00 p.m. tomorrow.
Stay tuned to PokerNews who will bring you all the live updates from the Regency Hotel as we get closer to crowning a winner here in Dublin.
Player
Chips
Progress

Deborah Worley-Roberts

317,600

7,600

Emmett Mullin

311,700

86,700

Andrew Grimason

263,600

73,600

Sean Prendiville

260,000

260,000

Daniel Jones

203,700

73,700

Gerard Darren Teague

192,500

192,500

Keith Brennan

177,100

-13,900

Augusto Evangelisti

171,500

171,500

Edgar Fic

168,800

168,800

Masoud Etemadiherisi

147,000

147,000

Jorn Gunther

145,500

145,500

Henri Mikael Ovaska

137,700

137,700

Jean-Robert Autran

132,900

132,900

Zygimantas Gudas

127,500

127,500

Paul Carr

125,800

75,800

Sacha Lebreton

124,900

124,900

Frederic Delval

120,200

120,200

Miguel Coussement

117,300

27,300

Mark Smyth

114,500

114,500

James Salmon

113,100

113,100

Peter Murphy

112,400

112,400

Andrew Earle

111,900

111,900

Tomas Soderstrom

107,100

47,100

Daniel Ulvrell

103,200

103,200

Samlane Phomveha

103,100

-86,900
Tournament officials have announced that there will be three more hands before players bag up for the evening. Stay tuned for a full recap of the day's events.

Level 12 : 1,000/2,000, 300 ante
Day 1c will now begin at 9:45.
This is a turbo event with a 20-minute clock and is only open to those players who have bust eithe Day 1a or Day 1b or won a seat through one of the single-table satellites that ran at the Regency.
Level: 12
Blinds: 1,000/2,000
Ante: 300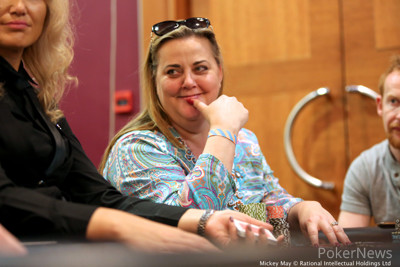 On a
and with 25,000 chips in the pot already, Deborah Worley-Roberts watched as Samlane Phomveha bet 38,000.
Worley-Roberts swore as she fondled some chips.
"If you have jack-ten then well done, I call," she flipped over
for a set of sixes, but Phomveha had already mucked his hand.
She moves up over 300,000 and is now in the driver's seat for the Day 1B chip lead.

Level 11 : 800/1,600, 200 ante
Another bust-out saw Niall Farrell's table break up and scatter among the remaining 11 tables with 99 players from the original 259 still left in.
In a battle of the blinds, Alexander Bretherton bet 1,800 from the small blind on the
flop and big blind Jason Wheeler called.
The turn was the
and Bretherton check-called a bet of 4,500.
The river was the
putting four to a flush on the board, but both players checked.
Bretherton tabled
for a pair of nines, but Wheeler had
for a pair of kings and chipped up further.

Level 11 : 800/1,600, 200 ante
There was an open to 3,000 and one other caller before it got to Chris Dowling on the button and he three-bet to 12,000.
Richard O'Neil in the big blind then moved all in for 21,000. A bit of a dwell up from the other two players but they folded and Dowling called to put O'Neil at risk.
O'Neil:

Dowling:
The board ran out
.
A straight for Dowling which got another player to comment, "Sure those eights aren't doing you any harm."
"Snowmen," agreed Dowling.
Player
Chips
Progress

Chris Dowling

140,000

Richard O'Neil

Busted