Main Event
Day 3 Completed

Level 29 : 50,000/100,000, 10,000 ante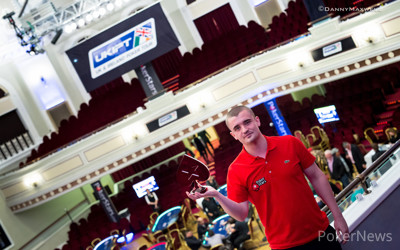 The final table of the 2015 UKIPT Isle of Man Main Event was a rather quick one, as Daniel Stacey had the title, the throphy, and the £24,170 cheque in his hands after less than 8 hours of play.
Despite starting out as 4th in chips, Elliott Hayes was the first to go. He first ran into Paren Arzoomanian's boat with what presumably was rivered trips, and he busted not much later when he got it in with pocket sixes against jacks on an eight-high board. No luck for Hayes on the turn or river and he had to settle for £3,307.
James Walsh, who started out as the absolute short stack, followed Hayes out the door, busting just about the next hand. He moved in with ace jack from the button and found a caller in Arzoomanian with pocket eights. The board came full of blanks and Walsh collected £4,500 for his 7th place finish.
Paren Arzoomanian started out as the chip leader, and having busted Walsh, his confidence must have been at an all time high. A period of pure domination began where he played just about every hand, and won all of them. He four bet twice and got folds both times, and was cruising as the chip leader. Players at the table all tried their luck at him, but most of them failed.
Daniel Stacey was about the only one also collecting chips, especially when he busted Christopher Swinden. Swinden, a chef at a nearby hotel here at the Isle of Man, fell when he made a stop and go in a three bet pot with middle pair. Stacey had flopped top pair with top kicker and saw his hand hold up. Swinden picked up £8,020.
Local hero John Lawson was the next to go. The fan favorite had gotten away with some nice moves, but eventually couldn't fade running ace six into Arzoomanian's ace queen. A standing ovation erupted and for at least a minute, most of the players in the tournament room clapped in their hands till blisters appeared.
It was just Brits from that moment on and Rodger Reynolds was the one of that bunch who was next to go. Reynolds was short stacked long enough and a dedicated rail with Paul Newey and Senh Ung couldn't prevent him from running ace three into Stacey's pocket sevens. A board full of blanks later, Reynolds was heading to the pay out desk to collect £10,170 for his 4th place.
The three handed situation didn't last long as Michael Fletcher was soon out of chips as well. He got it in with ace ten suited against Arzoomanian's pocket sixes. "I've been good at these so far" he said. Not this time though, as a six hit the flop and river to give Arzoomanian quads. Fletcher took home £12,560 for his 3rd place finish.
After 3.5 hours, just 2 players remained. Paren Arzoomanian had a commanding chip lead but Stacey doubled after just a few hands of play. Stacey flopped a set and got it in on the king on the turn that gave Arzoomanian two pair. Stacey faded another king on the river and doubled up, but was still behind. Despite the uneven chip stacks, Arzoomanian suggested an even chop for £19,000 both, and play for the rest (£5,170). Stacey was quick to agree.
What could've been a quick match, lasted another four hours and fifteen minutes eventually. Stacey doubled to even stacks with sixes pre flop all in against ace king, and was right back in it. The two changed places many times and more than once Arzoomanian claimed to be rivered in big pots.
The pretty even match was eventually won by Stacey. Arzoomanian doubled once more with sixes against ace king and was getting close to even, but not much later though the last hand was played. Arzoomanian got it in as a decent favorite with a straight against Stacey's top two pair. If he could just fade a nine or ten on the river, he would be the chip leader by a mile. It wasn't meant to be though for him.
"If you put a nine on the river, I will love you forever!" Stacey said to the dealer. The nine of diamonds popped up, giving Daniel Stacey the winning full house and thus the title. Arzoomanian had to settle for second, but'll still have a nice story to tell at the PokerStars office he returns to tomorrow.
| Position | Player | Country | Prize |
| --- | --- | --- | --- |
| 1 | Daniel Stacey | United Kingdom | £24,170 |
| 2 | Paren Arzoomanian | United Kingdom | £19,000 |
| 3 | Michael Fletcher | United Kingdom | £12,560 |
| 4 | Rodger Reynolds | United Kingdom | £10,170 |
| 5 | John Lawson | Isle of Man | £8,020 |
| 6 | Christopher Swinden | Isle of Man | £6,120 |
| 7 | James Walsh | Ireland | £4,500 |
| 8 | Elliott Hayes | United Kingdom | £3,307 |
Thanks for following the UKIPT Isle of Man 2015 Main Event coverage right here on PokerNews. The next stop of the UKIPT will be in Edinburgh from November 19th till November 22nd.

Level 29 : 50,000/100,000, 10,000 ante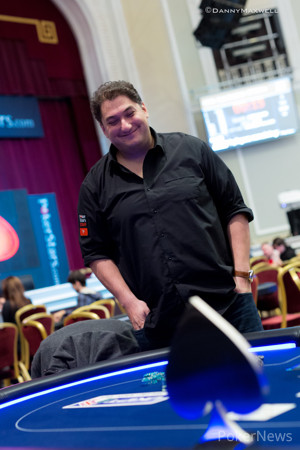 The UKIPT Isle of Man Main Event has a new champion, Daniel Stacey.
Paren Arzoomanian raised to 200,000 from the button and then called when Stacey three-bet to 530,000. Stacey tested the waters with a 385,000 bet on the
flop and Arzoomanian called once more. The turn brought the
into play and Stacey checked. Arzoomanian bet 575,000, Stacey moved all-in and Arzoomanian instantly called.
Stacey:

Arzoomanian:
While the tournament director was counting out the stacks of chips to see who would bust, Stacey told the dealer, "If you put a nine on the river I will love you forever!"
With the stacks counted and Arzoomanian being confirmed as the player at risk, the dealer dealt the river card.
"Deuce of clubs," pleaded Arzoomanian but it wasn't that card, it was the
, completing Stacey's full house and gaining the dealer a new love in her life!

Level 29 : 50,000/100,000, 10,000 ante
Paren Arzoomanian opened for 200,000 from the button and big blind Daniel Stacey three bet to 525,000. Arzoomanian thought about it for just a few seconds, before moving in for 1,870,000. Stacey called instantly.
Paren Arzoomanian:

Daniel Stacey:
"Sixes have held up every time!" Arzomanian remembered, "Sixes were good last time!" he added.
The flop came
and Stacey had a virtual lock on the hand. The
on the turn made things official and the
on the river was just there to complete the board.
"You outplayed him!" shouted someone from the rail.
"I'm never folding sixes again!" Arzoomanian laughed.
Level: 29
Blinds: 50,000/100,000
Ante: 10,000

Level 28 : 40,000/80,000, 10,000 ante
Another 15-minute break for the two remaining players. Arzoomanian lost another couple pots where he needed to fold pre flop to some pressure from Stacey.
The two discussed switching to half an hour levels, but now that he's a bit short, Arzoomanian isn't so sure he's interested in doing that anymore.
Peran Arzoomanian checked on the
, Daniel Stacey bet 100,000 and was check-raised to 375,000. Stacey called and it was off to the
turn. Arzoomanian led for 350,000 and was called, and then checked the
river, opening the door for Stacey to bet 500,000.
After much deliberation, Aroomanian called then mucked when shown
for two pair.
On a
flop, Daniel Stacey checked, Paren Arzoomanian bet 225,000 and Stacey called. The
saw Stacey check-call a 325,000 bet and then a bet in the region of 700,000 on the
river.
Stacey showed
and Arzoomanian the
and the pot was chopped.

Level 28 : 40,000/80,000, 10,000 ante
The two of them keep trading pots, and Stacey is still in front.
Daniel Stacey has extended his lead thanks to winning four consecutive pots, three of which ended preflop.
The one that saw some community cards saw Paren Arzoomanian check the
flop, Stacey bet 100,000 and Arzoomanian check-raise to 250,000. Stacey wasn't done with the hand and raised to 700,000 whcih prompted Arzoomanian to send his cards into the muck.