Main Event
Day 1c Completed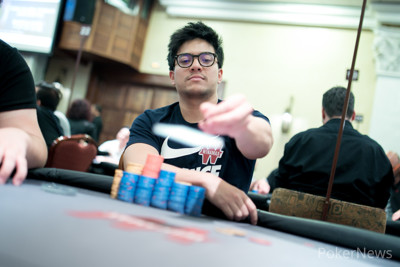 Before the day started, it appeared that someone would need a chip stack in the region of 600,000 to vie for the chip lead in the Winamax SISMIX Main Event. However, Winamax Team Pro Pierre Calamusa knocked it out of the park, bagging up in excess of one million chips to become the outright chip leader heading into Day 2.
At the end of play, the former Winamax Poker Open Dublin said that such a big stack was only possible because of the six-max format of the tournament.
"There's a lot more action," said Calamusa as he was bagging. "I got a lot of good hands and hit a lot of good boards. People never believed me, and they kept paying my bets! It was very easy today."
Calamusa will be joined in Day 2 by fellow Winamax Team Pros Sylvain Loosli, who qualified yesterday and Adrian Mateos who steadily accumulated chips throughout Day 1c to bag 309,000. However, they won't be joined by Gaelle Baumann, namely because Calamusa eliminated her!
"It's been a very good day. Gaelle and I are very good friends and the chips stay in the family so we're both happy!"
The Winamax SISMIX has been highlighted by a community atmosphere, and Calamusa says that everything here is made for the amatuer to enjoy.
"Winamax chose to have a tour for the amateurs. Other tours have high buy-ins, but with us it's more family stuff. We all enjoy it. Even if you bust a tournament you still have a lot of other things to do. You have games, pool parties. Everybody comes back every year!"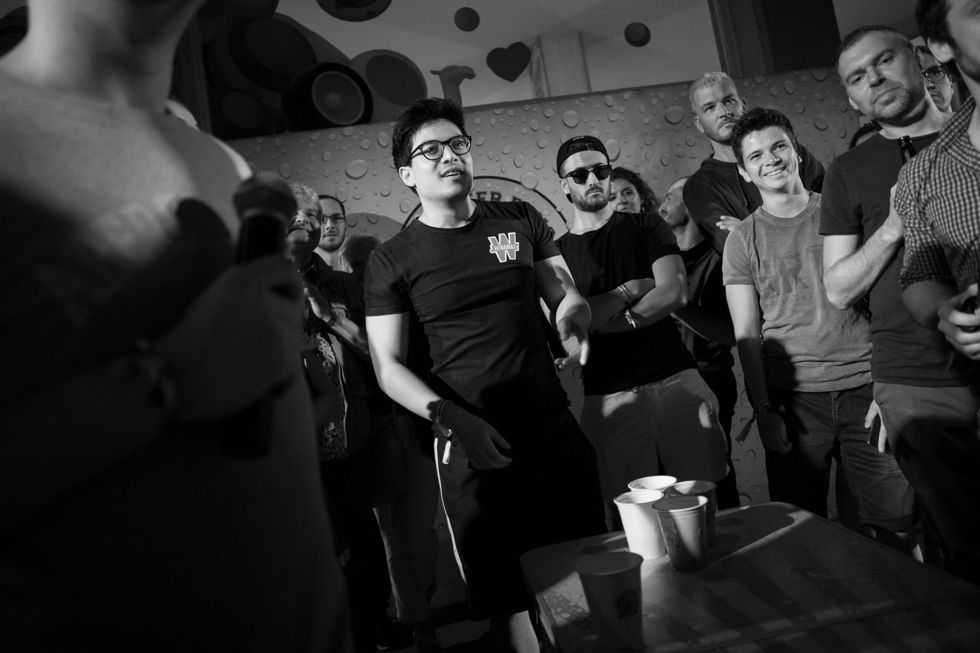 Calamusa himself is no stranger to the off-the-felt activities, winning yesterday's Beer Pong Tournament.
"It was so cool; everybody was cheering for us. I mean it's unbelievable. I will remember this for my whole life. Even better than my WPO Dublin victory a few years ago, because this had like 100 people cheering for m.e
But if he goes on to add the 2018 SISMIX title to his poker resume, will that top his beer pong triumph.
"Obviously not," he said with a smile.
It was clear from the outset that the record for largest Winamax SISMIX event was going to get smashed, and in the end the 1,252 entries not only broke the SISMIX record, but became the largest field ever held for a poker tournament in Africa.
104 players will advance to Day 2, lead by Calamusa, with other big stacks including Raphael Loiseau (747,000), Jerome Paveaux (699,000), Abdelhamid El Khayati (667,000), and Julien Baldassarre (636,000).
There are still several notables in the field, including 2017 Winamax SISMIX final tablist Said Hahou (428,000), Paul-Francois Tedeschi (287,000), Said El Yousfi (180,000) and Marvin Dupre (22,800).
Play will resume at tomorrow at midday, with 12 50-minute levels schedule. Stay tuned to PokerNews.com as we get closer to crowning a winner here in Marrakech.
Player
Chips
Progress

Pierre Calamusa

1,030,000

-20,000

Raphael Loiseau

747,000

437,000

Jerome Paveaux

699,000

89,000

Abdelhamid El Khayati

667,000

477,000

Julien Baldassarre

636,000

Adil Oubaaous

574,000

Mohamed El Berrak

571,000

Jonathan Guez

535,000

Cheng-Wei Yin

515,000

25,000

Pedro Jimenez

488,000

David Brauman

443,000

Rudolf Mitja

434,000

Said Haho

428,000

393,000

Matej Zavacky

427,000

317,000

Vincent Ployet

424,000

Hugo Chesne

423,000

Samir Beldjoudi

408,000

323,000

Michael Van Der Ghinst

392,000

Mohammed Drissaoui

386,000

86,000

Jalil Mekouane

371,000

Florian Humeau

365,000

40,000

Dominique Mura

357,000

Mike4895

354,000

Joao Paulo Rodrigues

353,000

Bruno De Campos

351,000
The turn of
was out between Adrian Mateos and Said Haho. Haho checked to Mateos who bet 35,000. Haho check-raised to 90,000 and Mateos called.
The river was the
and Haho moved all in. Mateos almost beat him in to the middle with his chips and tabled
. Haho showed
for a chop, but was frustrated as he also held a flush draw from the flop.
"Lucky boy," he said to Mateos, and the pair smiled.
Player
Chips
Progress

Said Hahou

500,000

Adrian Mateos

250,000

150,000
Level: 14
Blinds: 2,500/5,000
Ante: 500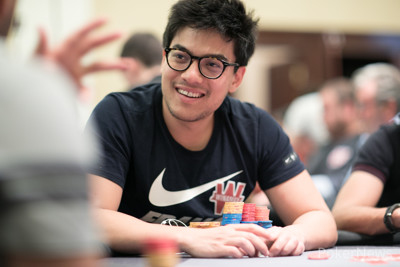 Pierre Calamusa has chipped up even further after eliminating a player with 120,000 in chips
against
. Another player adding to his stack is Said El Yousfi, who eliminated another player to move up to just over average in chips.
Player
Chips
Progress

Pierre Calamusa

830,000

95,000

Cheng-Wei Yin

490,000

290,000

Marvin Dupre

220,000

-40,000

Paul-Francois Tedeschi

215,000

85,000

Said El Yousfi

200,000

100,000

Adrian Mateos

100,000

-90,000

Samir Beldjoudi

85,000

33,000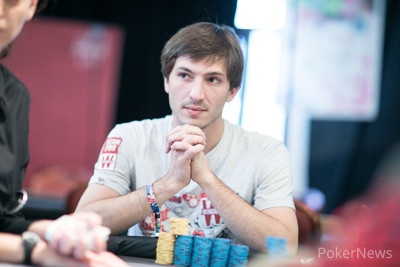 Among the recent eliminations include 2015 Winamax SISMIX winner Bruno Lopes, 2017 final tablist Rakesh Lalwani, and Winamax Team Pros Ivan Deyra and Guillaume Diaz.
Level: 13
Blinds: 2,000/4,000
Ante: 500
The all in and calls are flying here at the Winamax SISMIX Main Event. Firstly Mohamed Hossam moved all in with
and, after some thought, was called by Nicolaus Paskiewicz with
.
The flop was a good one for Hossam, coming
giving him a flush. The turn
might have got Hossam's heart racing a little bit, giving Paskiewicz trips, but the river was the
handing him the full double up.
At another table Bruno Michels was all in with
and would have to come from behind to beat the
of Boyan Dulyanov. The flop
gave Michels a flush draw. The turn was the
but the river
completed that flush draw and handed him the double.
Player
Chips
Progress

Mohamed Hossam

90,000

90,000

Bruno Michels

75,000

75,000

Nicolaus Pazkiewicz

70,000

70,000

Boyan Dulyanov

15,000

15,000