Event 50 - $10,000 Pot Limit Omaha World Championship
Day 2 Completed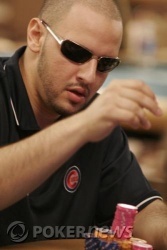 The overnight chip counts have been released for Event 50, $10,000 Pot-Limit Omaha, showing that Michael Mizrachi widened his lead during the last hands of the night. Mizrachi will head Tuesday's final, with the complete lineup of finalists as follows:

Michael Mizrachi 1,767,000
Brandon Moran 1,286,000
Kido Pham 1,080,000
Marty Smyth 1,068,000
Billy Argyros 729,000
Greg Hurst 637,000
Peter Jetten 492,000
[Removed:14] 372,000
Tom Hanlon 192,000

The final table begins at 3pm PDT at the ESPN feature table. We'll be there with hand-by-hand updates.
The elimination of our tenth-place finisher signals the end of play for Day 2. What started with 381 players three days ago has been narrowed all the way down to our final nine competitors.

Josh Arieh held the lead for the huge majority of the tournament, but he ran into trouble following tonight's dinner break. For several hours, he seemingly lost every pot he played. By the end of the night, he was nowhere to be found after being eliminated in 12th place. Once he relinquished control of the tournament, a few other players have held and lost the chip lead at various times. As we head into tomorrow's final table, Michael "The Grinder" Mizrachi is our chip leader, sitting with 1,767,000 in chips.

Play resumes in the ESPN arena at 3:00pm sharp, PDT, and we hope you'll join us as the remaining players fight it out for nearly $700,000, plus something money can't buy: the gold World Champion bracelet!
At long last, we have our tenth-place finisher. Michael Mizrachi raised to 60,000 preflop. He was called by Marty Smyth before David Benefield reraised to 204,000. Only Mizrachi called. He then bet 200,000 dark on the flop of
, enough to put Benefield all in.
Mizrachi:
Benefield:
Mizrachi had only top-top, but promptly turned two pair when the
hit. The river
was a blank and with that, we're done.
We're not seeing lots of action. Everyone is wary of being the player to bubble off of the TV table. Media row is begging for something like a full wrap draw against top set.
While we have a minute, we want to point out that we have discussed with the floor staff whether or not the ten-hour rule will be used tonight. This is the rule that stipulates that players will not be required to return to play sooner than ten hours after the end of the previous day. We were told that the ten-hour rule is an effect, meaning that tomorrow's 2pm scheduled start time of the final table will be delayed.
Level:

22
Blinds:

12,000/24,000
Ante:

0
Cards are back in the air.
Players are on a quick five-minute break.
Here are the seat assignments for the "final" table:

1. Kido Pham
2. Brandon Moran
3. Peter Jetten
4. Michael Mizrachi
5. Billy Argyros
6. Greg Hurst
7. Tom Hanlon
8. Marty Smyth
9. David Benefield
10. [Removed:14]