New poker experience at 888poker
Join now to get $88 FREE (no deposit needed)
Join now
Event 9 - $1,500 Six-handed No Limit Hold'em
Event 9 - $1,500 Six-handed No Limit Hold'em
Day 2 Completed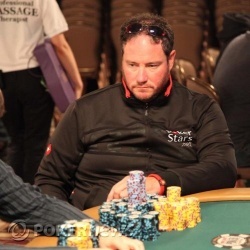 It's another application of Rule 96 here at the 2009 World Series of Poker. That's the rule that states that no Day 2 will be required to play past 3am unless the Day 3 is scheduled to be broadcast on television or the internet. Day 3 of this tournament does not fit that exception and so play has come to an end with eight players remaining.

It was a steady stream of eliminations throughout the day. Isaac Haxton was one of the first to go. He was soon joined on the rail by many of the other most recognizable faces in this field. But there's still at least one bracelet winner in the hunt. Praz Bansi is looking to bring the gold home for England and in the process capture his second bracelet.

Bansi will start Day 3 in the middle of the pack. Anything is possible for him, but he'll be chasing chip leader Charles Furey, who ended the night with 1.69 million chips. He'll be in the pole position when the players reassemble at 1pm tomorrow.

See you then!
And we thought events had ground to a halt a little while ago. There was still one more twist to end today's tale. Robert Lipkin raised it up from the button to 41,000 before Bryce Yockey three bet to 150,000. Lipkin then moved all in and Yockey made the call with
. He was in trouble against the
of Lipkin though.
The board ran
to three outer Lipkin and bust him the very last hand of the night. Yockey now up to 1,489,000 to play with tomorrow.
"You gotta call," Steve McNally told Praz Bansi. "I gotta double up here buddy." McNally had open-shoved from under the gun for about 200,000 and Bansi was deliberating a call. McNally's words seemed to sway Bansi; he called. After the blinds were out of the way, McNally and Bansi opened their hands.
McNally:
Bansi:
A safe board of
gave Bansi the win and sent McNally home just slightly ahead of the other remaining players. He'll stop at the cash to collect $30,311 before he leaves.
It's folded around to Bryce Yockey on the button who makes it 38,000 to call. Allan Puzantyan called from SB before a
flop came. Puzantyan led out for 75,000 and Yockey called before
came on the turn. Puzantyan led for 125,000 this time and another call before the
came on the river. Puzantyan moved all in and Yockey called.
Puzantyan tabled
but unbelievably Yockey tables
for running threes! He's at 1,060,000 now and Puzantyan left in a state of shock and out.
Play has ground to a halt here as it seems players are contented to wait and try their luck tomorrow.

The TD asked a player to draw a card to see how many hands will be played at the end of the night. In the first good beat in a while the No.2 2 card was drawn, so two hands will be played on each table at 2.50am.
Level:

21
Blinds:

8,000/16,000
Ante:

2,000
Cards are back in the air.
It's a fifteen-minute break. They'll then come back and play thirty minutes more.
Robert Lipkin makes it 31,000 to go before Allan Puzantyan makes it another 45,000 on top. Lipkin then moves all in and Puzantyan makes the call with
. It's a coin flip as Lipkin has
.
The board runs
to double Puzantyan to 460,000. Lipkin on 440,000.