Event 22: $2,500 2-7 Triple Draw Lowball
Day 2 Completed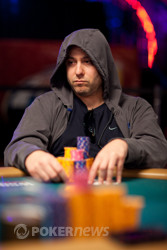 Day 2 of Event 22: $2,500 2-7 Triple Draw Lowball began with 79 players, and if you blinked, you would've missed the first fifty bustouts. Blink again, and you would've missed the money bubble, because the field went from 26 players to 24 in just one hand.
Our chip leader heading into Day 3 is none other than David Baker (381,000). The list of players who busted before the bubble is extensive, and it includes Brian Hastings, Tex Barch, Owais Ahmed, Huck Seed, Marvin Rettenmaier, Abe Mosseri, and David "Bakes" Baker.
Here's who snuck into the money:
| Place | Name | Cash |
| --- | --- | --- |
| 10th | Nam Le | $10,970 |
| 11th | Julie Schneider | $8,169 |
| 12th | Barry Greenstein | $8,169 |
| 13th | Bryan Devonshire | $6,250 |
| 14th | Brian Brubaker | $6,250 |
| 15th | Daniel Idema | $6,250 |
| 16th | Stuart Rutter | $6,250 |
| 17th | Berry Johnston | $6,250 |
| 18th | Frederick Li | $6,250 |
| 19th | Thomas Keller | $4,782 |
| 20th | Bryce Yockey | $4,782 |
| 21st | Allen Kessler | $4,782 |
| 22nd | Benjamin Lukas | $4,782 |
| 23rd | Drew Boyett | $4,782 |
| 24th | Alex Balandin | $4,782 |
Shawn Buchanan, our chip leader entering the day, is also still in the hunt with 153,000 chips. Despite having over $1.6 million in World Series of Poker earnings over the past two years alone, Buchanan has failed to capture his first gold bracelet. Thanks to Andy Bloch, Buchanan is a top candidate for the "best player without a bracelet" award, but don't tell Baker that.
Baker, who has just over $1 million in WSOP career earnings, is also bracelet-less. Despite having 25 cashes and five final table appearances, Baker has been unable to close as well. Like Buchanan, he has a chance to rectify that tomorrow.
There are three multiple-bracelet winners in our final nine. Farzad Bonyadi (3), Josh Arieh (2), and Layne Flack (7) all know what it takes to close out a WSOP tournament. One of Bonyadi's bracelets came in this discipline – he won a $1,000 2-7 Triple Draw event in 2004.
Yet again there is a female player in the hunt for a bracelet in an open event here at the 2012 WSOP. Von Altizer, who's only cash to date was when she finished 21st in this event in 2008, only has 77,000 chips after being crippled by Baker on the final hand of the night, but anything can happen.
Play will resume tomorrow at 2 p.m. Vegas time. Until then, good night from Vegas!
The clock has been paused with ten minutes remaining of the day and each of our tables will play three more hands before bagging up for the night.
The play has gotten a little cagey the last ten minutes or so. It's been a long day and the players might be battening down the hatches ready to reopen them tomorrow.
Benjamin Lazer is having a strong finish to the day, and just picked off a bluff attempt from Randy Ohel.
Lazer raised and Ohel called. Both drew two and and Ohel called a bet. On the next round Lazer discarded one to Ohel's two and then bet again. Call.
Both players stood pat and Lazer let Ohel bet whilst holding
. Lazer called quickly with
and raked in the pot.
Benjamin Lazer raised from first position, and Josh Arieh and Shawn Buchanan called out of the blinds. All three players drew two cards, and the action checked to Lazer who bet. Arieh and Buchanan called. On the second draw, Arieh and Buchanan drew two again, and Lazer drew one. Arieh led out, and both Buchanan and Lazer called.
On the final draw, everybody dished one card. Arieh led out, Buchman released, and Lazer raised. Arieh immediately re-raised, and Lazer snap-called.
"You win," Arieh sighed.
Lazer fanned
, Arieh mucked, and Lazer raked in the pot.
David Baker has strengthened his already firm grip on the chip lead after he knocked out the very short stacked Nam Le. Apologies, we missed the hand.
After two more players are eliminated the field will draw on to one table of seven and play on from there to a winner.
David Baker raised, and Von Altizer called with the button. Baker drew one, Altizer two, and Baker bet out. Altizer called.
Baker stood pat on the second draw, Altizer drew two, and Altizer called another bet from Baker. Both players checked after Altizer drew one more on the third draw, and Baker fanned
. Altizer mucked.
The next hand, Layne Flack raised, Altizer re-raised, and the action folded back to Flack who called. Flack drew two, Altizer one, and Flack check-raised Altizer, who called. Flack drew one on second and check-called a bet from Altizer who stood pat, and the same occurred after the third draw.
Altizer fanned
, and Flack mucked his hand.
Level:

18
Blinds:

2,500/5,000
Ante:

0