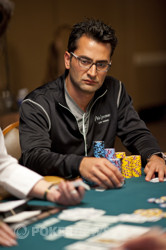 After the cutoff seat raised to 2,100, Antonio Esfandiari made the call on the button and everyone else folded. The flop came down
and the cutoff seat checked. Esfandiari fired 2,800 and his opponent tank-called.
Fourth street was the
and both players checked through to see the
land on the river. The cutoff seat fired 2,600 and Esfandiari gave it up.