Event #50: Monster Stack - $1,500 No-Limit Hold'em
Day: 1b
Event #50: Monster Stack - $1,500 No-Limit Hold'em
Day 1b Completed
Level 11 : 800/1,600, 1,600 ante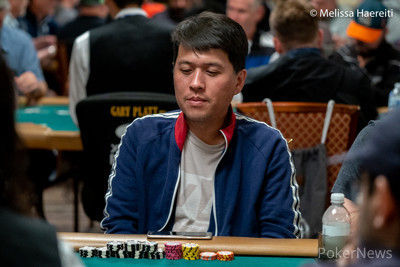 Day 1b of Event #50: Monster Stack - $1,500 No-Limit Hold'em was expected to be big, and with 2,000 entries by the time the first cards hit the felt, it didn't disappoint. By the time registration had closed at the end of level 10, the number had swelled to 3,607 players.
Over the two Day 1 flights, 6,035 entries went into the books, with 1,778 players still in the chase for the bracelet.
James Hundt (466,600) was the chip leader at the end of the Day 1b count-up, but Kapila Garner, finished the day close behind with 464,100 in chips. Sean Yu (221,400), Maurice Hawkins (189,900) and Taylor Paur (162,000) also finished the day with impressive chipstacks. Some more of the many notables that took their seat on Day 2 included Greg Raymer, Barry Greenstein, Kristy Arnett, Richard Seymour, Allyn Shulman, Jackie Glazier and Tyler Patterson.
Since it was a freezeout format many players, including Aaron Massey, Kitty Kuo, Matt Affleck, Rulah Divine, Jared Griener, Randall Emmett and Bertand Grospellier were one-and-done after one bullet. Notables that moved on to Day 2 included Nika Futterman (158,000),John Richards (144,000), Lily Kiletto (130,000), Eric Baldwin (122,800) and Greg Raymer (48,400). They will be joined by Amnon Filippi, Alex Foxen, Valentin Vornicu, Harry Arutyunyan, Natalie Teh and Ali Imsirovic to name a few. Combined with the 1,015 players that moved on from Day 1a, there will be a vast number of seats being filled inside the Rio at the start of Day 2.
Day 2 resumes at 11 a.m. local time on Sunday, and players will tackle 10 hour-long levels with a 60-minute dinner break after level six (approximately 5:30 p.m.). Play will restart at level 12, with blinds of 1,000/2,000 and an ante of 2,000. The Pokernews team will be on hand bringing you all the action from when the first card is dealt until the last card hits the felt.
Player
Chips
Progress

James Hundt

466,600

466,600

Kapila Garner

464,100

464,100

Rick Alvarado

443,600

-36,400

Nishant Sharma

429,000

429,000

John Gravagna

415,000

415,000

Julian Manolio

405,700

405,700

Michael Jagroo

391,000

192,000

Venkata Chinta

364,300

364,300

Terence Clee

362,000

362,000

Matt Kirby

359,000

359,000

David Elet

358,500

Andrea Buonocore

355,100

355,100

Daniel Smiljkovic

350,700

350,700

Angel Ruiz

342,600

342,600

Jessica Meir

335,800

335,800

Michael Ortiz

334,700

334,700

Ross Toth

332,800

332,800

Kevin Cronin

331,800

331,800

Cary Marshall

328,000

328,000

Mario Lopez

323,500

323,500

Ronald Minnis

322,400

322,400

Thomas Boivin

321,000

321,000

Mariano Molino

320,000

275,000

Richard Fitzgerald

308,600

308,600

Niel Mittelman

305,900

305,900
Level 11 : 800/1,600, 1,600 ante
When preflop action folded around to Chen-an Lin in the cutoff, he raised it up to 3,200 and was called by the player in the big blind. After the big-blind player checked the
flop, Lin continued for 4,300, which got a fold from the big player and added a little more to Lin's chipstack during the last few hands of play.
Level 11 : 800/1,600, 1,600 ante
The clock has been stopped with 10 minutes remaining in the level, and it has been announced that five more hands will be played. The remaining players will then bag and tag for the night.
The action folded to the hijack who raised it up to 3,200, John Liu was in the cut off and reraised to 9,400 and the cutoff was the only caller.
The dealer spread the flop of
and after the hijack checked Liu splashed in 10,500 and his opponent snap-mucked. Liu tabled
before throwing it in the muck.
Player
Chips
Progress

John Liu

199,000
The action started with a player opening to 5,000 from middle position, Michael Mccray called two seats over and the rest of the table folded.
The flop came
and the preflop raiser bet 5,000 and Mccray called. The turn was the
and the preflop raiser check-called a 13,000 bet from Mccray. The river was the
and both players checked. Michael Mccray tabled
while his opponent tabled the losing
Level 11 : 800/1,600, 1,600 ante
Action has slowed down a bit in this last level of Day 2, as players are anticipating bagging and tagging soon.
Level: 11
Blinds: 800/1,600
Ante: 1,600
The remaining players are on their final 20-minute break of the night.