Event #78: $2,500 No-Limit Hold'em
Day: 3
Event #78: $2,500 No-Limit Hold'em
Day 3 Completed

Level 34 : Blinds 200,000/400,000, 400,000 ante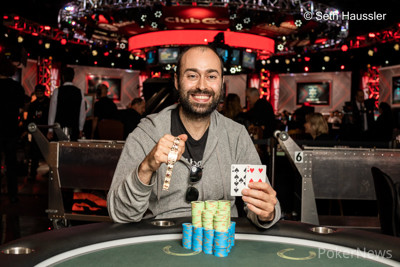 After three long days of play in a brand new event stacked with notables, Sebastien Aube has joined the ranks of WSOP bracelet winners. Aube bested a field of 1,364 entries in Event #78: $2,500 No-Limit Hold'em to take home a first place prize of $499,636 and the coveted WSOP gold bracelet.
Aube was in the top five chip counts to begin Day 3 and although it got a little rocky for a while in the earlier levels of the day, he slowly climbed back up. Heading into the final table, Aube had a dominating chip lead that he never relinquished throughout the rest of the day.
There were many big names and former champions in this tournament including James Gilbert ($20,585), Kenny Hallaert ($20,585), David Miscikowski ($25,474), Ran Koller ($52,240), Matt Berkey ($68,102) and Brian Keith Etheridge ($222,762) who all cashed in the top 25.
Event #78: $2,500 No-Limit Hold'em Final Table Results
| Place | Player | Country | Prize (USD) |
| --- | --- | --- | --- |
| 1 | Sebastien Aube | Canada | $499,636 |
| 2 | Jilien Loire | France | $308,817 |
| 3 | Brian Keith Etheridge | United States | $222,762 |
| 4 | Axel Hallay | France | $162,627 |
| 5 | Leandro Vlastaris | United States | $120,177 |
| 6 | Santiago Plante | Canada | $89,905 |
| 7 | Matt Berkey | United States | $68,102 |
| 8 | Ran Koller | Israel | $52,240 |
| 9 | Jonathan Zarin | United States | $40,588 |
Winners Reaction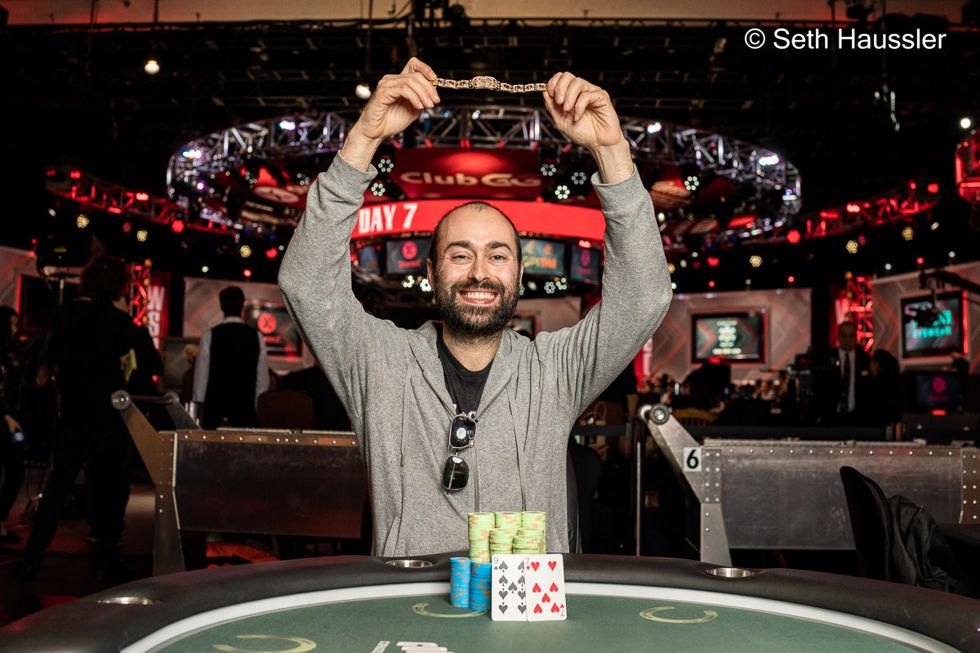 This was Aube's first WSOP bracelet and only the second cash of his poker career, the first one being $2,815. "I played recreationally in my 20's and when I opened my last business in the pandemic, I came upon the MasterClass of Daniel Negreanu. I always liked the guy so was like alright, let's go. He really psyched me up. It's the same recipe to succeed in poker as it is in business so it really called to me."
Aube came out to test the skills he picked up in his studies at the WSOP Main Event. It was his first time playing in the series and while the cards didn't fall right for him in the Main, they sure did in this one. He was radiating happiness and excitement after his win, "I'm extremely psyched. I was in it for the bracelet mostly and I'm very glad that I got it. I'm so excited, it's a very good accomplishment for my second live cash in a tournament; a pretty good one to do it in."
His girlfriend and his 11-month-old child are back at home in Montreal, Canada, and were getting updates on his status throughout the day. "I can't wait to celebrate with my friends and family. My girlfriend is asleep now but she is going to wake up and be so excited with the amazing news of my win."
Final Day Recap
WSOP bracelet winner Miscikowski was the chip leader heading into Day 3. Six other players busted out within the first two levels and the remaining 16 played for another few hours before Hallaert was eliminated in 16th place. Miscikowski was taken out in 13th and, within an hour, the remaining ten went over to the unofficial final table.
Brien Lee was the first one knocked out when his queen-high straight was beaten by Aube's king-high straight. Jonathan Zarin followed shortly after when an unlucky river gave Etheridge a straight, running over his ace-king (top two pair).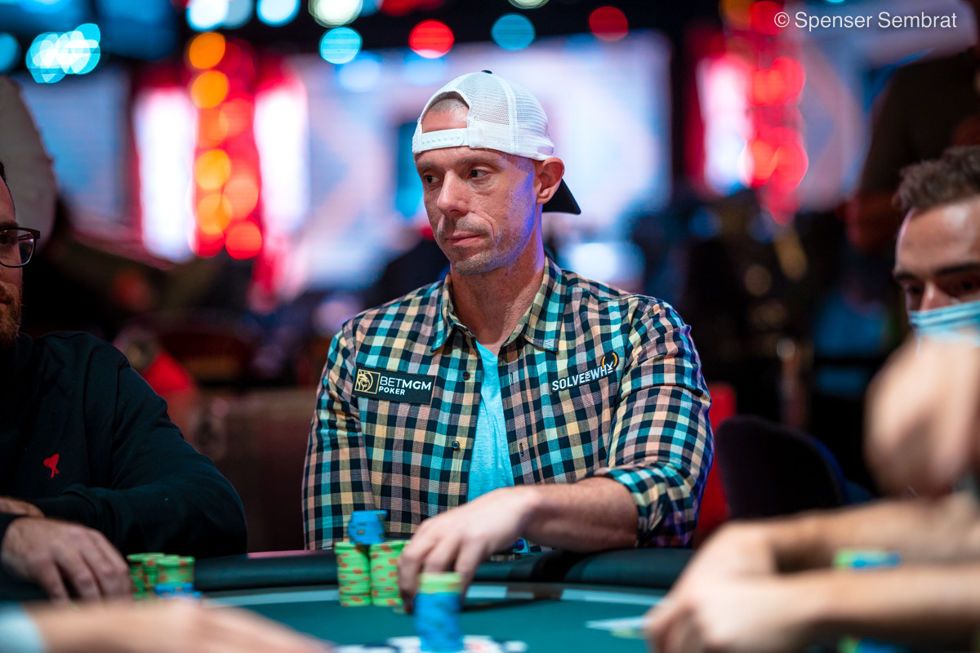 Koller was next to go when the bracelet winner was taken out by Berkey's runner-runner two pair. After the dinner break, Berkey was eliminated by Aube in a race with ace-ten which ended with Aube hitting a set to knock him out.
Another player from Montreal, Santiago Plante, was short-stacked throughout most of the final table play but managed to capture sixth place when he came up against pocket nines and the deck didn't give him any help.
Leandro Vlastaris was knocked out in fifth after a roller coaster ride of highs and lows throughout the day, ending up all in against Aube who knocked him out with pocket jacks.
The final four went rather quickly with Axel Hallay going up against and losing to Aube and his monster stack. Etheridge busted out shortly after Julien Loire hit Broadway against him in an all-in hand.
On the final hand, the seven on the river hit for both Aube and Loire. When Aube moved all in, Loire quickly called and tabled his straight. Aube flipped over nines full of sevens and that was it as he took down the hand and the tournament.
Stay tuned to PokerNews as we bring you all the action from the last handful of 2022 WSOP bracelet-awarding events.

Level 34 : Blinds 200,000/400,000, 400,000 ante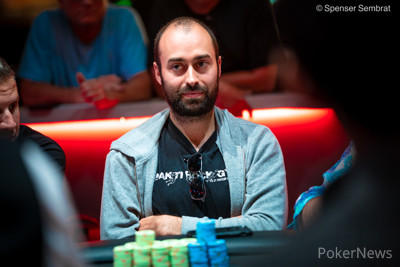 Congratulation to Sebastien Aube, who has won Event #78: $2,500 No-Limit Hold'em for $499,636 as well as his maiden WSOP bracelet.
He was the last man standing from a 1,364-entry field to secure the biggest cash of his career.
Final day recap to follow shortly.

Level 34 : Blinds 200,000/400,000, 400,000 ante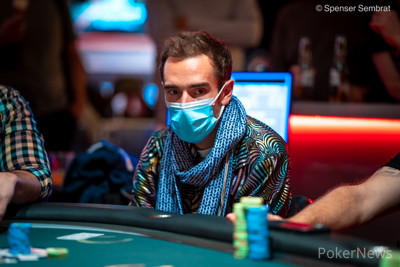 Julien Loire opened to 900,000 on the button and Sebastien Aube called from the big blind.
The
checked through to the
turn. Aube bet 1,000,000 and was called.
On the
river, Aube moved all-in as the big stack and Loire quickly called off his last 7,000,000.
Aube tabled his
for a full house while Loire had the
for a rivered straight.

Level 34 : Blinds 200,000/400,000, 400,000 ante
Heads up play has seen Sebastien Aube taking pot after pot and he got his hands on a huge one. With no raise preflop, Julien Loire was on the button. The flop Q♠10♠3♥ was fanned on the felt and Aube checked to Loire who bet 500,000, which Aube then called.
The turn was a 7♦ and Aube check-called 1,500,000.
On the river a Q♦ showed up and Aube checked again. Loire grabbed a few stacks and bet 4,500,000 which Aube snap called. Cards went up and Loire showed 6♣10♣ for a two pair, queens and tens. Aube flipped 9♦10♦ for the same two pair but his kicker came in to play and he took down the pot.

Level 34 : Blinds 200,000/400,000, 400,000 ante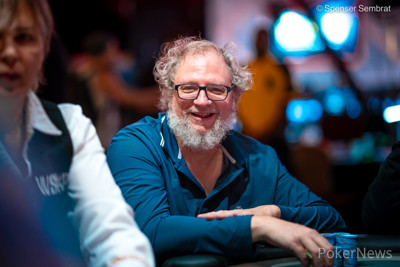 In a blind versus blind battle, Brian Keith Etheridge opened to 900,000 before calling the all-in from Julien Loire.
Julien Loire:

Brian Keith Etheridge:
The jacks were immediately outflopped as the dealer fanned the
flop which was followed by the
turn and
river.
After the stacks were counted, Etheridge only had 600,000 left. He then doubled up through Sebastien Aube the very next hand.
Now in the big blind, the short stack moved all in for 1,800,000 and was called by Loire, who opened from the button.
Brian Keith Etheridge:

Julien Loire:
Loire would go on to make Broadway on the
runout to set up heads-up play.
As Etheridge left the table, the remaining players congratulated the TV Writer and Producer on his deep run and impressive skills. Etheridge had been a favourite of many tablemates throughout the last three days and now walks away with a $222,762 payday and WSOP top three finish.

Level 34 : Blinds 200,000/400,000, 400,000 ante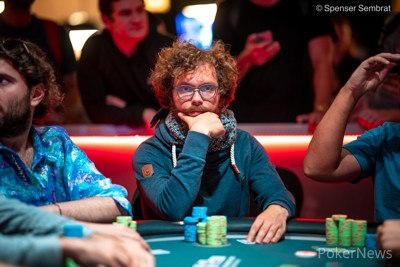 With 900,000 in the middle and a flop of
showing, the blinds were the only ones in the hand. Sebastien Aube checked to Axel Hallay who bet 400,000 which Aube then called.
The turn was a
and had Aube check-calling once again, this time for 1,300,000.
A
showed up on the river and Aube checked to Hallay who bet 3,600,000 which was most of his stack. Aube moved all in and Hallay tossed his remaining chips in to make the call.
Axel Hallay:

Sebastien Aube:
Hallay had top pair and had Aube until the river when the ten showed up to give him two pair to take down the monster pot and knock his opponent out of the tournament in fourth place.
Player
Chips
Progress

Sebastien Aube

25,690,000

8,990,000

Julien Loire

11,300,000

-900,000

Brian Keith Etheridge

10,750,000

-1,250,000

Axel Hallay

Busted

Level 34 : Blinds 200,000/400,000, 400,000 ante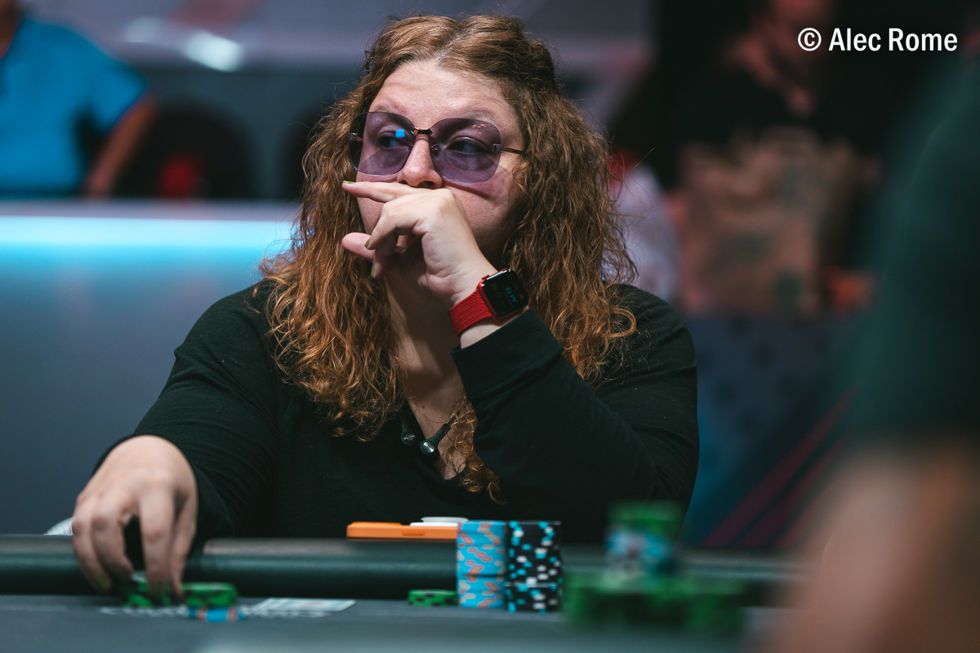 Day 7 of the 2022 World Series of Poker Main Event started with 35 players left in contention for poker's biggest prize, and it took almost three full levels to shed the field to its final 18 hopefuls. Each of them is guaranteed at least $323,100 at this point, but everyone's eyes are locked on securing a birth at the final table and cementing a place in poker history.
Several exciting moments already happened along the way, briefly recapped below.
Level: 34
Blinds: 200,000/400,000
Ante: 400,000

Level 33 : Blinds 150,000/300,000, 300,000 ante
The four remaining players are now on a 20-minute break.