First Five with 2012 WSOP Bracelet Winner Benjamin Scholl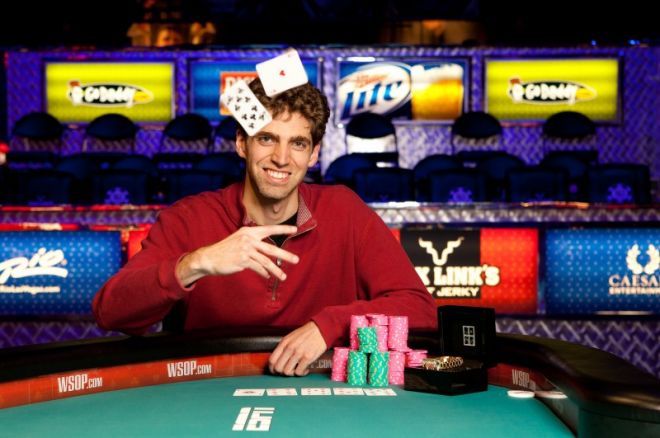 We were able to catch up with the winner of Event #20: $5,000 Limit Hold'em moments after he won his bracelet. Benjamin Scholl is a financial analyst from Philadelphia, Pennsylvania, and works in the same firm as William Chen, another professional poker player. Before Monday, Scholl's biggest cash was in a World Series of Poker event in 2009 where he finished 4th place for $150,132.
What was your first thought after you won?
I couldn't believe it. I was just really happy to win. I couldn't believe heads-up was so quick. I was wondering if I should play heads-up instead of taking a dinner break, but I went with eating, and luckily I didn't have to play too much heads-up. I wouldn't call my self a heads-up specialist by any stretch.
What's the first purchase you're going to make?
I don't know. I might buy a car. I don't have a car at this point. So, maybe a car.
What's the first thing you're going to do as a bracelet winner tonight, or tomorrow morning?
A few of my friends are flying out tomorrow. I'm going to be here for a little while longer. So I will probably hang out with them. My rail was nice enough to watch the past six hours, and rail me, so I'll do whatever they feel like doing really.
Who is the first person you're going to call and tell?
I'm from the East Coast, so no one right now, but I'll probably call my parents and my brother and sister tomorrow.
What was going through your head when you were presented with the gold bracelet?
Well, I was wondering what the difference between that was and real thing because they told me I couldn't keep that one. But, I have seen pictures of the new design and it looks pretty cool. I don't know when to wear it though. I don't know what the etiquette is on that.

Will we be seeing you at any more events this series?

I was planning on playing the shootout tomorrow, but I think I need a break from limit hold'em. But I'll almost certainly play the horse event in a couple of days.
Follow PokerNews on Twitter for up-to-the-minute news.