NBC National Heads-Up Championship Predictions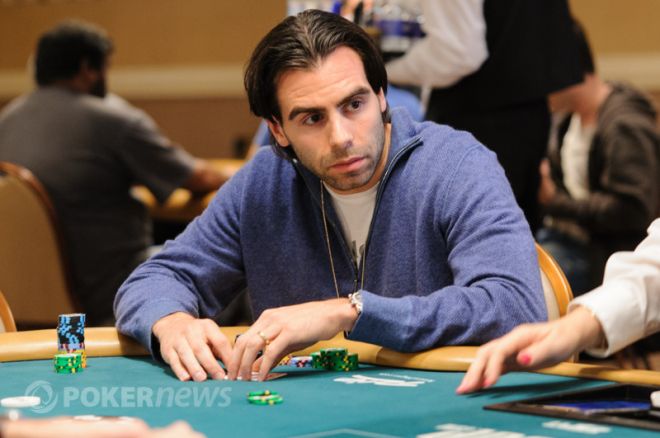 Thursday marks the start of the 2013 NBC National Heads-Up Poker Championship, and as the resident prognosticator here at PokerNews, it seems only fitting that I should (completely botch) provide the public with a few predictions. I won't bore you by breaking down every matchup in the first few rounds, but you can follow along with my bracket to see who I have advancing. Once we get to the round of 16, then we'll look at each matchup.
Without further ado, here are my predictions for the first round: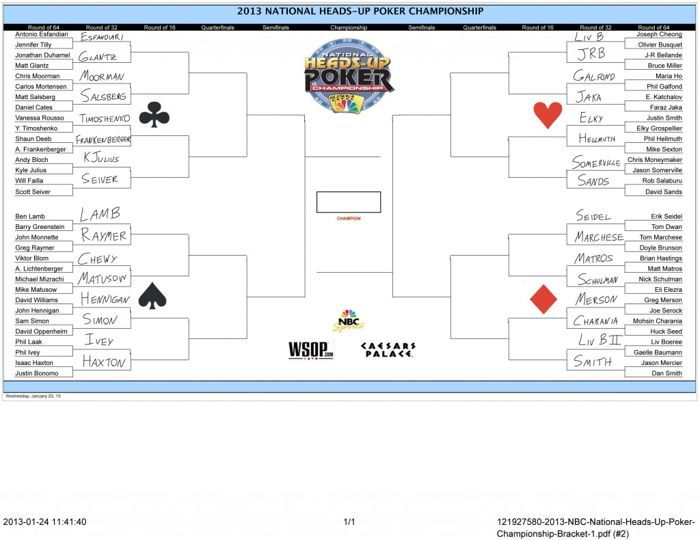 Clubs Bracket
Antonio Esfandiari vs. Jennifer Tilly
If this tournament had seeds, then this would definitely be the 1 vs. 16 matchup in the Clubs Bracket. Antonio Esfandiari is coming off of the best year of his career, winning two World Series of Poker bracelets including the inaugural $1 Million Big One for One Drop, while Jennifer Tilly hasn't really played poker much, cashing in just six events since 2010. The banter in this match will be great, and Tilly will certainly go joke-for-joke with Esfandiari for the camera, but in the end, Esfandiari should able to take care of business on the felt.
Matt Salsberg vs. Daniel Cates
A lot of the predictions that I'm going to make in this article are going to be based upon "who wants it more." Clearly all of these players want to win a $25,000 poker tournament, but there will be certain players who have more than just money invested. I believe that television producer Matt Salsberg is one of them. Despite winning the World Poker Tour Season XI Grand Prix de Paris, very few people know Salsberg's name, and he's started to grind much more frequently on the circuit. By beating Daniel Cates, one of the best heads-up players in the world, he can do just that.
Andy Frankenberger vs. Shaun Deeb
Shaun Deeb played awesome in the 2013 PokerStars Caribbean Adventure $25,000 High Roller, and was very unlucky to have been eliminated by Vanessa Selbst. However, I think that Andy Frankenberger has been preparing for this tournament since the very second he received his invite. Because he's been looked over so many times, Frankenberger carries an enormous chip on his shoulder, and wants to prove all of the doubters and the haters wrong.
Spades Bracket
Viktor Blom vs. Andrew Lichtenberger
By this point, all of TwoPlusTwo has stopped reading this article because I've axed both Cates and Viktor Blom. Andrew Lichtenberger is a very underrated and talented player, and I just envision Blom having the shakes at the table because he's unable to grind on Full Tilt Poker in the states. The faster Blom busts, the faster he can hop back online and try to win $10 million in a single week.
Mike Matusow vs. Michael Mizrachi
This is going to be the shortest, yet loudest match of the tournament. On one of the first hands, Michael Mizrachi is going to do something squirrely with a special hand like
. Mike Matusow will wake up with a monster like
, and the two will get all of the chips in on a
flop. The turn and river will both be spades, and Matusow's shout will be heard from the top of Mount Everest.
Phil Ivey vs. Phil Laak
Phil Laak: This is so sick, kid! The greatest and me!
Phil Ivey: (Silence)
Phil Laak: What's it like to be the best, kid?
Phil Ivey: (Silence)
Phil Laak: Look at that look! LOOK AT THOSE EYES!!!
Phil Ivey: (Silence)
Hearts Bracket
Faraz Jaka vs. Eugene Katchalov
This is a revenge match from the 2011 NBC National Heads-Up Poker Championship, where Eugene Katchalov defeated Faraz Jaka in five minutes. Jaka won't want to fall to 0-2 lifetime at NBC Heads-Up, and he sold action for this event, so you know he will be trying to do his backers proud.
Phil Hellmuth vs. Mike Sexton
Phil Hellmuth lasted all of 30 minutes in the Super High Roller at the 2013 PCA. He lasted a little longer in the High Roller, but couldn't really get anything going. However, the fact that he went to the PCA shows that he is ready to grind this year, and I think Hellmuth will make a deep run in this event.
David Sands vs Robert Salaburu
I believe that David Sands will win this match, but Robert Salaburu is going to get under his skin. Salaburu is very carefree – and he's probably playing with a very small percentage of himself – so he will use this semi-freeroll to garner attention and attack Sands. Part of me wants to see Sands snap for entertainment purposes, while another part of me wants to see Sands stay composed and handle his business.
Diamonds Bracket
Erik Seidel vs. Tom Dwan
Tom Dwan will certainly be heading to Melbourne for the Aussie Millions. Erik Seidel said in the Bahamas that he wants to go, but was still on the fence at the time. Knowing that Dwan is ready to jump on a flight at anytime, I have to take Seidel.
Greg Merson vs. Joe Serock
The first person to speak will win this match. I was tempted to write in "draw."
Liv Boeree vs. Gaelle Baumann
With only a few women in the event, and Vanessa Selbst and Jennifer Harman opting not to play, it seems criminal that Gaelle Baumann and Liv Boeree will meet in the first round of this event. I have to give the nod to Boeree in this matchup, simply because Elisabeth Hille should've been invited as well. You can't have one bubble girl without the other!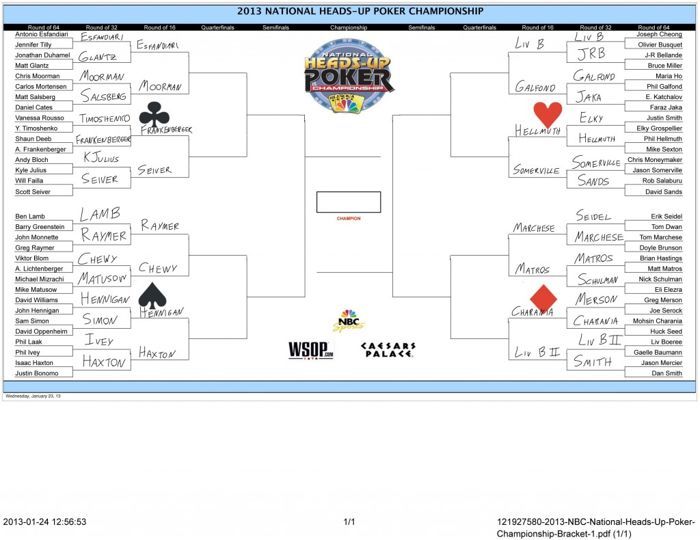 Clubs Bracket
Moorman vs. Salsberg
What are the chances that an English rail forms if Chris Moorman goes deep? If there is even a 20 percent chance that a few dozen Brits will get hammered and start chanting "Moorman1," then I have to support him. Sorry Salsberg, but a 1-1 record in this tournament isn't too shabby.
Andy Frankenberger vs. Yevgeniy Timoshenko
And you thought I was kidding about Frankenberger really wanting to win this.
Scott Seiver vs. Kyle Julius
This would be a very enjoyable match for a few of reasons. First, both of these players are really good. Scott Seiver just took down the Super High Roller at the PCA, and Julius is coming off of his most profitable year ever. Second, these players are both goofy. Seiver is goofy because he'll joke about anything at the table, and Julius is goofy because, well, he's just goofy. The edge here goes to the hot hand.
Spades Backet
Ben Lamb vs. Greg Raymer
No, Greg Raymer does not have his own show. I just think that video clip is hilarious.
John Hennigan vs. Sam Simon
John Hennigan received a bit of grief in our "snubs" article on PokerNews, but not because he's a bad player. Hennigan isn't excitable, and isn't a good fir for a made-for-TV event, but he's still very solid. If he can get past David Williams, then it seems like he's a shoe-in to reach the Round of 16.
Isaac Haxton vs. Phil Ivey
Isaac Haxton: (Silence)
Phil Ivey: (Silence)
Isaac Haxton: (Silence)
Phil Ivey: (Silence)
Hearts Bracket
Olivier Busquet vs. Jean-Robert Bellande
This matchup features the two classiest names in the tournament. Olivier Busquet dressy extremely classy, and can out-class anyone in a heads-up sit-n-go, while Bellande will probably be wearing an un-tucked Aria shirt, and can out-class anyone in being broke yet still being able to play in the biggest game in town.
Phil Hellmuth vs. Bertrand "ElkY" Grospellier
I think the loser in this match should have to dress like their opponent during Day 1 of the 2013 Main Event. Think about how devastating it would be for Bertrand "ElkY" Grospellier to wear an unstylish, all-black outfit with a baseball cap. Likewise, think about how hilarious it would be to see Hellmuth in a bedazzle jumped with bleached blonde hair. Regardless of the outcome of this match, someone will fire off a depressing tweet about how they never run good.
Just an FYI, these two have combined for nearly $28 million in career live tournament earnings.
Diamonds Bracket
Tom Marchese vs. Erik Seidel
Tom Marchese was the last player to enter the tournament, thanks to Harman bowing out. Marchese was at the top of everybody's "snub" list, and really doesn't have to prove anything to anybody. He's a sick player with sick results, and we'll see him in the Round of 16.
Mohsin Charania vs. Greg Merson
It's the battle of breakout stars. If you aren't a poker die hard, then you probably heard these two names for the first time in 2012. Mohsin Charania and Merson are on the shortlist of people who binked seven-figure scores in a live tournament in 2012, and are looking for repeat success in 2013. I have Charania winning because Merson hasn't been playing many tournaments since his Main Event win, and I fear that he might be too laxxxed.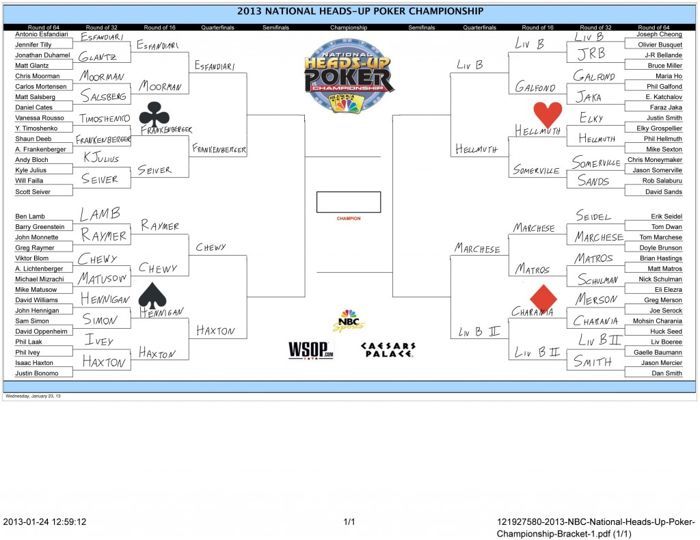 Clubs Bracket
Antonio Esfandiari vs. Chris Moorman
The only thing better than having drunk Brits on the rail is having Michael Phelps and/or Bill Perkins on the rail. Plus, having the One Drop winner go deep in this thing is good...#forthegame.
Andy Frankenberger vs. Scott Seiver
At this point of the tournament, I think Frankenberger will unveil the salmon pants. There's nothing scarier than poker's flying tomato wearing salmon pants. Ask Ivey.
Oh yeah, and Frankenberger wants this.
Spades Bracket
Greg Raymer vs. Andrew Lichtenberger
Both Raymer and Lichtenbeger have iconic nicknames, but "Chewy" is stronger than "Fossil Man."
By the way, why hasn't anyone used Juraasic Park one-liners against him? No "clever girl?" "Hold on to your butts?" "Dino DNA?"
John Hennigan vs. Isaac Haxton
All joking aside, whoever wins the Haxton/Bonomo matchup is going to go far in this competition. Both players are very tough, and the bracket is generally easier than the others. We expect Ivey, like Dwan to be ready to board a flight to Aussie Millions, and neither Hennigan or Simon pose huge threats.
Hearts Bracket
Olivier Busquet vs. Phil Galfond
Is there a more enjoyable potential matchup than Busquet and Galfond? These are two super bright players who have both had a ton of success playing heads up online. This would be a treat for anyone - even the casual fan - and I have to give the slight edge to Busquet for selfish reasons.
You'll know why soon.
Phil Hellmuth vs. Jason Somerville
Jason Somerville is a friend, and is one of the most media-friendly players in the game, but we have to be pulling for Hellmuth. Hellmuth helps the ratings, he increases the entertainment value, and the longer he lingers, then the more chances we get to watch an epic blowup.
Come on, Phil! Let one rip! Don't let these nerdy, idiots from Northern Europe run you over!
Diamonds Bracket
Tom Marchese vs. Matt Matros
Matt Matros won his third bracelet in as many years in 2013, but Marchese won five events at the Bellagio. Five!
While both players are very deserving, and have extensive poker résumés, I truly believe that Marchese is going to take his initial snubbing to heart. There's no better motivation than being told you're the 66th-most deserving player in a 64-player field.
Mohsin Charana vs. Liv Boeree
Boeree is the only female remaining. It's as simple as that. With a former winner (Annie Duke) being a female, we really need a lady to step up and represent. Boeree hasn't recorded a six-figure score since her big win at EPT Sanremo in 2010, so she's due.
Right?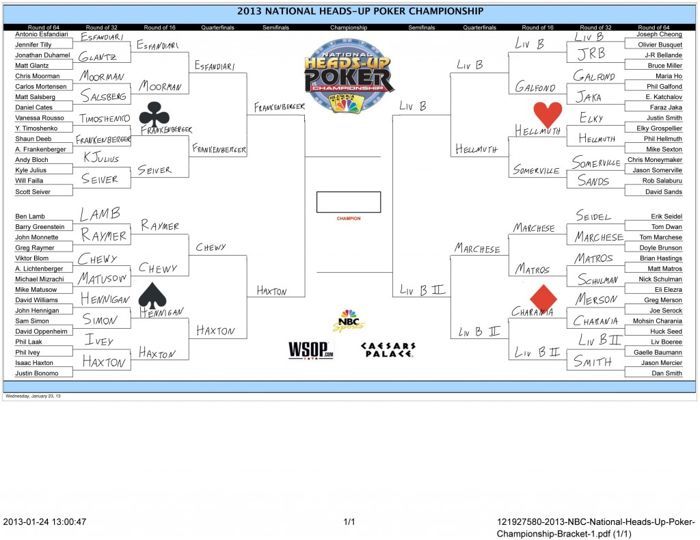 Clubs Bracket
Andy Frankenberger vs. Antonio Esfandiari
You heard it here first, Andy Frankenberger will represent the Clubs Bracket in the semifinals. NOBODY WANTS IT MORE THAN FRANKENBEGER!!!
Spades Bracket
Isaac Haxton vs. Andrew Lichtenberger
This matchup is perhaps more goofier than the matchup between Seiver and Julius. Few people in poker laugh more than Haxton and Lichtenberger, and even fewer people in poker have more unique laughs than Haxton and Lichtenbeger. Of all of the "non-television" pros, Lichtenberger and Haxton would surprise the viewers the most by just how talkative and enjoyable they can be.
We'll give the advantage to Haxton because of our previous claim about the first round Haxton/Bonomo matchup - which I can't wait for Bonomo to win.
Hearts Bracket
Olivier Busquet vs. Phil Hellmuth
Busquet has ripped Hellmuth a bit during his appearances on WSOP live streams, and now he'll have a chance to prove that his analysis was correct. We've seen Andy Bloch and Chris Ferguson, two very analytical players, dominate this event, and there's no reason that Busquet can't follow in their footsteps.
If Hellmuth is fortunate enough to get this far, it will still have a positive impact. I don't see him making a return appearance to the championship match.
Diamonds Bracket
Liv Boeree vs. Tom Marchese
It pains me to take Marchese out of the competition, but it must be done. Once and for all, we must know who the real "Liv B" is.
Semi Finals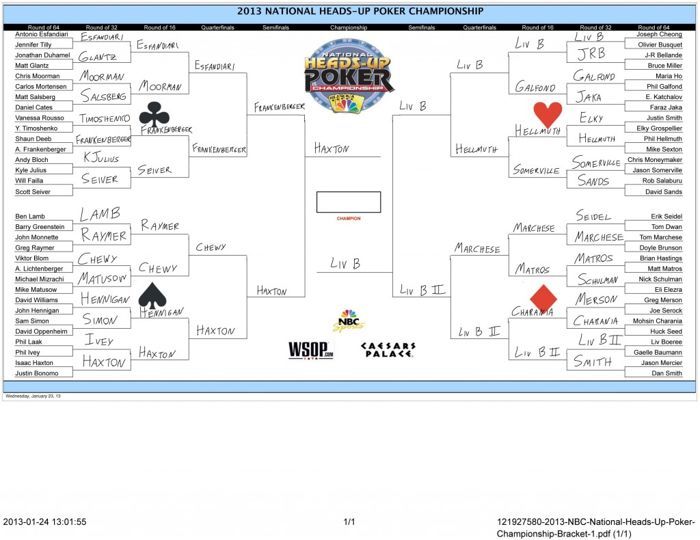 Olivier Busquet vs. Liv Boeree
We may never know who the real David Baker is. Who is the real Superman? Shaq or Dwight Howard?
Nickname battles are rarely resolved, but this is our chance to finally find out who the real Liv B is. Is it the beautiful Brit with a passion for rock music? Or is the well-dressed, athletic, heads-up sit-n-go wizard?
Is the ridiculous? Yes. Have I carried Boeree through this bracket for too long for selfish reasons? Absolutely. But I want to know. I have to know.
My heart tells me it's Busquet, but I'd be lying if I told you I didn't tank for the better part of 15 minutes before making this decision.
Isaac Haxton vs. Andy Frankenberger
Even the incredible powers of Frankenberger's salmon pants can't stop the dynamic duo that is Haxton and Bonomo.
Yes, I will be taking full credit if Bonomo makes it this far in Haxton's place. Deal with it!
Frankenberger's unorthodox style can trip up most players, but having played heads-up exclusively for quite some time, Haxton knows that he will have to adapt to each opponent. If Frankenberger does make it this far though, I hope he gets the credit he deserves. Variance may have helped him along the way to winning two WSOP gold bracelets, but he has certainly put time and effort into his game.
Championship Round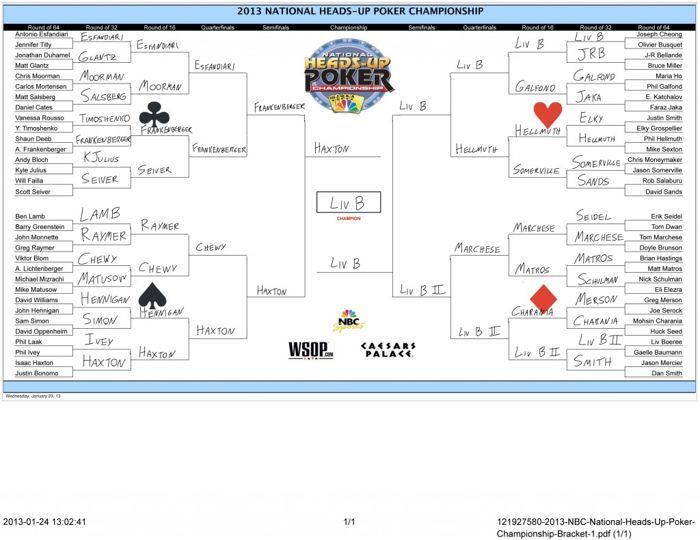 Olivier Busquet vs. Isaac Haxton
As you can obviously tell, I've had a little bit of fun with this bracket. We've discussed Frankenberger's salmon pants, silly videos that have very little to do with Raymer, laugh inflection, potential drunk railbirds, and more. However, I do believe that my two finalists will make deep runs…
…just as long as Bonomo doesn't beat Haxton in the first round. Have I made that qualification yet?
Busquet and Haxton are heads-up poker masters. Both players have cut their teeth online playing heads up, and both players are huge favorites against this field. Likewise, while they're both wizards, Busquet and Haxton are enjoyable to watch. Both players are light-hearted, funny, and will engage with one another if they are to meet in the championship round. It's a win-win for viewers, producers, players, fans, and media members alike.
In the end, I have to pick the one and only Liv B to take this down. Busquet has done a lot of good things in the industry, including his apperances on the WSOP live stream, and truly is due to bink a big large score.
So there you have it. A predictions piece that will most certainly be shredded to pieces by the time play ends on Thursday. Enjoy the tournament, and good luck with your brackets!
To stay on top of everything poker related, follow PokerNews on Twitter and like us on Facebook.