Poker's World Series of Beer Pong Pairings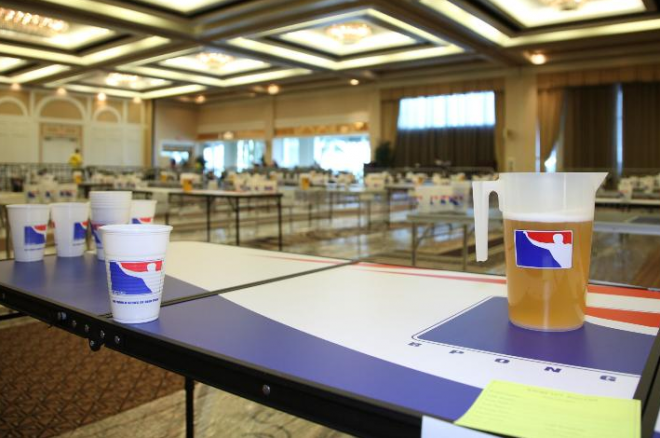 The World Series of Beer Pong kicks off in Las Vegas on New Year's Day, Jan. 1, 2013, and it will run through Jan. 5. With a $50,000 grand prize, it will be interesting to see the talent that competes in such an event. With over a hundred teams registered, there is sure to be a team with impressive pong skills who will earn the title of Beer Pong Champ.
In the spirit of the competiton, PokerNews has compiled a list of our 10 favorite potential teams from the poker world that could easily snatch the grand prize because of their stature, mental capacity or physical appearance. Throw players in an arena filled with drunken debauchery and an opportunity to throw foolish prop bets ideas into the mix, and it'll be promised to be quite a show. Especially if these pairs decided to join in on the fun.
1. Huck Seed and Jean-Robert Bellande
With Huck Seed standing at a colossal height of 6' 7" and Jean-Robert Bellande at 6' 6", it is no surprise that the two combined would be physically imposing to the other teams, perhaps dominating the field with their arm-span advantage of reaching half way across the table. Good luck trying to see where you're throwing, they may be tall, but their shadows will be even taller.
2. Jason Mercier and Vanessa Selbst
Aggressiveness, mental toughness, intelligence and hard work are needed to succeed in poker. What Jason Mercier and Vanessa Selbst have going for them in a beer pong event are all of these traits plus their passion for basketball. Mercier lettered all four years of high school, while Selbst is known for setting up frequent games. Maybe they've practiced enough free throws and three-point shots to make it rain plenty on their opponent.
3. Phil Ivey and John Juanda
We've all seen it — the unruffled, impassive, intimidating facial expression of both John Juanda and Phil Ivey. You have no idea what they have, what they're betting or calling you down with, and it has you questioning everything you thought you knew. It is the face of intimidation at its finest, and when you have both staring at you dead cold, eight feet away on the other side of the table, you'll just want to gulp all your cups to get away.
4. Daniel Negreanu and Phil Hellmuth
With Daniel Negreanu's weekly rants, he is sure to have a lot to say about anything in an effort to distract his opponent. Paired With Phil Hellmuth, who was once described as a "big mouse with a big mouth," by Sergii Baranov, it is guaranteed that you will be frazzled and unfocused. Careful to not be tempted to hush these two loud mouths by throwing the balls at them, it could result in a penalty or worse, by official Beer Pong rules.
5. Antonio Esfandiari and Phil Laak
Antonio Esfandiari is known for jet setting around the world, partying at some of the most lavish nightclubs with his flock of friends, or even going H.A.M. while in Las Vegas. On the other hand, Phil Laak is known for his silly antics and as one of the most unique personalities in poker. Mix that combination with drinking and you have a duo that is sure to conquer the task of chugging 10 silly little cups of beer. Perhaps Beer Fest would be more of a challenge?
6. Viktor "Isildur1" Blom and Tom "Durrrr" Dwan
As two of the best online players in the world of poker, Viktor "Isildur1" Blom and Tom "Durrrr" Dwan might be seen as the underdogs in a live beer pong event. A little odd, both are seen as intuitive introverts so it wouldn't be surprising to see them wing a strategy on the spot. Perhaps play a little first, see their opponents range, then respond effectively. Don't be afraid to call the clock on Dwan, as he tends to take longer than needed to make a move while he tanks.
7. Jennifer Tilly and Liv Boeree
Of course, both Jennifer Tilly and Liv Boeree are great on the felt, but what advantage do they have when across a table of inebriated men? Their spicy curves mixed with a delicate female appearance. Tilly's online screen name isn't "Unabombshell" for nothing; after all, she was listed as Maxim's Top 20 Poker Hotties. Combine that with the rockstar sexiness that is Boeree, who did a full spread for the men's magazine, you'll have to compete blind folded so as to not be distracted by the beauty across the table.
8. Matt Matros and Barry Greenstein
Matt Matros was valedictorian of his high school and earned a B.S. in Mathematics from Yale University while Barry Greenstein got a bachelor's in computer science and studied for a Ph.D. in Mathematics. What does this tell you? That this would be the team to look out for because you know they would be using their great minds to conjure up the degree at which a ball should be thrown and figure the vertical, horizontal and lateral direction of downward acceleration due to gravity. Wait, what? Yeah, let's leave the formulas of beer pong up to them.
9. Pius Heinz and Jonathan Duhamel
Sometimes confidence is all you need, and confidence is what these two have. Jonathan Duhamel won the Main Event at the World Series of Poker in 2012, while Pius Heinz won the Main Event at the 2011 WSOP. With these two already winning the biggest event in the world, why shouldn't they win the biggest beer pong tournament, right? Let the run good keep continue!
10. Tony Dunst and Haralabos Voulgaris
Tony Dunst already has a beer pong championship under his belt, winning the 2010 Brunson Beer Pong Tournament with Leo Murphy as his partner. It's surely possible that Dunst could pull another win if paired with Haralabos Voulgaris as he is known to be quite the NBA connoisseur. With Dunst confident as previous victor, and Voulgaris experienced on what it takes to win a game of throwing a ball into a circle, this pairing could easily dominate the field against any opponent.
*Photo courtesy of The National Beer Pong League.
Follow PokerNews on Twitter for up-to-the-minute news.