The PokerNews Profile: Justin Bonomo
Nicole Gordon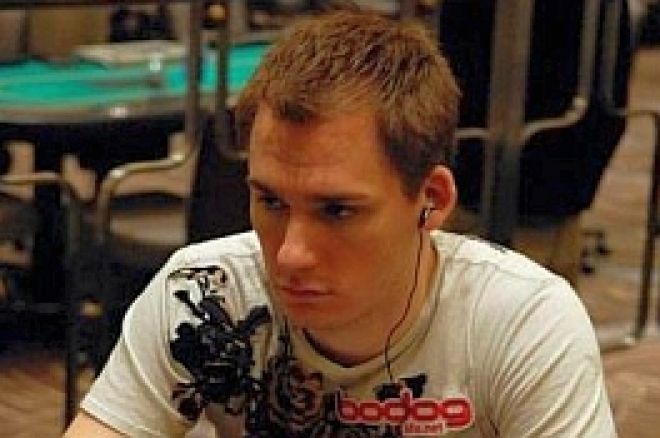 Justin Bonomo was born on September 30, 1985 and grew up in the Washington, D.C. suburb of Fairfax, Virginia. At the age of eight he was introduced to the card game Magic: The Gathering and started playing frequently with his brother and his neighbors. Bonomo took to Magic quickly and while wandering through a game shop one afternoon, he noticed a Magic strategy book for sale and picked it up. Reading the book transformed him into a much more serious player and he learned about the Magic tournament circuit. By age twelve he was traveling all over the United States and Europe for tournaments and a normal high school life took a back seat to his Magic career.
When he was 16, Bonomo was first introduced to poker by a fellow Magic player, Brock "t soprano" Parker. Bonomo watched Parker play an online $100/200 heads-up limit hold'em game and marveled as his friend dragged pot after pot. Poker's strategic component as well as the potential to make a good amount of money appealed to Bonomo and he began devouring poker texts. Starting with only a few hundred dollars in his online account, Bonomo's first regular game was $0.50/1.00 limit hold'em. Bonomo put hours upon hours into studying the game and posted thousands of hands on the 2+2 forums. His play improved steadily and he gradually moved up in levels. Bonomo was a virtual sponge when it came to poker knowledge and he made it his mission to soak up as much information as he could from players he respected. Bonomo wouldn't be a limit hold'em grinder for long, however, as he began focusing on multi-tabling sit-'n'-goes and began making quite a good living at it.
Justin Bonomo played his first major live tournament in January 2005 at the PokerStars Caribbean Adventure in the Bahamas. He cashed in 30th place and was able to finally put faces to so many screen names he'd met on the forums. A month later, he traveled to France where he made the televised final table of the EPT Deauville. Bonomo finished fourth and at the time, he was the youngest player to ever make an EPT final table at 19 years old.
Still too young to play live in the U.S., Bonomo kept his game online, grinding sit-n-goes and multi-table tournaments. In February 2006, however, Bonomo was banned from playing on both Party Poker and PokerStars. Bonomo had been buying into the same tournament from multiple accounts and had over $100,000 in winnings confiscated. He'd spend the next three years trying to redeem himself in the eyes of the online poker community, his fellow players, and the media.
After flying under the radar for most of 2006 as he recovered from the scandal, Bonomo turned 21 and played his first major tournament series at the Bellagio Five Diamond Classic. He played in eight events and made four final tables, finishing eighth in the $5,000 No-Limit Hold'em event, fourth in the $2,000 No-Limit Hold'em event, fifth in the $5,000 No-Limit Hold'em event, and he bubbled off the televised WPT final table of the $15,000 Main Event, where he finished seventh for a total haul of nearly $265,000. Less than a month later, he was back at the PokerStars Carribean Adventure and nearly made another final table, finishing 11th. Bonomo went deep in the $25,000 WPT Championships that spring, finishing in 30th place, then proved himself a force at the table when it comes to mixed games with his runner-up finish in the $3,000 H.O.R.S.E. event at the WSOP-Circuit Caesar's Palace the following week.
Justin Bonomo made his first WSOP final table at the 2007 series, finishing fourth in the $2,000 No-Limit Hold'em event. He made three total cashes that summer, then made another final table at the $10,000 buy-in Caesar's Palace Classic where he finished fifth. Throughout 2008 he kept making final tables left and right including an eighth place finish at the WPT Borgata Open, a fifth place finish at the $5,000 WSOP-Circuit event at Caesar's Palace, and a runner-up finish to Erick Lindgren in the $5,000 Mixed Hold'em event at the 2008 WSOP. Despite his excellent results, Bonomo was frustrated at his lack of a major tournament win.
After coming close again with a third-place finish at the Five-Diamond Classic at Bellagio, Bonomo finally notched that win at the 2009 WSOP-Circuit event at Caesar's Palace where he beat Michael "The Grinder" Mizrachi heads-up after a four-hour battle. Bonomo took home over $227,000 for the win, but with over $1.8 million in career tournament earnings already in the till, the title mattered much more to him than the money.
A sponsored pro with Bodog, Bonomo hosts his own radio show "All Strategy" with Daniel Negreanu and Scott Huff on PokerRoad.com. When he's not traveling for tournaments, he lives in Las Vegas.