The PokerNews Interview: Kara Scott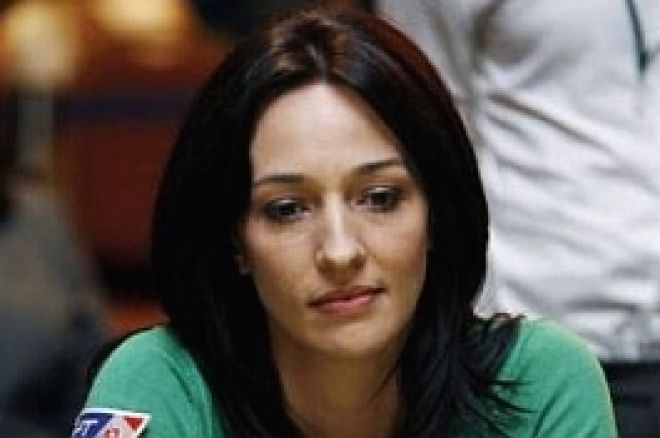 Kara Scott's poker career has taken off. The TV host of the European Poker Tour is familiar to poker players in the UK as a former host at "Sky Poker" and "Poker Night Live" but more recently, she's been turning heads with her talent at the tables. Last month Scott won €312,600 by finishing second in the PaddyPower Irish Open, which capped off a very impressive 12 months on the live circuit. Featured prominently on our recent list of the top ten women to watch at the WSOP this year, the in-form Kara Scott recently stopped in with PokerNews for a chat.
PokerNews: You have just finished second in one of the biggest events in Europe. Has it sunk in yet?
Kara Scott: Its only just starting to sink in now, I was actually on a plane at 9am the next morning to go and do some voiceover work for PokerStars; everyone was really surprised to see I actually turned up for it after the result. After that I was at the Monte Carlo EPT where I was working flat-out and didn't have that much time to think about it. It didn't really sink in then, but now that the EPT season is over it's really starting to sink in what a big achievement it actually was.
PN: You were so close to winning the title. Are you disappointed with missing out on the trophy at the final hurdle or happy with such a fantastic result?
Scott: It's funny; I did an interview last week with Denes Kalo, who came second in the EPT Monte Carlo last year and EPT Baden the year before, and he said to me "Welcome to the Second Place Club – it's not that bad a place to be, is it?" and I said, "No it isn't." I'm really pleased with second place given my experience level in big live events; this was only my fifth major event. I ran really deep in the WSOP Main Event last year (104th for $41,186) and cashed in EPT Budapest (€5,320) and now this, so three out of five isn't too bad. (Kara forgot to mention she won the PartyPoker Sports Star Challenge last year too for £26,000.)
In the moment, there was some disappointment I didn't win the whole thing; the title would have been amazing. But there is no shame in losing to Christer Johansson; he is a really good, really experienced player.
PN: You are €312,600 better off. Have you got any big plans for the money or is it going back into the poker economy?
Scott: I'm going to be sensible and invest my money wisely. Thankfully the money wasn't in my account yet at Monte Carlo or it could have been dangerous. You can go broke in that place buying a round of drinks. All the high-stakes cash pros were inviting me to play cash with them; they love it when someone gets a big tournament result and then it goes to their head and they think they can play high stakes. I'll obviously play some more events with the money, maybe a few more on the UK circuit and at the WSOP, as well as travel with some of it. The result was a really good pension for me that will allow me to do a lot of cool things.
PN: And what are your plans for the World Series this year?
Scott: Now that I have got back from the EPT I have been looking at the schedule for the WSOP and excitedly been looking at what I might play. I'd like to play the main event again after my deep run last year, and a few of the smaller bracelet events. I will also be playing in some of the deep-stack events at Caesars and the Venetian.
PN: You were in our top ten women to watch at the WSOP this year. Do you think this will be a big year for women's poker?
Scott: It's a really good time for women poker players, as players like Kathy Liebert, Sandra Naujoks and most recently Vanessa Rousso are doing brilliantly in large field events. Women are much more visible now, they are getting much more press, and they are, of course, getting the results to back it up. I think we will start to see a lot of the poker sites marketing much more to female players in the future.
There is no reason why we won't see a woman win a bracelet in an open event at the Series again this year, even when you look at the huge field sizes and what a small percentage women make up of them.
PN: Finally, some players are sceptical of celebrities who turn to poker, but do you think you have now "arrived" as a serious player on the circuit?
Scott: I understand why some people are sceptical when they see me playing, I am a TV presenter and there is a stigma there with some people. Hopefully these recent results will show people that I am a serious player. I still work for PokerStars, too, as a host and occasionally-sponsored player. I won a televised tournament in the UK (PartyPoker Sports Star Challenge) which helped get them to put me in some non-televised live events like the EPT, and hopefully that will continue in the future.
Join the action and grab your PokerStars bonus code from PokerNews.com - The number one source for poker News & Information on the internet.