The Online Railbird Report, Vol. 19: Choppy Waters for Dang, DIN_FRU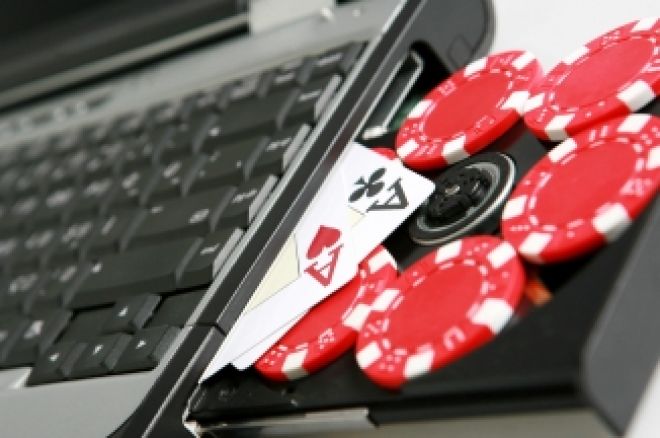 As the start of the WSOP's $50,000 H.O.R.S.E. event approached and the live cash games continued to thrive, the online action dropped off a bit from last week's frenzy. Nosebleed-stakes regulars Phil Ivey, David "MR B 2 U SON" Benyamine, and Gus Hansen all played the H.O.R.S.E. event, while some typically prolific players like Tom "durrrr" Dwan were hardly heard from at all this week. In their absence, DIN_FRU continued to take on all comers in heads-up matches, Niki Jedlicka booked some more solid wins, and Ted "profbackwards" Forrest made a rare appearance online and managed to clean up in the Omaha/8 games.
Where's "durrrr"?
Typically one of the most high-volume high-stakes cash players online, Tom Dwan was all but absent this week, logging only a small handful of sessions and only a few hundred hands, but still finishing the week more than $500,000 to the good. In the few hours he did play, Dwan picked up a $179,000 win over Sami "LarsLuzak" Kelopuro and Patrik Antonius over the course of 80 minutes at the $300/600/100 ante pot-limit Omaha on Sunday evening. While playing in that three-handed game, Dwan also played Kelopuro heads-up on a separate $300/600/100 table. Soon their battle expanded to two tables and two games as they sat down at a $300/600/100 no-limit hold'em table for even more action. Dwan took over $260,000 off Kelopuro that evening, including this huge NLHE pot:
Kelopuro opened for $2,000, Dwan three-bet to $6,200 and Kelopuro called. Dwan checked the
flop over to Kelopuro, who bet $7,800. Dwan called and they saw the
hit the turn. Dwan checked again, Kelopuro bet $17,400, and Dwan came back over the top for his entire stack, $147,396 in all. Kelopuro called all in for $46,968 and turned up
—dominated by Dwan's
. The river was the
and Dwan took down the nearly $157,000 pot.
Kelopuro would get some of those losses back later in the week when he booked a $189,000 win over Dwan inside an hour in a $300/600/100 PLO rematch in the wee hours of Friday morning, but would ultimately finish the week down $382,000.
A Bumpy Ride for DIN_FRU
The Finnish player known only as DIN_FRU suffered some heavy losses this week, notably in a six-hour heads-up match of $1,000/2,000 limit hold'em with Niki Jedlicka. After 1,300 hands, DIN_FRU left with a $406,000 loss and was down as much as half a million at one point before making a small comeback.
This being limit poker, the session's largest hand topped out at only $38,000. The match was in its fifth hour and Jedlicka had already worked his stack up to $422,000 while DIN_FRU was sitting on $176,000. DIN_FRU raised from the button, Jedlicka three-bet, DIN_FRU capped and Jedlicka called. The flop was
and Jedlicka check-called DIN_FRU's bet. The turn came the
and Jedlicka checked again. DIN_FRU bet, Jedlicka raised, and they capped the betting. The river fell the
and Jedlicka led out. DIN_FRU raised, Jedlicka three-bet, and DIN_FRU called. Jedlicka showed
for a wheel and took down the pot.
Though DIN_FRU lost big that night, he managed to win $33,000 back from Jedlicka in a 45-minute match the next afternoon. The following evening, however, he decided to take a shot at the $500/1,000 HA game, sitting down amidst a lineup that included Phil Ivey, Di "Urindanger" Dang, "luckexpress10," Gus Hansen, "just_the_nuts," David Benefield and Ashton "theASHMAN103" Griffin. DIN_FRU ended up down $112,000 after two and a half hours of play and ended up on this losing end of this hand against Griffin, one of the night's largest at over $226,000:
Griffin opened for $3,500, DIN_FRU reraised to $10,000, Griffin four-bet to $31,500 and DIN_FRU called. Griffin potted for $64,500 on the
flop, DIN_FRU moved in for $80,994 and Griffin called, showing
for top pair, top kicker to DIN_FRU's
for the king-high flush draw. DIN_FRU missed his outs, the
landing on the turn and the
hitting the river to make Griffin aces up and earn him the $226,585 pot.
Ted "profbackwards" Forrest Dominates Omaha/8 Action
Ted Forrest decided to get in on the booming online action this week, booking several profitable sessions including a $187,000 win at Omaha/8 on Friday. In the morning hours, he took in $80,000 at the $1,000/2,000 level, raking in chips from "Sirens," Ashton "theASHMAN103" Griffin, "Rekelme," and Rafi "howisitfeellike" Amit. Later in the afternoon, Forrest took on Griffin in a heads-up match at the $2,000/4,000 level and after 500-plus hands, booked a $107,000 win. Forrest seemed to scoop every major pot of the session, including this $40,000 hand:
Forrest limped in from the button, Griffin raised from the big blind and Forrest called. Griffin led out on the
flop, Forrest raised and Griffin called. The turn came the
and Griffin fired again. Forrest again raised and Griffin called. The river was the
and Griffin slowed down and checked. Forrest bet and Griffin called. It was the
for Forrest, making the nut flush for high and a 7-5-4-3-A low to scoop the pot.
Rough Week for "Urindanger"
Di "Urindanger" Dang had a brutal session against Gus Hansen on Tuesday evening, dropping over $475,000 in the space of 165 hands. Dang and Hansen's match played over two tables of $500/1,000 pot-limit Omaha, the aptly named "Hansen Knockout" and "Hansen Suckout." Dang simply could not catch a break in this session, losing the vast majority of his all-ins, including this $194,985 pot where Hansen hit a perfect river card.
Hansen limped in on the button, Dang raised to $3,000, Hansen made it $5,000, Dang four-bet to $15,000 and Hansen called. The flop came down
and Dang led out for $30,000. Hansen called and they went to the turn, which paired the board with the
. Dang immediately moved all in and Hansen called. Dang had flopped two pair and turned a flush draw with
while Hansen had a gutshot straight draw and a higher flush draw with
. Hansen hit his straight on the river with the
and he raked in the $194,985 pot.
Who's Up? Who's Down?
This week's biggest winners: Gus Hansen (+$588,000), Tom "durrrr" Dwan (+$501,000), Phil Ivey (+$314,000)
This week's biggest losers: "luckexpress10" (-$546,000), Sami "LarsLuzak" Kelopuro (-$382,000), Di "Urindanger" Dang (-$207,000)
"The Online Railbird" report is a weekly feature summarizing the biggest matchups in the online game. Many of the largest online collisions take place at Full Tilt. Why not join the fun?