2009 WSOP: Schulman Defeats Wahlbeck for #23 2-7 Bracelet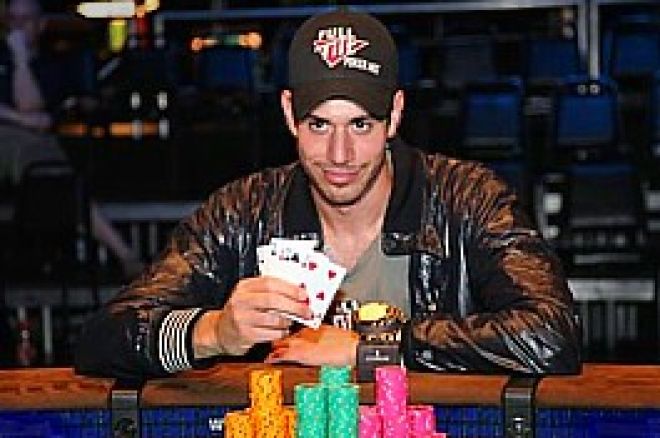 Nick Schulman came into Event #23, World Championship No-Limit Deuce-to-Seven Draw with two WPT titles and over $3.5 million in lifetime tournament winnings. After three days of poker against the best in the business and a tough heads-up match against Finnish final-table machine Ville Wahlbeck, Schulman finally laid claim to the one piece of jewelry every poker player wants: a World Series of Poker gold bracelet. Schulman waited patiently for three days, picking his spots and getting his money in good, and finally he pocketed the coveted bracelet and the $279,742 top prize.
Day 3 kicked off with ten survivors spread across two tables, and it wasn't long before the action picked up. Roland de Wolfe was the day's first casualty, busting in tenth place ($19,871) when he ran afoul of Ville Wahlbeck. Wahlbeck raised predraw, de Wolfe moved all in over the top, and Wahlbeck called. Both players stood pat, and de Wolfe showed J-10-8-4-2-. His ten was no good as Wahlbeck showed J-8-5-4-3 to send de Wolfe to the rail.
Justin Smith was the final table bubble boy when he fell to David Benyamine in ninth place ($19,871). Smith moved all in over the top of Benyamine's opening raise, and Benyamine made the call. Both players drew one card, and Benyamine opened 9-6-5-3 to Smith's 9-7-4-2. Benyamine drew a deuce to give him a lock on the hand as Smith picked up a jack to send him home early.
The final eight players consolidated to one table, with chip stacks and seating assignments that looked like this:
Seat 1: Ville Wahlbeck (740,000)
Seat 2: Nick Schulman (295,000)
Seat 3: Vince Musso (799,000)
Seat 4: Michael Binger (59,000)
Seat 5: John Juanda (248,000)
Seat 6: Steve Sung (155,000)
Seat 7: David Benyamine (265,000)
Seat 8: Archie Karas (384,000)
It didn't take for Michael Binger long to get the last of his chips into the middle of the table, and he got action from John Juanda when he moved all in. Binger thought for a moment before he drew two. Juanda stood pat and opened 10-8-6-4-2. Binger held 9-7-2, but picked up two bricks to finish with a pair of nines and $24,545 in eighth-place money.
David Benyamine was the next to fall, picking up $30,492 for seventh place when he couldn't outdraw Steve Sung. Sung raised predraw, and Benyamine moved all in over the top. Sung called and stood pat with J-8-7-3-2, while Benyamine drew one and showed 9-6-5-4. Benyamine was drawing very live, but another nine on the draw spelled his doom.
Vince Musso came into Day 3 as the chip leader, but was unable to close the deal in his second WSOP final table appearance. His first final table was also in a deuce-to-seven draw event, in 1979, when he picked up $15,000 for third place. He finished lower in this year's event, but sixth place was good for more than double the money, as he pocketed $39,697 for his second final table. Musso moved all in over the top of Ville Wahlbeck's predraw raise, and Wahlbeck called. Musso drew one after Wahlbeck stood pat, but he was drawing dead to Wahlbeck's 7-5-4-3-2 for the nuts. Musso opened 9-5-4-2, and headed to the rail in sixth place.
Archie Karas' last final table was more recent than Musso's, coming in 2008's $1,500 Razz event. But his legend was born much earlier when he was known as one of the biggest gamblers in the world. His run at Binion's Horseshoe became the stuff of Las Vegas legend, and Karas went on to make and lose millions at the tables. He made back $53,783 of his money here in Event #23 when he busted in fifth place. Steve Sung was Karas' lone opponent when he shoved all in predraw. Both players stood pat, and Karas showed a J-10-8-5-2, but Sung tabled 10-9-8-7-3 to knock out Karas in fifth place.
John Juanda lost a huge pot to Steve Sung when Sung made a huge call and stood pat with a 9-5 that ended up being good to Juanda's 9-8. That hand left Juanda crippled, and the rest of his chips went into the middle moments later. Juanda moved all in over the top of Nick Schulman, and Schulman made the call, drawing one card. Juanda drew one as well, and then showed 9-6-5-4-3. Schulman caught an eight to make 8-7-5-3-2, and Juanda was done in fourth place ($75,964).
It was Nick Schulman's turn to make a sick read when he busted Steve Sung in third place ($112,042). Sung reraised Schulman predraw, and Schulman quickly moved in over the top. Sung went deep into the tank before making the call, and stood pat with 10-8-5-4-3. Schulman went into the tank himself before deciding to stand pat himself, showing 10-7-5-4-3 – one pip better than Sung. That hand propelled Schulman into a 2-to-1 chip lead going into heads-up play.
Ville Wahlbeck put on an amazing show in Event #23. This is the fourth $10,000 World Champion event at the 2009 WSOP, and Wahlbeck has had impressive results in each of them – just missing the final table by a few spots in Event #18, placing third in Event #6, and winning the whole enchilada in Event #12. But in the end he couldn't overcome the chip lead of Nick Schulman in this event. In the final hand, Wahlbeck reraised Schulman predraw, and both players took one card. Wahlbeck moved all in after the draw with 9-9-8-5-2 and was snap-called by Schulman, who had drawn the nuts with 7-5-4-3-2. Wahlbeck's bluff was foiled, and he was busted in second place ($172,864).
Nick Schulman bested a field of 95 tough opponents on the way to his first WSOP bracelet and the $279,742 top prize. The 24-year-old Schulman added an important piece of jewelry to his prize cabinet with his victory over the astonishing Finn, Ville Wahlbeck.