2009 WSOP: Tuan Le Dominates #37 Stud Hi/Lo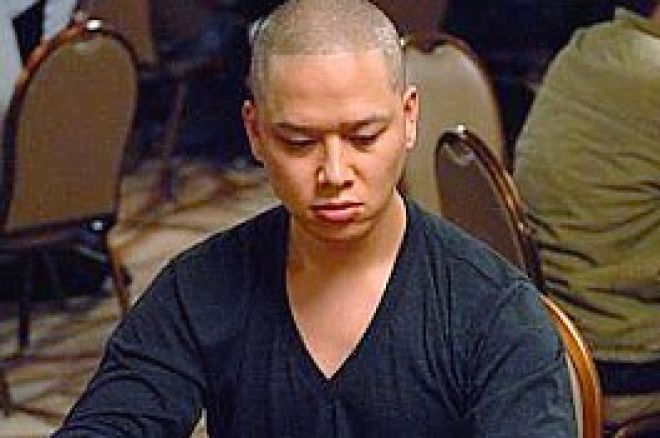 As expected, Event #37, $10,000 World Championship Seven-Card Stud Hi/Lo attracted some of the biggest names in the poker world. The field of 164 players who showed up for Day 1 contained many of poker's best and brightest, including Erik Seidel, Erick Lindgren, Daniel Negreanu, Jon Turner, Greg Raymer, Scotty Nguyen, Chau Giang, Phil Hellmuth, Phil Ivey, Chris Ferguson, both of the Brunson boys, and PokerNews' own Tony G – just to name a few. By the time action was called to a halt in the wee hours of Friday morning, 110 players still survived. Tuan Le closed out Day 1 with a monster chip lead of 234,000 – more than twice as much as his next-closest competitor, Frank Mariani, on a stack of 111,300.
Between the limit stakes and the split pots, early action was slow, to say the least. The number of eliminations still stood at zero after three full levels of play. It was almost an hour into Level 4 before Shawn Sheikhan earned the dubious honor of being the first player bounced from the event. Scotty Nguyen got off to a roaring start in the early levels, scooping a giant three-way pot with just a pair of aces when the best either of his opponents could come up with was a pair of jacks. Scotty continued on his heater, first picking up more chips with trip aces, and then dragging another giant three-way pot when he made a wheel.
Perhaps it was the slow pace of early action, or perhaps it was the relaxed atmosphere created by being in a tournament with 163 people that he mostly considers to be his friends, but Daniel Negreanu was in an especially jovial mood on Day 1. After the dinner break, Negreanu kept walking up to the rail in-between hands and playing with people's hair. The railbirds didn't seem to mind in the slightest, as they allowed Daniel to run his hands through their hair and answered his questions about what kind of cuts they have and what hair-care products they use.
The mood was less jovial for David Levi when he was knocked out of the tournament by Erik Seidel after Levi's two baby pair was bested by Seidel's trip fours. Phil Ivey will have to wait for another day to pick up his eighth bracelet, as he soon joined Levi on the rail. Ivey shoved the last of his chips on fourth street in a four-way pot with Chau Giang, Farzad Bonyadi, and Dutch Boyd. Bonyadi ultimately took the high half of the pot with aces over deuces, and Giang dragged the other half with a 7-6 low. Ivey mucked, saying that he had a lower two pair, and made his exit.
In the meantime, when Daniel Negreanu wasn't playing with people's hair, he was taking his chip stack on a roller-coaster ride. In one hand, he surrendered some chips when his trip fours couldn't fill up against an opponent's flush. Then his stack plummeted all the way down to 7,000 in a three-way pot when his low draw didn't come in on the river. Negreanu's fortunes were soon revived, when his
/
/
was good enough for a scoop, taking his stack back up to 17,500.
Allen "Chainsaw" Kessler lost his buzz when he called all in on fifth street with
/
, up against
/
. His opponent caught running clubs to make a flush while Kessler could only come up with a pair of tens and no low, sending him to an early exit. Jennifer Harman went out next, eliminated in a massive four-way pot that was ultimately scooped by Abe Mosseri when he made eights full of fives. Harman mucked and headed to the rail.
Mike "The Mouth" Matusow was another player whose chip stack went on a wild ride. Running on fumes in Level 7, Matusow found life again when he doubled up at the expense of Daniel Negreanu. The Mouth shoved the last of his chips into the middle on third street, Negreanu called, and at the river Matusow had
/
/
to Negreanu's
/
/
. Matusow's 7-6 low and pair of aces was good enough to scoop and chip himself up to 7,300. Soon after, Matusow doubled again, this time through Yuval Bronshtein, to take his stack up to 14,000.
Jimmy "Gobboboy" Fricke, who had been down to 5,000 earlier in the day, also scooped a nice pot by making a straight-flush wheel. Tom Schneider was another player who chipped up in the waning hours of the tournament. From a low point of 2,700 in chips, Schneider scooped a series of pots to bring his stack all the way up to 70,000. But it was Tuan Le who closed out the day on a mammoth stack of chips, some of which had once belonged to Marco Traniello. In one of the final hands of the night, Le eliminated Trainello is a giant four-way pot. Traniello was all in on sixth street with draws for both a straight and a low. But neither of his draws completed and Le's two pair of tens and threes was good enough to scoop, sending Traniello to the exit and Le's chip count into the stratosphere.
110 of the original 164 high-profile runners will return when Day 2 begins at 2pm PDT on Friday. Only 16 of those 110 are destined to make it into the money, with the payouts starting at $24,650 and going all the way up to $431,656 for the eventual champion. Heading into Day 2, Tuan Le is way out in front with 234,000, but there is still a truckload of poker talent standing between him and the bracelet. Among the players still in the hunt for WSOP gold are Lyle Berman, Jeff Lisandro, Tom Schneider, Tad Jurgens, Dario Minieri, Daniel Alaei, Todd Brunson, Nick Schulman, Amnon Filippi, David Benyamine, Annie Duke, Daniel Negreanu, Erik Seidel, Mike Matusow, and Phil Hellmuth, who is on the short stack but still alive in the quest for his 12th and first non-hold'em bracelet.