2009 WSOP: David Halpern Scores Bracelet in #53 Stud Hi/Lo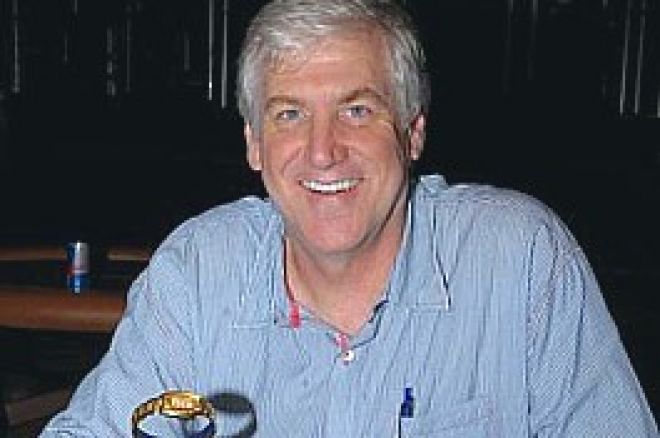 Day 3 of Event #53, $1,500 Seven-Card Stud Hi/Lo, started with 14 players looking to make the final table and take down the last stud bracelet of the 2009 Series. Brian Swinford started the day as chip leader with Chad Brown right on his heels. Also in the hunt were Allie Prescott, Matt Savage, Vince Burgio, and three-time bracelet winner Dr. Max Stern. But it was David Halpern who outplayed and outlasted the rest of the pack to earn his first WSOP bracelet.
Mike Krescanko entered the day as the short stack and he quickly put them at risk against Richard Sklar. By the river, Sklar only held ace-high for his high hand and a seven low. Krescanko could not best either and headed out in 14th place. Christian Toboc was next to fall. He moved all in on third street and was called by Matt Savage, Richie Sklar, and Zak Gilbert. Gilbert was also all in on fifth street, with Savage and Sklar battling for the second side pot. By the river, Sklar held aces up, good for only half of his side pot with Savage. Gilbert made an ace-high flush, good for the high on the main pot and his side pot with Savage and Sklar. Savage held an eight low which was good for half of all three pots. Toboc only managed a pair of nines and was rewarded with a trip to the rail in 13th place.
Jose Paz headed out in 12th place after putting the last of his stack at risk against David Halpern. By the river, Halpern made aces up with a seven low and Paz could only produce a pair of jacks. Jack Rosenfeldt followed him to the payout window in 11th place. He was all in by fifth with a pair of sevens against the six low of Brian Swinford. Swinford caught a pair of aces on the river to eliminate Rosenfeldt.
Vince Burgio won his only WSOP bracelet in this discipline in 1994. Burgio made a deep run in this event, but fell shy of his second bracelet. Burgio put the last of his chips in on seventh street with aces up but ran into the seven straight of David Halpern, sending Burgio headed to the payout window in tenth place to collect his $12,149 prize.
Richard Sklar became this event's final table bubble boy, busting out in ninth place. He moved in on fifth street with a pair of fours and both a three-card low and a three-card flush. David Halpern made the call with a set of queens. Sklar improved to two pair on sixth street, but failed to fill up on the river. Sklar took home $12,149 for his finish – enough to recoup the $10,000 buy-in to the Main Event that he purchased for President Barack Obama.
David Halpern entered the final table as chip leader. Dr. Max Stern had the most experience amongst the final table participants with three bracelet wins. Famed tournament director Matt Savage was the sentimental favorite for many as he made his first WSOP final table.
Seat 1: David Halpern, 480,000
Seat 2: Dr. Max Stern, 235,000
Seat 3: Allie Prescott, 100,000
Seat 4: Chad Brown, 285,000
Seat 5: Brian Swinford, 320,000
Seat 6: Matt Savage, 165,000
Seat 7: William Kohler, 335,000
Seat 8: Zak Gilbert, 130,000
Allie Prescott was the first player eliminated from the final table. He moved in on fifth street and was called by Matt Savage and William Kohler. Savage folded to a bet from Kohler on sixth street and Kohler turned over (
)
for two pair and a flush draw. Prescott turned over (
)
for a pair of threes, a higher flush draw, and a wheel draw. Prescott caught the
on the river, but his jacks up was no good against the aces up of Kohler. Prescott hit the rail in eighth place, good for $16,682.
Brian Swinford started the final table with 320,000 in chips but went on a massive downturn early. He lost a good portion of those chips to David Halpern in a hand where Swinford was unable to call a river bet. The rest of his chips went in against Chad Brown. By the river, Swinford made a pair of deuces with an eight low, but Brown had him trounced on both ends with a pair of sixes and a seven low. Swinford finished the day in seventh place and took home $19,901.
Zak Gilbert was crippled by Matt Savage in an earlier hand and got his remaining chips in against David Halpern. Gilbert started with 2-3-4-5 but started going the other way and caught three bananas to finish with king-high. Halpern finished with a pair of kings with a six low. Gilbert hit the payout desk in sixth place, good for $24,828. Matt Savage soon followed Gilbert to the exit. Savage lost most of his stack to Dr. Max Stern when he missed his flush and low draws. He then moved in on third street with
and was called by David Halpern with split tens. Halpern made trip tens on the river, leaving Savage dead in the water. Matt Savage took home $32,465 for his fifth-place finish.
Chad Brown was all in for his tournament life against Dr. Max Stern with a pair of fours against a pair of nines for Dr. Stern. Brown was unable to improve and headed out in fourth place for a $44,589 payday. After Brown's elimination, Dr. Stern went on a downward trend. After Stern's eight low with A-10 for high got scooped by a six low with A-J, Stern was left with only 10,000 and was forced to gamble. Both David Halpern and William Kohler made the call. By the river, Halpern made a king-high straight and Kohler made a six low. Dr. Stern had a pair of sevens showing, but conceded defeat by mucking his last card. Dr. Max Stern finished in third place and took home $64,484 for a well-played tournament.
Going into heads-up play, David Halpern held 1.1 million in chips to the 950,000 of William Kohler. The chip lead changed hands several times with neither player giving up much ground. Then the tide started to turn in one huge pivotal pot. Kohler had been betting out through fifth street; however Halpern caught an open pair and led out on sixth with his board showing
. Kohler called with
. Halpern bet the river and Kohler called. Halpern turned over
for threes full and Kohler mucked his cards. This pot left Kohler with just 200,000 in chips.
It didn't take long before Kohler put the rest of his chips into play. On fifth street, Halpern raised with a board of
. Kohler seemed surprised at this and made the call showing a board of
. Kohler caught the
on sixth and Halpern caught the
. Kohler bet out again, but Halpern merely called. Kohler moved all in on the river and Halpern made the easy call. Kohler turned over
for a pair of tens and Halpern turned over
for kings up and the win. William Kohler finished in second place and took home $98,550.
David Halpern decided to enter this event after being locked out of a cash game two days ago. His decision turned out to be profitable one as he secured not only the gold bracelet, but $159,390 in cash. Halpern entered the final table as chip leader and survived an epic heads-up battle to take home his first bracelet. The last of the preliminary events wrap up on Thursday and the Main Event kicks off on Friday as players from around the world come to the Rio for a chance to make poker history. Stay tuned to PokerNews.com as we bring you coverage from the Main Event of the World Series of Poker.