2009 WSOP: Swinford Tops #53 Stud/8; Christensen Heads NLHE #54; Ewenstein Leads #55 2-7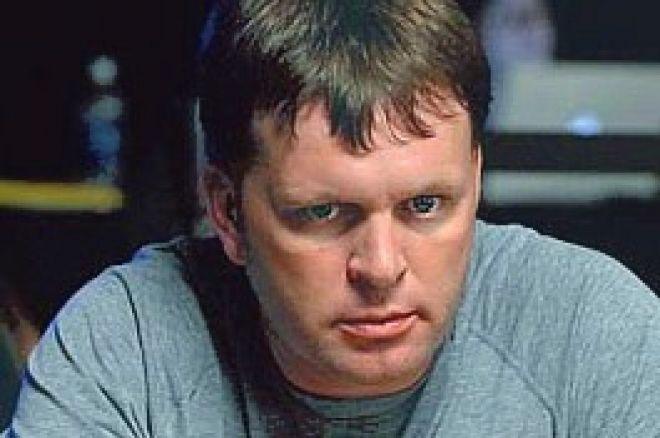 $1,500 Seven-Card Stud Hi/Lo Event #53, Day 2 – Swinford Leads Final 14
Day 2 of Event #53, $1,500 Seven-Card Stud Hi/Lo, started with 143 players looking to navigate their way to the final table. Allie Prescott ended Day 1 as the chip leader but had a daunting task ahead as a strong field remained between him and the final table. Among those still alive coming into Day 2 were Mike Matusow, Annie Duke, Jon "PearlJammer" Turner, Dr. Max Stern, Keith Sexton, Marcel Luske, Al "Sugar Bear" Barbieri, David Rabbi, Marsha Waggoner, Barry Greenstein, Andy Bloch, and Daniel Negreanu. Brian Swinford closed out Day 2 as the chip leader with 292,000 heading into the final day.
Marcel Luske started the day with around 34,000 in chips but was out of the event within an hour. In his final hand, Luske was involved in a three-way pot between David Wortham and another player. Luske finished with kings up, but Wortham started the hand with rolled-up fours. Wortham backed into a seven low to beat the third player's eight low and scoop.
The final 48 players in this event will receive paydays. Hand-for-hand play lasted a single hand as the bubble boy of the event exited quietly from the building. After the announcement was made, Matt Savage got on the mic and informed the crowd that ESPN color analyst Norman Chad had officially made his first-ever World Series of Poker cash in this event.
Several notable names made their exits shortly after the bubble burst. Justin Bonomo was the first post-bubble elimination. Following him to the payout window soon after were Barry Greenstein and Daniel Negreanu. David Rabbi joined them a short while later after losing the remainder of his stack to Richard Sklar. Norman Chad was able to move up a couple of pay levels to finally finish in 32nd. Sitting on a short stack for most of the day, Chad finally busted to Todd Ickow. Ickow held two pair to the lonely pair of aces for Chad. Chad's first cash was good for $3,295, officially making him the most successful poker player on the ESPN broadcast team.
Defending champion Ryan Hughes was among those eliminated toward the end of the day. Al Barbieri also did not make Day 3. At one point in Day 2, Barbieri held the chip lead, but he faltered towards the end of the day and left the tournament area a disappointed 21st. Andy Bloch, Steve Jelinek, Tim Vance, and Derek Raymond were also late Day 3 casualties.
Play was suspended at 3 a.m. PDT with 14 players remaining. Brian Swinford finished the day with the chip lead at 292,000, but Chad Brown is right behind him with 284,000. Also in contention is Dr. Max Stern. The three-time bracelet winner enters Day 3 play fourth in chips at 216,000. Day 3 will kick off at 2 p.m. PDT Tuesday and continue until the bracelet has been awarded.
$1,500 No-Limit Hold'em Event #54, Day 1 – Christensen Ascends to Top of Leaderboard
Event #54, $1,500 No-Limit Holdem, kicked off Monday afternoon. A massive field of 2,818 players turned out for the last $1,500 buy-in event of the 2009 Series. A strong contingent of pros showed up in hopes of making a deep run. Taking their shots at this event were Men "The Master" Nguyen, Beth Shak, Van "Mrs. Master" Nguyen, Tom McEvoy, Jeff Madsen, Michael "The Grinder" Mizrachi, Jason Mercier, Phil Laak, David "The Dragon" Pham, Hevad Khan, David Singer, Eugene Todd, Ivan Demidov, and Phil Hellmuth. After losing 87 percent of the field in Day 1, Jon Christensen emerged as the chip leader with 160,800.
Sorel Mizzi and Shaun Deeb were among the early bust-outs. Mizzi lost most of his chips after running into a set of jacks. Deeb was all in with pocket nines but failed to outdraw the pocket queens of Theo Tran. Queens were also very kind to Liv Boeree. Both Dennis Phillips and another player were all in preflop with pocket kings; Boeree held pocket queens and made the call. A queen on the flop left both of her opponents drawing dead and Boeree nearly tripled up with the hand as she commented, "Poker is an easy game, just get it in bad and you win."
Theo Tran surged as one of the early chip leaders. On the board of
, Tran's opponent moved in and Tran snap-called with
for the second-nut flush. His opponent held only
and Tran moved up to 25,200. Gavin Smith was not as fortunate. He shoved with top pair on the flop and was called by an opponent with a flush draw. The player filled his flush and Smith hit the rail. Jeff Madsen was all in preflop with pocket sevens and called by an opponent's
. Madsen remained ahead after the flop but a king on the turn ended Madsen's day.
J.C. Tran entered the dinner break as the overall chip leader at 51,000. However, just minutes after the break, Tran hit the rail. His last 30,000 chips went in on a ten-high flop against Sanford Lee. Tran held pocket jacks and Lee woke up with pocket aces. Tran was unable to catch a jack and Lee took over the chip lead with around 60,000 in chips. After nearly tripling up earlier in the day, Liv Boeree busted after dinner. The last of her chips went in preflop with pocket fives. Her opponent called with
. The flop of
left Boeree needing a five to win. The turn
left Boeree drawing dead and she exited from the tournament area.
Jonathan Little and Alex Kostritsyn will not see Day 2 of this event. Kostritsyn ran A-K into the pocket queens of another opponent. Kostritsyn caught kings on the flop and turn, but the river fell a queen to give his opponent queens full and send Kostritsyn packing. Jonathan Little was rocketed out of the tournament by Gary Tang. On the board of
, Little moved all in for 3,500 and Tang called with pocket aces. Little mucked and headed home.
Play ended with 376 players advancing to Day 2. Jon Christensen finished as the chip leader with 160,800. Jody Howe and Zsombor Gall are right behind with 126,600 and 114,300 respectively. Some of the notable players still remaining in the field are Van Nguyen, Men Nguyen, Theo Tran, Mike Sica, Alex Bolotin, Hevad Khan, Carlos Mortensen, and Raymond Rahme. Day 2 will kick off at 2 p.m. Tuesday and is scheduled to continue until the final table is reached.
$2,500 Limit Deuce-to-Seven Triple Draw Event #55, Day 1 – Ewenstein Leads Lowballers
Event #55, $2,500 Limit Deuce-to-Seven Triple Draw, also kicked off Monday afternoon. This is the only triple draw lowball event on the schedule and the event drew a strong crowd of pros and lowball enthusiasts. John Phan won this event in 2008 for his second bracelet and he returned to defend his title. Adam Ewenstein finished Day 1 as chip leader with 71,800.
This year's event saw an eight percent increase over last year's number with 257 players turning out. Among those in the Day 1 field were Terrance Chan, Allen Kessler, Steve Zolotow, Robert Mizrachi, David Singer, Shannon Elizabeth, Mike Sexton, David Sklansky, Michael Binger, Richard Brodie, Gavin Griffin, Bryan Devonshire, Jon "PearlJammer" Turner, David "Chino" Rheem, Dennis Phillips, and Sam Grizzle.
Billy Baxter has won seven WSOP bracelets – six in lowball and one in razz. It was once written, "You don't tug on Superman's cape...and you don't play in a low-draw game with Billy Baxter." Matt Hawrilenko is probably too young to have heard this line as he decided to tug on Baxter's cape early in the event. Baxter raised a bet from Hawrilenko after the first draw and both Hawrilenko and another player made the call. All three players took a card on the second draw and action was checked around. Baxter and Hawrilenko both drew another card and action was checked yet again. Hawrilenko tabled 8-7-6-4-3 and Superman mucked.
Robert Williamson III hit the rail shortly after dinner. He was all in on the deal and drew two cards on the first draw with his opponent drawing one. The second draw, Williamson's opponent stood pat and Williamson drew two again. After his opponent rapped pat a second time with 9-8-7-5-3, Williamson turned over 8-5-4-2 and drew one card. He squeezed it out only to discover he paired his four and ended his day with a pair. Howard Lederer had better luck against Ali Eslami and another opponent. Lederer had both players all in and stood pat on the third draw with 7-6-5-3-2. Eslami had an eight, but drew one in hopes of drawing a seven. He could not catch his card and Lederer ousted two to move up to 7,800.
As play marched towards the end of Day 1, several big names hit the rail. Barry Greenstein was eliminated at the hands of Justin "BoostedJ" Smith, Robert Mizrachi fell to the 8-7 of another opponent. Bryan Devonshire, Bill Chen, Erick Lindgren, and Todd Brunson all hit the rail early to get some much-needed rest. Greg Raymer has apparently taken up signing fossils to award players for busting him out. Steve Zolotow is the proud owner of one of them after his 8-6-5-4-2 bested Raymer's king.
Phil Hellmuth twittered at one point that he was going to the UltimateBet party and would be showing up at this event at 11 p.m. But 11 p.m. came and went with no sign of Hellmuth. Tournament officials decided to pull his chips and refund his entry. A couple of players who probably didn't miss Hellmuth's chips were Jimmy Fricke and Allen Kessler. Fricke moved up to 30,600 after taking a nice pot off Fabrice Soulier and Kessler moved up to 27,000 after taking a pot off Yueqi Zhu with 8-7-5-4-2.
Adam Ewenstein finished as Day 1 chip leader with 71,800. Mike Peltekci followed in second with 65,100. Some notable players still in the hunt are Blair Rodman, Justin Smith, John Juanda, "Captain" Tom Franklin, Daniel Negreanu, and Billy Baxter. Play will resume Tuesday at 2 p.m. and is scheduled to continue to the final table. Stay tuned to PokerNews.com as we bring you coverage from the remaining preliminary events at the World Series of Poker.