The Nightly Turbo: APT Grows, The Big Game, and Doyle Brunson's Hall of Shame?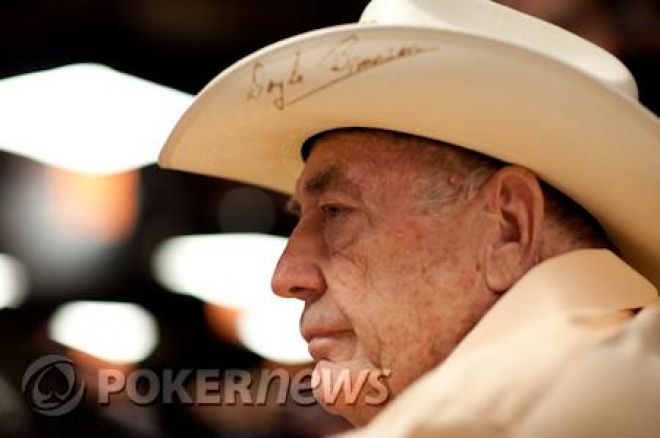 It's finally Friday. Hopefully you're up to speed on the week's news. This Nightly Turbo will take you into the weekend with some tid bits you can bring up at the poker tables while you're crushing the game.
The Poker Hall of Shame
We're not the only ones that think poker needs more ambassadors. The Godfather of Poker, Doyle Brunson, has taken to his blog to talk about it as well. He brings us The Poker Hall of Shame. Criteria for induction into the Hall of Shame consists of players that are abusive to dealers, players, or both. In order to maintain friendships, the only other criteria is that inductees must be dead.
Brunson hopes that this will inspire living players to be better ambassadors for the game. "I never saw Chip Reese lose control, nor have I seen Barry Greenstein be abusive to anyone. We should learn from them," he says in his blog.
He has inducted six players (since the Poker Hall of Fame started with six). The six are (in no particular order) Puggy Pearson, John "Doc" Holliday, Nick "Shoeshine" Simpson, "N-word" Nate Lanette, Stu Ungar, and Nick Vacchiano.
It'll be interesting to find out how people react to this blog, considering some of the reactions we've seen (a la Daniel Negreanu's blog controversy) lately. Brunson sure isn't shy to voice his opinion one way or another. One thing's for sure, we don't wanna mess with TexDolly.
Check out his blog to find out why he thinks these guys should be inducted.
In Case You Missed It
The Morongo Tribe in California has introduced a bill to the California Senate in hopes to legalize intrastate online poker. There are plenty of tribes that oppose this legislation because they believe the bill shifts away from the exclusive gambling pact the tribes have to run land-based gaming ventures in California. The bill won't seem to make it to the Senate floor as soon as the Morongo's could hope, because the Senate comes to a close on September 11th. Find out more in Online Poker Facing Opposition in California.
Thinking about going to LA for the Bicycle Casino's WPT Legends of Poker Championship? Don't know what to do while you're there? We've got you covered in Jet Set: Los Angeles.
PokerStars EPT Kyiv's Day 3 has come to an end. It was a quick day for players as they played from 68 to 32. All players returning tomorrow have made the money. Check out our recap of Day 3 for more info on all the action that went down.
Day 1B of the APT Macau Main Event is yet another tournament, on the other side of the world, that is already in the books. Eighty-eight players return tomorrow together to play down to a final table. Check out the APT Macau Recap to find out who the movers and shakers of Day 1B were.
Growth in Macau
The 2009 APT Macau has seen a growth in the player field from last year. Last year, the Main Event attracted 257 players; this year 326 players bought in to the HK $34,400 buy-in event.
"One year ago we projected that we would get 300 runners for the Main Event so we are delighted with the turnout, especially in the current economic climate. It vindicates our decision to transform The Asian Poker Tour Macau into a 12 day festival," said Asian Poker Tour CEO, Chris Parker. "What is hugely encouraging is the growth of Asian players in the field, which bodes very well for the future. For example, on Day 1A just over 50% of the field was from Asia. We have also significantly increased the online qualifier contingent in comparison to 2008."
Filming also began for "Poker King," the first Chinese language poker film. It's been said this film could have a Rounders-like effect on the growth of poker in Asia. We're not sure if this had some effect on the bigger turnout, but it's good for poker, so it's good enough for us.
Be sure to check out Live Reporting for continued coverage of the APT Macau Main Event.
Linx Media Group Closes
If you play on EuroLinx, BetOnBet, or LinxCasino, you probably weren't able to log on today. The Linx Media Group announced today that it is seeking to liquidate its businesses.
"It is with great regret that we make this announcement. I appreciate the concern and frustration that this will inflict on the Eurolinx, BetOnBet, and Linx Casino player community. Affected account holders are those individuals who have agreed to a contractual relationship with the Linx Media Group through Eurolinx, BetOnBet and Linx Casino. All available player funds are held by these businesses. As soon as we have information on how to lodge claims with the liquidators, we will communicate this via www.eurolinx.com, www.BetOnBet.com and www.linxcasino.com." Hopefully all this gets sorted out soon and the players can get their money from the sites.
Was your account closed? Sign up for a different poker site here at PokerNews.com.
Big Action
Jean-Robert Bellande has basically told us every way possible about how big the action is in Bobby's Room. In his latest Vlog on RawVegas.tv, he talks to us from the North Valet at the Bellagio. The Bobby's Room regulars are playing $8,000/$16,000 2-7 Triple Draw and $2,000/$4,000 PLO. There's a new face in Bobby's Room as well, a French businessman who apparently is taking everyone's chips. JRB also tells us he has a backer and is now playing $200/$400 Mix games. Oh, and he's cross booking action with Eli Elezra. Check out his Vlog below.

Tell us what you think of The Nightly Turbo below, or give us a "thumbs up" in the top right corner of the page next to the title. Follow us on twitter too for up to the minute news.