Weekend Survival Guide: 2M2M, Borgata Deals, Gunnar Optiks and More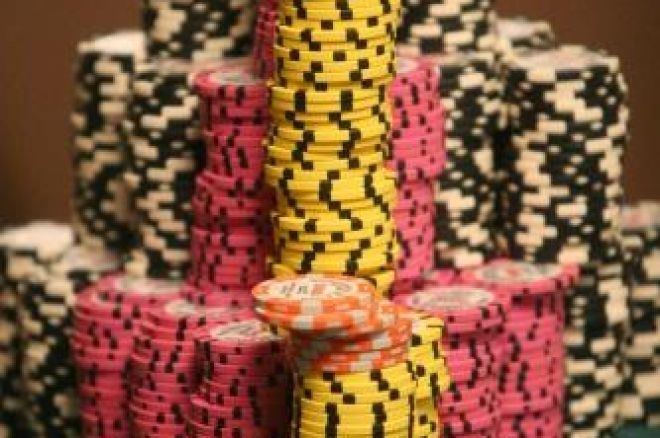 In honor of the impending weekend, PokerNews will be offering up a few things that'll allow you to spend some of that hard-earned bankroll, since nothing's better than working hard, but playing harder.
Go
If you're on the East Coast, make sure to take advantage of Borgata Hotel Casino and Spa's special "Up All Night Package" which offers a Classic Room, dinner for two, two tickets to Borgata's Comedy Club, and a beverage for two at the B-Bar or Gypsy Bar. At $199 a night, this deal is too good to pass up. It also gives you an excuse play poker till dawn to ensure the package lives up to its name.
Head over to TheBorgata.com to book it.
Had enough of your loved one complaining that you spent too much time at the poker tables? Head to Vegas and take advantage of Bellagio's "Romance Retreat," getting her all the pampering and attention she could ask for, with a one night stay in a Lakeview Cypress Suite, limo to and from the airport, a bottle of Veuve Cliquot, chocolate covered strawberries, a couples massage at Spa Bellagio and dinner for two at either Picasso or Michael Mina. When she melts into a relaxation coma, dart down to Bobby's Room and say "what's up" to Doyle for us.
Book a sure win at Bellagio.com.
Down South? Head over to the Seminole Hard Rock Hotel and Casino in Tampa. On Sunday, the casino will give two lucky players a chance to win a $10,000 prize that is being given away every other hour. May as well start looking for that 2010 buy-in anyway possible.
Check out SeminoleHardRockTampa.com for more details.
Buy
The Internet has become a vice of its own and now it's easier to take it with you than ever with 10' Netbooks. They're available for around $300 and a number of companies like Dell are offering up sweet deals during back to school sales. Some even come with GPS built in, perfect for folks who get so engulfed in that $1/$3 NL game they get lost.
Pick them up virtually anywhere but BestBuy.com has a wide range.
Specially designed to help people who spend long hours looking at monitors, Gunnar Optiks are glasses that were created to stop the dreaded "eye-burn" players experience when multi-tabling for long sessions. There are a variety of affordable glasses including glasses for both indoor and outdoor occasions.
Go nuts and buy a few pairs at Gunnars.com.
Watch
Start this weekend off with a bang by checking out the new sci-fi flick District 9. This one hour and fifty-four minute action flick looks as though it will be a great way to escape from the insanity at the tables. Produced by Lord of the Rings director, Peter Jackson and directed by Neil Blomkamp, District 9 documents the story of Wikus van der Merwe (Sharlto Copley), who is the key to accessing alien technology hidden in South Africa. Things heat up when he becomes a wanted man at the orders of Multi-National United (MNU).
Check out the trailor here.
2 Months 2 Million chronicles online aces Emil Patel, Jason Rosenkrantz, Dani Stern, and Brian Roberts as they do their best to hit their goal of $2 million. This show has a lot of promise, as the cast worked hard with the production heads to put together a solid program that would keep poker fans entertained. Keep an eye out for the "Tilt" room, in which the four go to release their frustrations after taking sick beats. 2 Months 2 Million premieres on G4TV this Sunday night at 9:00pm EST.
Check out a preview of the show, go to G4TV.com.
We weren't able to sit down with the 2M2MM guys, but the boys from CollegeHumor did, and apparently decided it'd be a good idea to test the online poker waters themselves. Watch the hilarity for yourself at CollegeHumor.com.
Play
Can't get through the weekend without a poker fix? If you are in Las Vegas, consider the Hard Rock Casino's Mega Stack Poker Showdown. Offering three events (Friday, Saturday, and Sunday) over the course of the weekend, each tournament gives players 15,000 in chips to start. The Mega Stack Poker Showdown runs through August 24, 2009, with play beginning at noon on all days.
To learn more head over to HardRockHotel.com.
California bound? Check out The Bicycle Casino (and their new Grand Poker Ballroom) as there will be plenty of poker pros on hand as the Legends of Poker tournament preps for its Main Event on August 22, 2009. This weekend the Bicycle is offering three tournaments including a $300 buy-in No-Limit Hold'em tournament (with two Day One flights) and a $500 No-Limit Hold'em tournament, as well as a $500 Stud Hi-Lo/Omaha Hi-Lo tournament.
Get all the details at TheBike.com.
For those of you on the East Coast, there are plenty of tournaments in Atlantic City. At 1:00pm, for a $175 buy-in, play in the Deep Stack Gladiator Games at Caesars. Players start with 15,000 chips and the blinds are 20 minutes long.
For more information check out CaesarsAC.com.
In case you're stuck at home and you are looking for some online action, why not play poker for a cause with the FTOPS Ante Up for Africa charity tournament or the FTOPS Main Event? Saturday's Ante up for Africa tournament offers a guaranteed $100,000 prize pool that will have plenty of Red Pros and celebrities, including Don Cheadle and Matt Damon in the mix. Full Tilt will be donating the player buy-ins to the charity. This $100+$20 tournament begins at 15:00.
Sunday's FTOPS $500 Main Event features a $2,500,000 guarranteed prize pool; this monster will begin at 18:00.
Sign up here for Full Tilt bonuses.
Hopefully this installment of the Weekend Survival Guide served you well, like it or hate it, let us know below. Invite your friends to become a fan of PokerNews at our Facebook page here.