The Nightly Turbo: Poker After Dark, Some Legal Talk, and Joe Sebok Signs with UB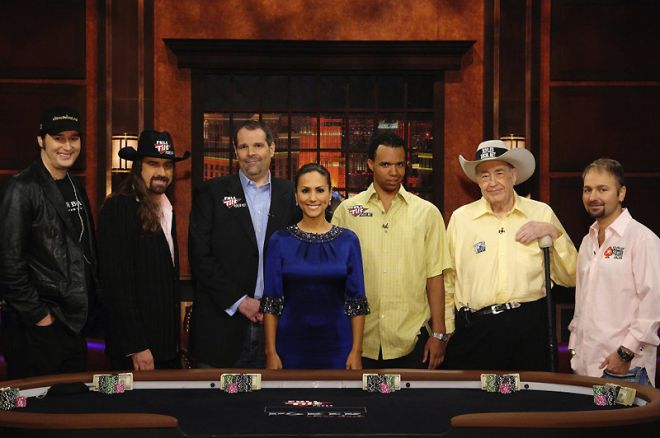 If it is in the news and it is poker, then you'll find it here. The Nightly Turbo is bringing you all the news you need to know so you can get back to your game sooner.
In Case You Missed It
Ultimate Bet is definitely building its team. Joe Sebok is the newest member of Team UB. He'll also be the company's media and operations consultant and what's the first task on his list? Giving all of us the names of the cheaters implicated in the scandal. PokerNews sat down with Seebs to talk about his signing with Ultimate Bet.
Online poker has had numerous punches in the face by the Department of Justice. Well, Online poker isn't backing down and is prepared for a fight.
If we could choose someone to run like, after yesterday, we'd probably choose Yevgeniy Timoshenko. As if he wasn't having a stellar year already, (with his WPT Championship win) he took down the PokerStars World Championship of Online Poker Main Event and then won the Full Tilt $1k Monday. Find out how it went down in this WCOOP recap.
JP Kelly won the first World Series of Poker Europe bracelet of the year and this win, plus his win at the WSOP in Las Vegas, makes him the year's first transatlantic WSOP bracelet winner. Read more about event one and check out the top chip counts for event two in our recap.
It's Tuesday and you know what that means, WSOP Main Event coverage on ESPN. Phil Ivey is taking over the coverage and if that isn't enough poker for you, you can check out ESPN's Inside Deal with Joe Sebok.
Assembling the Troops
The U.S. Attorney's Office in Baltimore, Md., is implementing an Assets Forfeiture and Financial Crimes task force that will go after online gambling operations. According to Maryland U.S. Attorney Rod Rosenstein, the task force was discussed during the Bush administration. Rosenstein said that the Justice Department has pressured the U.S. Attorneys to go after mortgage fraud and other financial criminal cases. Gambling911.com says it has learned the "other financial criminal cases" involve online gambling.
Read more at Gambling911.com.
Poker for Healthcare
A proposal was introduced in the Senate Finance Committee on Saturday that aims to offset the costs of health care reform by using revenues generated by Internet gambling. Senator Ron Wyden (D-OR) proposed the amendment that would allocate Internet gambling tax revenue produced by implementing the Internet Regulation, Consumer Protection and Enforcement Act. The tax revenues would increase low-income subsidies provided by the America's Healthy Future Act of 2009.
"We applaud Senator Wyden's proposal to collect and put to good use tens of billions in Internet gambling revenue that would otherwise be lost in the underground marketplace," said Michael Waxman, spokesperson for the Safe and Secure Internet Gambling Initiative. "The Senate Finance Committee should approve the resolution, finally putting to an end a failed prohibition on Internet gambling that leaves Americans unprotected and unlicensed offshore operators as the only beneficiary in a thriving marketplace."
An analysis conducted by PricewaterhouseCoopers shows that up to $62.7 billion could be obtained by the U.S. government in the next decade if Internet gambling is regulated and taxed.
PokerPages.com has more.
WPT Borgata Poker Open
At the time of writing this, 81 players remain in the Borgata Poker Open. (You know how fast people fall in a poker tournament.) The money bubble has burst and they'll be playing to 27 tonight.
Our multitabler from yesterday, Jason Dewitt, is still cranking away with a chip count that is just below average. Kathy Leibert is hanging on, just barely, and three players have cracked the one million chip mark.
The Borgata Poker Blog has more updates.
Poker After Dark
We know the new week of Poker After Dark started yesterday, but we were busy with this and forgot to tell you. So we're telling you now and the lineup definitely lives up to the episode's title, The Magnificent Six. Phil Hellmuth, Chris "Jesus" Ferguson, Howard Lederer, Phil Ivey, Doyle Brunson, and Daniel Negreanu will battle it out on the felt this week.
Catch these poker legends every night this week at 2:00 a.m. on NBC.
Twitter Talk
Just a side note, according to Phil Hellmuth's (@phil_hellmuth) tweet today, he is now November Niner Jeff Shulman's poker coach for the WSOP Main Event Final Table.
Follow all of your favorite poker players with our Star Tweet Tracker.
Speaking of Twitter, are you following us yet? Have anything to say about something you read today? Let us know below.
*Photo from Poker After Dark