Off the Felt with Jayde Nicole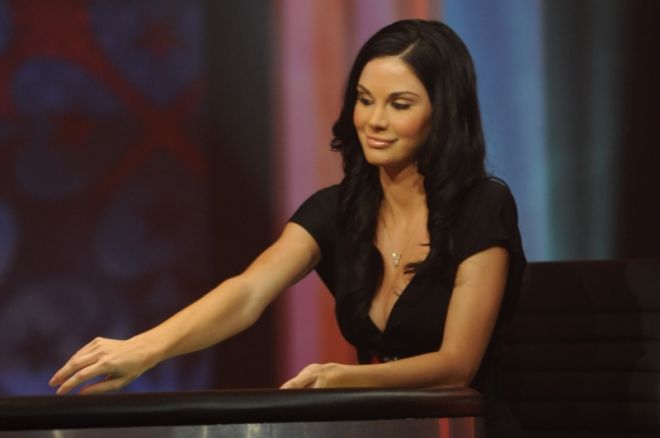 Jayde Nicole, the 2008 Playboy Playmate of the Year, has recently taken to the felt with an appearance on the PokerStars.net Million Dollar Challenge. PokerNews caught up with the 23-year-old to discuss how she was introduced to poker, who'd she'd rather bluff, and what she would do with a World Series of Poker bracelet.
So Jayde, tell us, how did you stumble into poker for the first time?
Well, I first started playing poker with my boyfriend Brody Jenner who loves poker. He has big poker games from time to time, and I took to the game right away. I then met All In Magazine publisher Kasey Thompson and I agreed to doing the "All In Magazine Project" where each month I train with a different professional poker player and track all my progress and results in the pages of the magazine.
Sounds awesome, who have you trained with so far?
My first instructor was Jamie Gold. I then trained with Bluff Magazine Online Player of the Year David "The Maven" Chicotsky, and next up is Daniel Negreanu.
Speaking of Daniel, you are one of the celebrity stars on the PokerStars Million Dollar Challenge, and we got to see you in action for the first time a few weeks ago. What was it like watching yourself play poker on television?
One thing you never get used to is seeing yourself on TV. It was definitely fun to watch, but they edited out so many hands I thought I played really well, so I was a bit bummed about that. It was cool to watch though.
Are there any advantages of being a Playmate at the poker tables?
First of all, nobody takes you seriously at the poker table. Girls at the table hate you and everyone else tries to help you learn. It's somewhat similar to how Daniel reacted before my match on the "Million Dollar Challenge."
Favorite starting hand?
Nope, not yet. It's still too early for me to have either a favorite hand, or an unlucky hand.
Who is the better poker player, Brody or Hef?
Well, I have never actually seen Hef play poker. He loves card games, though, so I'm sure he is pretty good. We should definitely get a poker game going at the Playboy Mansion. Brody, I have seen play, and he is pretty good, so I'd have to go with him.
Easier to bluff, Lauren Conrad or Kristin Cavallari?
I love Lauren. She is so so nice, and more conservative so I would definitely rather play her at poker as she would be easier to bluff.
Which is more exciting, flopping top pair or posing topless?
(laughs) I would say flopping top pair is more fun.
Hotter accessory, a WSOP bracelet or a Playmate of the Year diamond pendant?
If I were ever lucky enough to win a bracelet, I would have to ask them to custom make me a special one. The bracelets are so big and heavy and are obviously designed for guys. So for now, I would have to go with my Playmate of the Year pendant.
Who is your favorite poker player and why?
Daniel Negreanu is definitely my favorite. I just love the way he plays the game and he is Canadian like me. So many poker players seem to have big egos, and he is so sweet and fun to be around.
Where can we expect to see you at the poker tables next?
Well, I plan on playing two to three poker tournaments online each week. I'm also playing in an Ante Up for Africa event this week, and then Ill be playing in the PokerStars Caribbean Challenge in the Bahamas in January.
Well, best of luck Jayde, we look forward to following your progress.
Follow us on Twitter for up-to-the-minute news, and also become our fan on Facebook.