A Round in the Cage with Randy Couture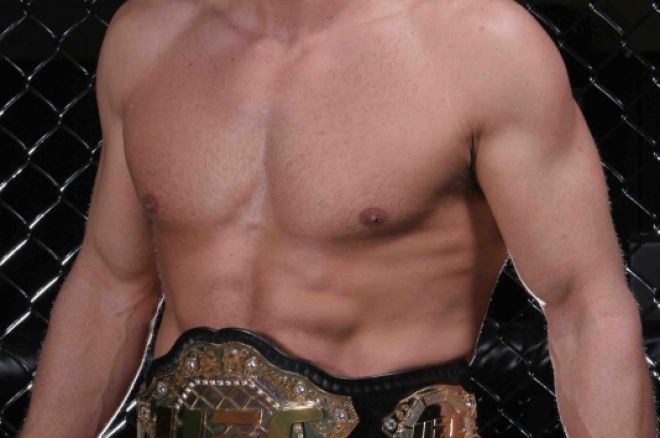 Possibly one of the toughest men on the planet, Randy Couture is stepping out of the ring and sitting down at the poker table for both an upcoming charity event, Operation All-In, and the highly anticipated PokerNews Sports Legends Challenge. We caught up with Randy to see how he is preparing himself for his foray on the felt.
First of all Randy, how did you first find your way into the game of poker?
It all started with my Extreme GI Foundation, where our second event was a charity poker tournament at the Hard Rock. We had a bunch of pros come in and Jamie Gold was there to emcee the event. It was a really great event, and we raised a bunch of money for the soldiers, so it was a blast. It also was my first time at a poker table, and boy was it a learning experience.
We know the second installment of Operation All-In is coming up, has your poker game improved at all since last year?
Well, I certainly hope so. I tend to be a little aggressive early on and then you're forced to go all-in just to stay in the game (laughs). I'm definitely not the best poker player, but I do have a lot of fun playing. I'm looking forward to the Golden Nugget event on August 22nd, as well as playing with these sports legends in the Bahamas in September.
Tell us a bit about the Sports Legends Challenge, what prompted you to get involved?
They asked Chuck (Liddell) and myself to represent Mixed Martial Arts and we both jumped at the opportunity to be around guys like Jim Brown, Jerry West, and Sugar Ray Leonard, I mean the list of stars goes on and on.
Over the course of your MMA career, you developed quite a rivalry with Chuck, do you foresee that spilling over onto the felt?
Well, I dont know, our rivalry was primarily contained to the cage. We always got along well outside of the cage, but we're both very competitive guys, so we'll see if we end up on the same team or different teams, and obviously if we're on different teams its all about winning, so we will be going at it, thats for sure.
Sports Legends Challenge is offering a lot of different events over the course of the weekend, from poker instruction, to golf outings, to the Main Event, is there one event in particular you are most looking forward to?
I think the whole experience is going to be fun; I've never been down there and I hear its absolutely gorgeous. I'm really looking forward to the Main Event, as that is obviously the big draw, but I also enjoy golfing a lot. I know how to swing the club alright, and even though I never can be quite sure of which fairway I'll end up on, I love playing.
We all know poker players love to gamble out on the golf course; do you foresee any serious betting on the links?
(laughs) I think I'll leave all my gambling for the poker table.
Which sports legend do you anticipate being the worst player of the bunch, and which do you think has a little game?
To be honest, I'm not sure of any of there poker skills. Every single one of them may be just as bad as I am, which could make for some seriously interesting and entertaining plays.
Mixed Martial Arts has become one of the most popular sports in the country these days, which sports legend would have made an excellent MMA fighter in their day?
I think Jim Brown is obviously a tremendous athlete who is a big physical guy, and would have been a great fighter. Obviously Sugar Ray Leonard, with his boxing skills, was already a tremendous fighter in his day, and with a little work on his grappling and wrestling skills would have made for a helluva MMA fighter as well.
Before we let you go, tell us about your most memorable hand of poker?
(laughs) Three times during the first Operation All-In event I found myself short on chips, needing to move all-in with any decent holding, and all three times it came down to the river card to make or break me. I ended up winning all three hands, one of which was with one of the poker pros, and it was pretty exciting. Jamie Gold was emceeing and made a huge deal out of each situation, which made the hands even more entertaining. You win some and you lose some though, as right before the final table Frank Trig hit a card on the river to knock me out on his way to finishing third in the tournament.
Well, best of luck Randy we look forward to catching up with you at the Sports Legends Challenge in a few weeks. For your shot at a trip to the Sports Legends Challenge, check out Absolute Poker for satellites.