The WSOP Final Table Awaits: Final Thoughts From Cada, Schaffel and Buchman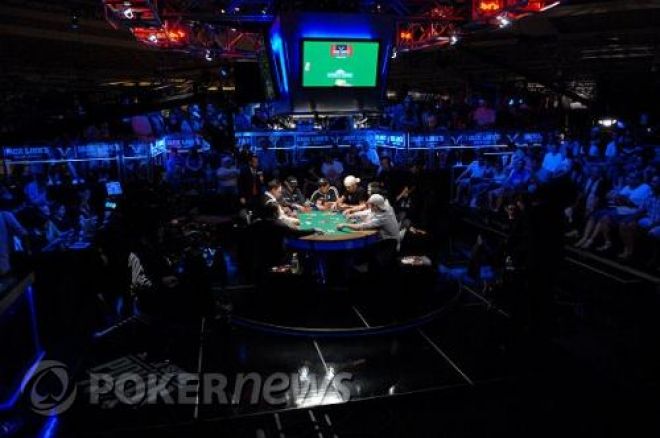 With the entire "November Nine" finally back in Las Vegas for the conclusion of the World Series of Poker final table it's safe to say that emotions are running a little high for all involved. All of the analysis and preparation for playing on the world's biggest stage has come to an end, and it's time for these men to battle it out on the felt for the $8.5 million first prize. We caught up with three of the final nine, who will be donning the iconic PokerStars logo, Eric Buchman, Joe Cada and Kevin Schaffel to see what this experience has meant to them, and how they'll be spending their final 24 hours before play.
PokerStars-sponsored player Cada can't wait to hit the felt saying "I'm extremely excited and cannot wait for the cards to be in the air. I am feeling extremely grateful to be surrounded by family and friends during this time. It's been a long few months, and I am ready to play and bring a title home to Michigan. A part of me is asking 'how and why me'?, however, I've accepted this gift and am ready to make the most of it."
Cada spent his last evening with close friends and family, his girlfriend Allana Constance, and his agent Dan Frank in an effort to reflect on everything that's happened. "I'll probably sit in bed and visualize tomorrow's action before falling asleep around midnight," Cadas aid.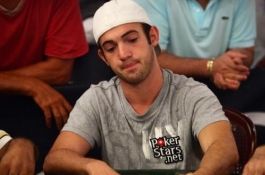 He seemed incredibly at ease with the big day lurking, and it's clear the relationship developed with Team PokerStars Pro Dennis Philips is one of the reasons why. "Dennis Phillips, especially has been helpful and has been a true friend and mentor. He has helped me prepare for what I can expect with all of the media attention surrounding this event. I'm looking forward to becoming close friends with many pros from different countries, many of whom are part of the PokerStars family."
Buchman is also feeling confident going into today's play and is ready to go. "I'm a little anxious, but I'm also very confident. I know I'm going to play good, I just hope that I run good. I'm trying to take it one step at a time and make my goal surviving tomorrow and making it to heads up play," said the young pro from Long Island.
Buchman, along with the other two PokerStars-sponsored players, met up with reigning World Series of Poker Champion Peter Eastgate, who shared some of his wisdom with the group. "I liked meeting with Peter. He ran us through what we should expect, like how long it took him last year to get to heads up play, how intense it all becomes and a few tips on how to stay focused," Buchman said of the 2008 champ.
While there certainly is a special camaraderie among the "November Nine," it's still very much all business for Buchman. "We were all together for a photo-shoot at the VooDoo Lounge at the Rio, and everybody is friendly and we all get along great but for me, I'm focused on the tournament. I want to do my best. I'm not saying that other people aren't taking it seriously, but I for one am taking it very seriously." Buchman's final night will consist of a quick drink with some friends and a movie back in his hotel room.
Schaffel, the oldest member of the final nine is also chomping at the bit to get the cards in the air. "At the photo shoot at the VooDoo lounge we all got talking and we all said the same thing, that we're ready to play. Three months is a long time to think about all the possibilities, and all the potential ways the outcome will effect our lives," Schaffel said. "We all know there can only be one winner and for me there are really mixed feelings, because if you don't win it will definitely be a let down. I'm trying to prepare myself to finish in any position, first one out, fifth one out, or first place."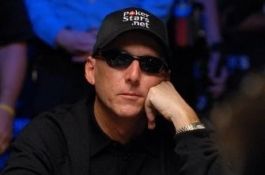 Schaffel has been enjoying every minute of the long wait, telling us there were absolutely no negatives to the entire experience. "I've met a lot of great people throughout this, including some amazing poker champions and I'm extremely grateful of those relationships. Even though my fellow PokerStars guys Joe, and Eric combined are not as old as I am, if I do get knocked out I'm certainly pulling for one of those guys to bring home the trophy for PokerStars."
While the two youngsters plan on staying low-key, Schaffel is spending his last few hours keeping busy. "I've got a cocktail party for about 100 friends and family from 4 to 6 p.m. and then I'm taking about 75 people over to the Mirage to watch the Terry Fator show. That ends at about 9 p.m., and then I'll join up with some family for dinner and we will probably end up the same place we did last night, at the center bar near the entrance of the Rio, chatting and socializing before heading off to bed probably around 1 a.m. Hopefully I'll be able to get more than three or four hours of sleep."
How will it all play out? Well, we will find out soon enough as the wait is finally over. Cards will be in the air today at around noon PST and you can follow all three of these PokerStars-sponsored players, as well as the rest of the "November Nine" right here at PokerNews.
Be sure to follow both of our Twitter feeds; @Pokernews for up-to-the-minute news and @Pokernews_Live for actual hand by hand updates of the final table.