Heads-Up with NBC Poker Champion Annie Duke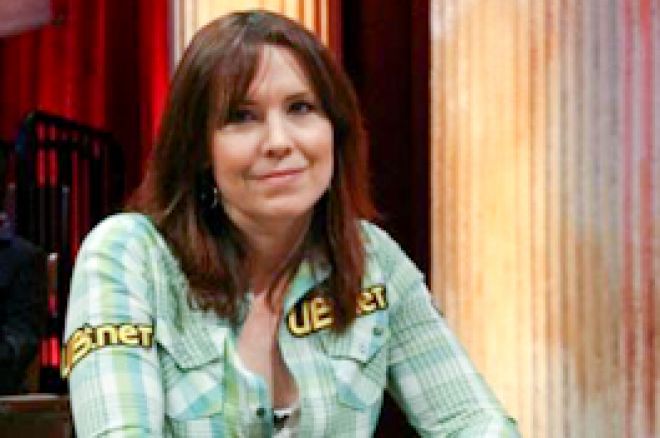 Last week, Annie Duke marked another big win on her scorecard when she shot down the NBC National Heads-Up Poker Championship. The 64-player field was littered with the biggest names in poker, and Duke's victory earned her some serious bragging rights, a healthy dose of network television exposure, and a half-million dollars.
Away from the felt, Duke devotes her time to a number of charities, giving poker lessons to A-list celebrities, speaking publicly before large groups of important people, and being a proud mom to her four children. She is no part-timer though, and she certainly hasn't hidden from the bright spotlight that shines on the foremost personalities in poker. Duke even took some time for us, and we had a chance to talk at length about her latest trophy and her outlook heading into the 2010 poker season.
It wasn't exactly an easy run to the Finals for you at the NBCHU. Tell us about the tests of those middle rounds.
Yeah, the Wasicka match was a marathon. And then, actually, the Jerry Yang match was really long, but not because I was in danger. I got him short really fast, but he wouldn't go away. At first I thought that one was going to be over in record time. I got him short so fast, but then he survived four all-ins. Luckily, he'd survive his all-ins when he was already so short that I was still in the lead. It just took a long time.
Did you mention that you weren't very happy with how you played against Dennis Phillips in the semifinals?
It wasn't that I didn't like how I played against Dennis. It's that Dennis was a confusing opponent. I was actually very happy with how I played against him except for the first 15 minutes of the match. I think that happens a lot when you're playing with someone you're very unfamiliar with, and Dennis goes in that category. I made some mistakes in the early part of that match, which I would take back now, knowing him better as an opponent. That's part of what heads-up play is about: "Okay, I thought this guy would do this, but I was wrong. Let me adjust to it." He definitely had me confused there for a while.
And then onto the finals where you got to face your good friend Erik Seidel. Tell us about the interplay between the fight and the friendship in those three matches.
In the first match, there's one really genius hand where Erik makes an amazing play against me and just outplays me. But I think on balance, I had control of the first match. In the second match, he played circles around me. Up until that point, I played all of my matches really well. I really feel like I was playing my best poker. Erik is just so good and so frustrating as an opponent that I think I fell apart in the second match.
In the third match, he hit the board pretty good against some of my second-best hands, and he got me down a little low. But I battled back to where we were basically even again, at which point the blinds were really, really high. I feel like both of us had a lot of respect for the other person's game, and neither of us were looking to get in big gambles. All of the sudden the blinds were 20,000/40,000, and that's the highest they'd gotten in any of our matches. At that point, you know, we were both short.
So he raised on the button, and I moved in with
, which I would do pretty much every time in that situation with those chip counts. He happened to have
, and I outflopped him. Obviously I was very lucky to do that. So I had over a million and he was really crippled when he moved in with ace-deuce. I called with two nines, and that was the end of that.
Looking back at the Final as a whole, how do you feel about the way it played out in the end?
It was a really fitting end to the match. I feel like we played pretty even. I think I played really well in the first match, he obviously played amazingly in the second match, and it's kind of cool that we ended up toe-to-toe where it was, "Well, now the blinds are high, let's see what happens." I'm happy it was like that, because Erik is such a good friend of mine. Outside of my brother, I root for him more than any other player to do well. And for it be what felt like a pretty even matchup is so cool. It's like we were equally rooting for each other.
Obviously you're genuinely close to Erik. Tell us what your thoughts were about playing him in the moment.
I don't think people know how long Erik and I have known each other. I know Erik back from his New York days, so I've known him since I was 19 or 20. People forget that when I won my WSOP bracelet, I knocked Erik out third in that tournament, so we're not afraid to play against each other. I felt like this NBC Final was a free roll, and I think Erik felt the same way. We were in this great position where we were going to be happy whichever result it was. I was going to be happy to have played him heads up and come in second, and to know that he really earned it and deserved to win.
In the end, he got his money in best to knock me out, and I had to suck out on him. I mean, that's just how it goes. He absolutely deserved to win that match, and I would have loved to see him add that title to his record. I feel like he is one of the most under-praised players for his accomplishments and for who he is. People forget to mention him when they're talking about the best players in the world. And there's no question that he deserves to be on any list of the top players when you look at his record and at how long he's been consistent.
You've now tallied three big wins that could all be classified as "career-defining" in the last six years. If we put your feet to the fire, where would you rank this victory?
This is so huge for me. It would probably depend on my mood. It's in the top three, and depending on my mood, it might be number one. Obviously the WSOP bracelet is the thing that every player wants. And the Tournament of Champions really launched me with the huge cash.
This, particularly in combination with my 19th-place at the Commerce — I'm committed to being a poker player. I work really hard on my game, even though I don't play as much as most folks because I have a lot of other commitments. But I do want people to think of me as a player and somebody who plays poker well. That's why it's an important win for me.
An individual match is pretty swingy, and it's probably not much better ever than 60/40 at most. But you gotta win, in my case, I played eight matches. So when you look at that tournament and the people who have won it, I'm pretty proud to be standing among those folks. Huck Seed, Phil Hellmuth, Chris Ferguson, Ted Forrest, Paul Wasicka. I'm pretty proud that I get to stand shoulder-to-shoulder with those guys.
Your family is obviously at the head of your "other commitments." Is it as easy as you make it look to balance your poker career and your career as a mother?
It's funny because the balance is really where most of the criticism comes from. It's true with any career you choose, though. If you neglect your family in favor of your career, you're going to regret that. So, I play when it doesn't conflict with time I'm supposed to be spending with my children. I am a mom, and the mom comes first.
Mom comes first, but we've heard that you're making it a point to refocus on poker a bit this year. What's the story?
I took from October to February off. I didn't play any major tournaments. And I really came back strong from that. The Commerce was a good test for me because I focused really well for that tournament, and then I came into NBC with a lot of confidence and really hungry. I really felt like I had something to prove. And I think I played like I have something to prove.
You spent some time playing with Vanessa Rousso in L.A., and that sparked a little discussion. You don't like to make a big deal out of the role of women in this game, but do you feel any pride or pressure as the foremost woman in tournament poker?
I recognize that because I am a woman, that I'm representing women. But that's not really what's in my mind when I'm playing. I'm trying to represent myself. That being said, I had a lot of fun playing with Vanessa in Los Angeles. She's a really good player, and when I play with her, I learn. I think that's cool. I'm really happy for the success she's been having, particularly in the last year. It started I guess with the same event last year (NBCHU) when she took second. And then she just had a monster year following that. She's so smart, and she does some interesting and creative things at the table. I really enjoy playing with her.
Tell us about the UltimateBet Poker Leagues, this is something that's starting to gain a bit of traction in the online poker scene.
People like to do last-longer bets, and this is a way you can do that safely. It's an easy method for a big group of people to make a coordinated last-longer bet.
We also have league play, both weekly and monthly. There are specific tournaments you play in the league, and your results over that time period determine where you stand in the prize pool. It's just a really fun way to add another layer to the tournament grind.
And you're involved with the overhaul of the tournament schedule on UB. Are you happy with how things are evolving?
I'm extremely happy with the way things look. Starting March 28, we're launching a monthly $1,000 Sunday heads-up tournament. On the last Sunday of the month, we'll have a big bracket starting early, and I'm going to host the first few of those.
We actually just put in another big batch of changes this week too. Basically, we've been working on increasing the high-limit action on the site, and that's been going really well. And now we're starting to focus on the mid-limit action. A lot of those $15, $20, $30 tournaments, in that range, and we can't raise the guarantees fast enough. Our rebuy action has been huge. We just keep listening to the customers, and as usual, the customer is right. When we have a lot of people telling us to add something, and we do, it tends to be successful, and that's really what our strategy is.
Annie is perpetually active in charity and public appearances away from the felt. She is hosting the fourth annual Ante Up for Africa charity event on July 3rd at the WSOP, and she's involved with a number of other projects in the meantime:
April 3 - Hosting an event for 1736 Crisis Center at the Bicycle Casino in Los Angeles.
April 14 - Hosting a joint event for Ante Up for Africa with the PPA in Washington D.C. to raise issues in front of members of Congress.
May 4 - Appearing with Phil Gordon and Rafe Furst at their "Bad Beat on Cancer" charity tournament, also in Washington D.C.
Follow us on Twitter for up-to-the-minute news, and also become our fan on Facebook.