High Stakes Poker Season 6, Episode 7: Checking, Folding, and Check-Folding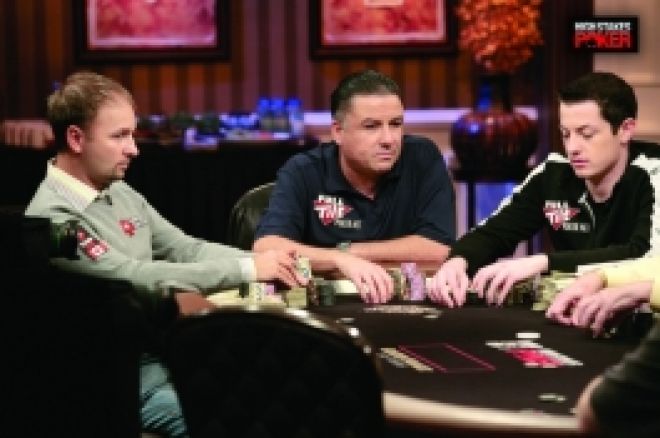 The latest episode of High Stakes Poker showcased solid, conservative play but lacked fireworks, energy, or even moderately entertaining banter. In the last few minutes, Tom "durrrr" Dwan clashed with Dennis Phillips, and Patrik Antonius scored with aces, but even those hands seemed a little lifeless. We're not telling the producers anything they don't already know. They're bringing in emergency chatterbox Phil Laak to get the party going next week.
Cast: Phil Ivey, Daniel Negreanu, Barry Greenstein, Andrew "Good2cu" Robl, and Lex Veldhuis, along with Dwan, Phillips, and Antonius.
Hand of the night: The first hand of the episode set the tone for the whole show. Andrew Robl raised to $4,000 with
, and Daniel Negreanu called with
. The flop came
. Sweet! The case three ought to be good for some action. Um, not exactly. Negreanu checked, as did Robl. The turn was the safe-looking
. Negreanu bet $6,200, and Robl just called. The
fell on the river, and Negreanu checked his full house. Robl checked behind. Sigh. "Good action on this season of High Stakes Poker," teased Dwan. You're telling us.
This week in awkward Kaplan comments: We're a little worried about Gabe Kaplan after this one. Dennis Phillips was getting visibly annoyed with Tom Dwan's bullying play and constant table talk, but we doubt Phillips was contemplating anything unseemly in response. But twice in 40 minutes, Kaplan said he thought Phillips looked like he wanted to slip Dwan some Rohypnol. Got drugs on the mind, Gabe?
Phillips takes a stand: This hand is more the kind of taking advantage of Dwan that Phillips had in mind. He raised to $3,500 with
, and Dwan reraised to 12,900 with
. Ivey called with
, and Phillips decided he'd see a flop. It came
, giving Dennis top pair, second kicker. He checked the flop anyway, and durrrr bet $26,200. Ivey mucked, and it was back to Phillips. "I'm all in," he announced, and Dwan threw his hand away. Phillips showed anyway. "You sit, you wait, and eventually you get the king-seven," joked Barry Greenstein. "No kidding," Phillips said. "Been waitin' all day for that hand."
How to play aces: Sometimes, it's just too easy. Patrik Antonius can outplay the best of them, but when he looked down at pocket rockets this time, he barely had to lift his fine Finnish finger to get his money in. In a straddled pot, Ivey raised to $7,000 with
, and Andrew Robl just called with
. But Antonius, in the small blind, picked up
and raised to $30,400. Robl took his time considering his options and picked the wrong one, moving all-in for another $113,900. They ran it twice, but Robl couldn't get help from either board. Instead, he reached into his bag and pulled out new stacks of cash.
Bottom line: Get some Red Bull to this table immediately, please!
After a lull in this episode, the action promises to pick up next week. Tune in to see whether Phil Laak's grand entrance and a battle between durrrr and Daniel can kick things into high gear. High Stakes Poker airs on Sundays at 8:00 p.m. on GSN.
Follow us on Twitter for up-to-the-minute news, and also become our fan on Facebook.