The Nightly Turbo: Cantu Wins at Wynn, Poker Pro Endorsements, and More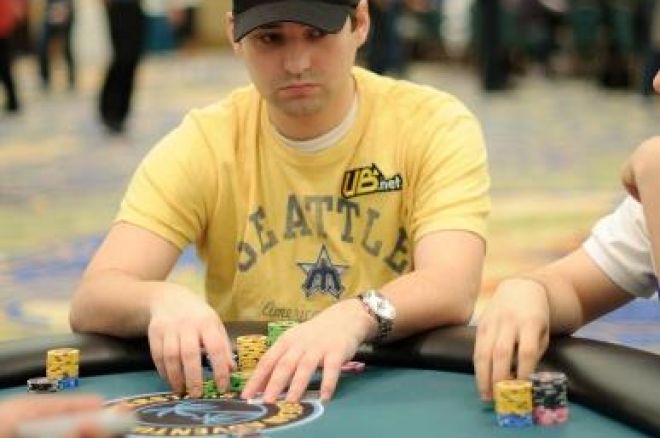 Brandon Cantu let his chips do the talking at the Wynn Classic, there's a really funny thread on Two Plus Two you have to see, and you may hate Joe Sebok after you watch the latest episode of Poker2Nite. Why? You'll have to read the Nightly Turbo to find out.
In Case You Missed It
Di Dang is back today with Part 2 of telling us how to play aces in pot-limit Omaha. He goes over a hand he played with "Isildur1" and you can read about it here.
It's the first day of March Madness and we were wondering if any poker players were making big bets on their brackets this year. Wondering yourself? We did the dirty work, find out here.
Another arrest was made the in European Poker Tour Berlin robbery. There are still a few guys on the loose but the authorities are making progress. Read more in this story.
The 2010 World Series of Poker is closer than you think. Making travel plans? Wondering where to stay? Check out Part 1 of Where to Stay if You Come to Play for some ideas.
EPT Snowfest
Next week the poker world will converge on the Alpine Palace Saalbach/Hinterglemm in Austria for poker and powder. The European Poker Tour Snowfest runs from March 21 through 26.
The PokerNews Live Reporting Team will be there bringing you all the action from the felt and maybe even some from the slopes. The PokerNews Alpine Cup was held at the same resort last year. Check out the video below for a sneak peek at what you could be looking forward to or be insanely jealous of.
Be sure you follow all the action live at the Live Reporting Page beginning March 21.
Cantu in a Wynn Win Situation
Brandon Cantu went into the third and final day of the Wynn Classic with the chip lead. At the end of the day, he had all the chips. He was the last man standing after the three-day 242 player tournament was over and took home $363,844.
Only 24 of the 28 players who began Day 3 made the money. Among those, Justin Bonomo finished 17th taking home $11,737, Tony Korfman's 14th place finish garnered him $14,671, and Erick Lindgren walked away with $17,606 for his 10th place finish.
You can find the full list of results at WynnPoker.com.
Sports Emmy Nod for WSOP
ESPN's coverage of the World Series of Poker has received its second Sports Emmy nomination in as many years. ESPN is obviously no stranger to Sports Emmys, having won 128 awards in 21 years of eligibility. For the ninth time in 10 years, ESPN also had the most nominations out of any submitting company.
Winners will be announced on April 26. Find out more about the nomination here.
Poker Pro Endorsements
Last week we showed you the Two Plus Two thread on why Antonio Esfandiari can never beat Phil Laak, and although that thread started off pretty weakly, it ended up epic. There's another one on the verge of epic as well now.
Two Plus Two poster "Eponymous" started the thread on poker pro endorsements with two hilarious Photoshop photos: Phil Hellmuth's Poker Brats and HeadOn: Apply directly to Akenhead.
Writing about them really does no justice. You have to see them and you can do that here.
Dancing with the (Poker) Stars
Joanna Krupa visited the set of Poker2Nite to talk poker, Paris Hilton, and dancing. Joe Sebok is also probably living out many of your dreams by doing the forbidden dance with Krupa. Check out the dancing below.
For the rest of the episode, head on over to Poker2Nite.com.
If you're not following us on Twitter, you should be and while you're at it, become a fan on Facebook. There's really no reason not to.