Players Weigh in on NCAA March Madness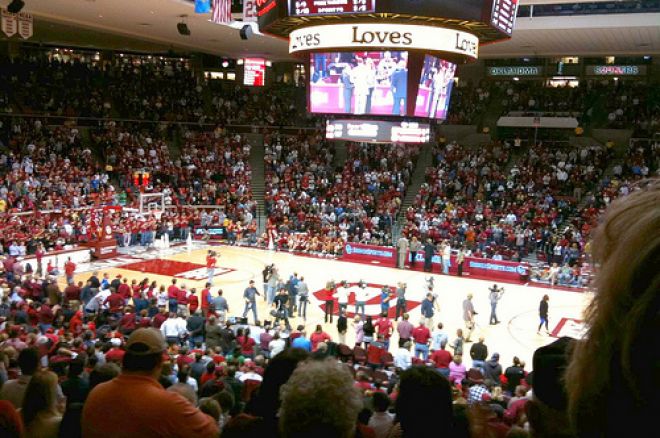 It's that time of year again to break out the old college jersey and get ready for March Madness. Selection day was this past Sunday and 65 teams were named to the tournament. Coming in as your number-one seeds are Kansas in the Midwest, Kentucky in the East, Syracuse in the West and Duke in the South, with Kansas getting the number-one overall seed.
As most of you already know, many poker players are big into sports. Outside of the Super Bowl, March Madness could be the most interesting and entertaining sporting event for poker players. Whether passionately rooting for their alma mater or just looking for something exciting to wager on, the NCAA tournament provides a little escape from the poker world for many players just before a long summer at the World Series of Poker gets underway.
PokerNews reached out to some top pros and well-known players from the community to get their takes on the tournament and find out who they're cheering for the most. Here's some input from Jason Young, Joe Sebok and Bryan Micon.
Who will you be rooting for to cut down the nets in Indianapolis on April 5?
Jason Young: Rooting for Big East and any Cinderella team.
Bryan Micon: Indiana Hoosiers.
Who do you have going to the Final Four and who do you have cutting down the nets in the end?
JY: Kansas, Syracuse, West Virginia and Baylor. I have WVU beating Syracuse in the finals.
BM: Kentucky, Duke, Kansas State, and Kansas with Kentucky winning it all (original, I know, but it's what's gonna happen).
Which bracket is the hardest?
JY: The South is pretty brutal from top to bottom and the West is by far the softest bracket.
BM: Hardest? I get my picks from a 10-year-old Jewish kid named "Menachum." I didn't follow the NCAA the whole year because Indiana "pooped the bed" so to speak. So, I relied on a child in fifth grade for my bracket this year. This is all 100% true.
Who's your sleeper pick as a possible Cinderella team?
JY: I can see Georgetown, Baylor and Temple making runs, but for a real long shot I think Sienna can win two games. Also, don't forget how Syracuse started the season losing to Division II Le Moyne. They have lost two straight and eventually in our lifetimes a 16 will beat a number one.
BM: Cornell (12th seed) winning a few games and Marquette to elite 8.
Will you be placing any bets on the tournament? If so, who are you betting on?
JY: Unfortunately, there will be heavy degen-ing going on throughout the tourney. Five big picks for the first round are Notre Dame (-2), Murray State (+3), Butler (-2.5), Siena (+4) and Louisville (Pick), plus a MONSTER play on the over of 157 in Maryland/Houston.
BM: I have submitted Menachum's bracket to every major free NCAA bracket competition, as well as threw around $37.45 on various bets surrounding his Cornell/Marquette runs.
Sebok supports the California Bears and will be pulling for his alma mater to be cutting down the nets when March Madness comes to an end. We caught up with Sebok and asked him some questions to find out what he thinks about the overall tournament and Cal's chances in the big dance.
What do you think of Cal's seeding and bracket?
Joe Sebok: Their seeding is about right, in my opinion. Really brutal matchup with Louisville though, so to me that is one of the toughest games for Cal.
It looks like Cal is lined up to play Duke if both win their first game, how do you feel about having to go through the Blue Devils in order to advance?
JS: I actually like our chances against Duke more than against Louisville. I'm just hoping that we can grind out a first round win, because I feel solid in the Duke game.
Who's your sleeper pick as a possible Cinderella team?
JS: I really like New Mexico as a mini-sleeper, although they are a three seed. For a real sleeper though, I like UTEP as a 12th seed. They could do some damage in the tourney.
Who do you have going to the Final Four and who do you have cutting down the nets in the end?
JS: I've got Maryland, Syracuse, New Mexico and Baylor all making the Final Four with the Orange cutting down the nets.
Will you be placing any bets on the tournament?
JS: No big bets for me, just fun stuff in pools and what not.
Outside of those, everyone knows who Phil Hellmuth will be rooting for. He's a Wisconsin Badger himself and will really be pulling hard for the team to do well as he talked about with Jay Crawford on ESPN's First Take the other day. The Badgers hold the number-four seed in the East region.
Billy Kopp is rooting hard and proud for his blue and white Kentucky Wildcats, who claim the number one spot on the East. Here's what Kopp had to say.
What do you think of Kentucky's bracket as far as its toughness of the four and who do you think will challenge the Wildcats the most?
Billy Kopp: I'm personally thinking Kansas' bracket is a tad bit tougher to get through with probably Maryland or Michigan St. then Georgetown or Georgia Tech and eventually my predicted Kansas State to get to the finals. I think that West Virginia and Da'Sean Butler could give the cats trouble in the elite eight.
Who's your sleeper pick as a possible Cinderella team?
BK: This may be a stretch but I think that the Aztecs of San Diego State may surprise a few people. They beat a quality UNLV team to get an automatic bid after being the last team to not get in the big dance last year. Look out for Tennessee and Georgetown.
Who do you have going to the Final Four and who do you have cutting down the nets in the end?
BK: My final four consists of Kentucky, Kansas, Villanova and Kansas State with the Kentucky Wildcats cutting the nets.
Will you be placing any bets on the tournament?
BK: I will not be betting on the Cats at all during the tournament. It has to be bad karma right? However, I will be placing some wagers on individual games if the spreads look right.
As a Philadelphia guy, PokerNews blogger Chris Klodnicki mentioned that he'd be rooting for Villanova and Temple. He graduated from Lehigh and will be pulling for them as well, saying, "I will kind of be rooting for them even though they have no shot."
In his final four, Klodnicki has Kansas, Pittsburgh, West Virginia and Villanova. "I have Kansas winning it all. I entered a $1,000 bracket this year with Kansas winning, so I will be rooting for them and Nova the hardest. Should be alot of money to first," he said. As for the toughest bracket, his opinion is the Midwest. "Kansas, G-Town and Ohio State are all very strong teams. Maryland, Michigan State and Oklahoma State could all make a run at the Final Four, too."
Don't forget to check out PokerNews' sports-betting site to get some last-minute wagers in on the games and good luck to all your favorite teams.