The Nightly Turbo: Hellmuth's Inside Deal, the Brunson 10 Get a New Member, and More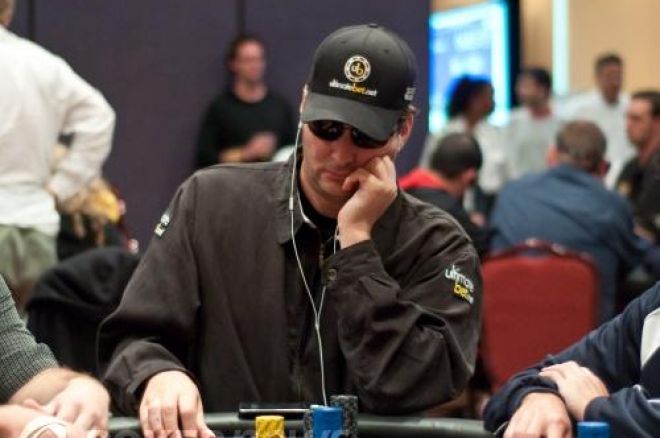 Phil Hellmuth visited the ESPN studios recently and filmed the latest episode of Inside Deal, the quest to fill the Brunson 10 is moving along nicely, and if you're in Professor Rubin's class, you won't be playing poker online anymore - during his hour anyway. Find out what we're talking about in tonight's Nightly Turbo.
In Case You Missed It
We sat down with Di "Urindanger" Dang to talk pot-limit Omaha. He gives us some tips about playing aces in PLO here.
The authorities in Berlin are getting closer to arresting all of the EPT Berlin robbers. One turned himself in on Monday and spilled the beans on the identities of the rest. Read about it here.
Annie Duke is not just a poker player. She's a mother, gives her time to charities, and teaches poker to celebrities. How does she juggle it all? She talks about that and her NBC Heads-Up win in this interview.
It looks like June 1 is d-day for online poker. There are no more delays for the UIGEA. Read about it here.
Bracelets Are So 2009
Phil Hellmuth sat down with Laura Lane and Bernard Lee in the latest episode of EPSN's Inside Deal. They talked about his World Poker Tour Bay 101 final table, Annie Duke, and the European Poker Tour Berlin robbers.
Mindset coach to the pros Sam Chauhan also made an appearance to talk about what it's like to coach Hellmuth and more.
Check out ESPN.com for more.
But Lectures are Boring
Students in Allan Rubin's class on natural disasters at Princeton University have been banned from using laptops. Apparently some students were playing poker rather than listening to the why's and how's of volcanoes and earthquakes. "I know from teaching assistants who were wandering around when the laptops were open that they were surfing the Web. They were playing poker with each other," he said in an interview with Times Online.
A quick poll at PokerNews HQ proves that none of us would have made it through our own college classes had it not been for online poker during class, and if we were in Rubin's class, we'd burn a mouse or something in protest.
Not a live mouse, of course.
Check out the Cake Poke Blog for more, and a video of a professor that really really hates it when students use laptops in class.
Be sure to follow us on Twitter for up-to-the-minute news and become a fan on Facebook.
HeadsUp in Negotiations
HeadsUp Entertainment, the company that owns the Canadian Poker Tour, has announced that it is in negotiations with "one of the largest poker companies in the world" to either co-brand the Canadian Poker Tour or buy it out.
"One of the largest poker companies in the world" wishes to remain unnamed, according to HeadsUp CEO Kelly Kellner. "Over the next 12 months, we will manage more than 550 casino-based events in Canada, Costa Rica the Dominican Republic and our Poker Super Cruise, which will attract some of the best poker players in North America. As a result of our relationships with the casinos, some of them exclusive, the online poker companies are realizing that our market reach allows them to market their platforms to players in North America," he said.
We have our own opinions of who "one of the largest poker companies in the world" is, but we don't want to name any names just yet.
Read more at CNNMoney.com.
Wynn Classic Day 3
The $5,000 Wynn Classic Main Event is beginning its final day today with 28 players left. Brandon Cantu leads the way with 727,000 in chips. Before we get to the notables who are still in the hunt for the title, we'll give you a few stats. For taking down the event, the first-place finisher will get $363,844. The total prize pool that was generated from the 242 players that entered was $1,173,700. Only 24 of the 28 players remaining will walk away with cash.
Cantu's table should be interesting with the top four chip leaders seated together. Justin Bonomo comes in at ninth place on the chip leaderboard with 218,600 in chips. Mark Ketteringham, Erick Lindgren, Dennis Phillips, and Tony Korfman are also still in the running for the title.
Find out who else is left at PokerPages.com.
The Brunson 6
DoylesRoom has announced the sixth member of the Brunson 10. Steve "gboro780" Gross is the newbie on the team. He has close to $3 million in career online tournament winnings and in 2009 was named Card Player's Online Player of the Year.
"Steve's record speaks for itself. Player of the year in 2009, on his way to another one this year, the kid is unbelievable," said the poppa of the group, Doyle Brunson.
Gross joins Alex "AJKHoosier1" Kamberis, Zachary "Crazy Zachary" Clark, Amit "amak316" Makhija, Chris "Moorman1" Moorman, and Dani "ansky" Stern on the team.
It has taken quite a while to get to six, we're just wondering which will finish or fill up faster, the "durrrr" Challenge or the Brunson 10.
Read more about Steve Gross' signing at OnlinePoker.net.