The Nightly Turbo: Jerry Buss Going Pro, Robbers Hit Poker in Austin, and More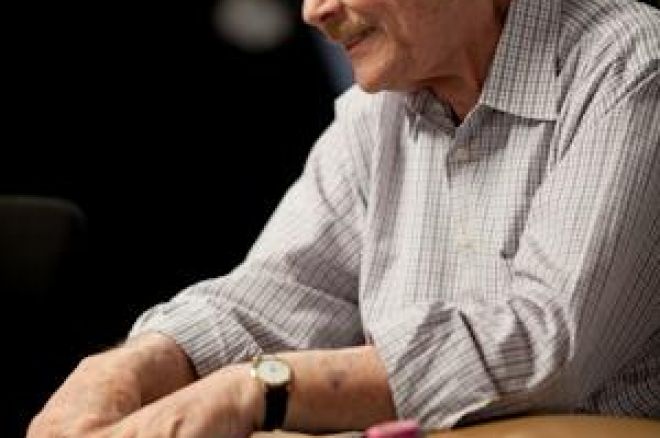 Is Jerry Buss giving up basketball? We'll answer that, tell you about the robbery of a poker game in Austin and more, all in tonight's Nightly Turbo.
In Case You Missed It
PokerStars has announced plans for a cash-game television show called "The Big Game." We'd tell you all about it here, but we've written about it and we're not too keen on repeating ourselves.
We've got Sunday Majors results today. It is Monday, after all. Check them out in the Sunday Briefing.
PokerNews will be covering the 2010 World Series of Poker. We've been doing this for a while now, so you can expect extensive coverage of all the bracelet events. Read more about it here.
Catch the latest episode of High Stakes Poker on GSN? Maybe you missed something. Lucky for you we've got a recap for you.
WSOP Circuit
The World Series of Poker Circuit stop at Harrah's Rincon in San Diego is in full swing and Dwyte Pilgrim is on a roll. He took two first-place finishes and a second-place finish at the Southern Poker Championship in January, first place at the Mega Stack Challenge in Mashantucket, and has just won his third WSOP-C gold ring. Pilgrim has won over $260,000 this year alone.
His third WSOP-C gold ring came in Event 8 at Harrah's Rincon, topping a field of 169 players and taking home $13,392.
Event 11 saw a familiar name take second place. The event was the $100 buy-in no-limit hold'em ladies poker championship and 242 players came out to win gold. Poker must be in the blood of the Wasicka family; Leah Wasicka, Paul's sister, took second place in the event that was eventually won by Susan Rhodes.
Want some WSOP gold of your own? Check out the remaining WSOP Circuit schedule for the event closest to you.
Buss-ting Your Flush
Jerry Buss loves basketball, women, and poker. At 77 years young, with nine NBA Championship banners for the LA Lakers, Buss is quite content with having his son make 80 percent of the basketball decisions and his daughter handle the business side. Buss has decided to focus his competitive spirit on poker.
In an interview with ESPN, Buss said he has decided to become a professional poker player. "Whether I can earn a living at it is questionable. But I do play in the World Series of Poker all the time," he said. Why the interest? "The competition. I can't think of too many things I can do as easily as that and be competitive at my age," Buss said. He also said he's not in it for the money.
Read the whole interview at ESPN.com.
Splashing the Pot
We don't know what he's saying in this clip, but apparently, Romanian football agent Giovani Becali was a little upset because the masseuse on duty was preoccupied with another customer. This madness ensued at the World Poker Tour stop in Bucharest. Becali threw his chips in the air, caused a ruckus, and chucked his credential at the tournament director. If we were the masseuse, we would've stayed far far away from him too!
It seems that Becali may be known for his outbursts. Check out Tony G's blog on PartyPoker to see what he did to a sports tv presenter.
Congrats to One of Our Own
We'd like to congratulate Kirsty Mullins, PokerNews Australasia Magazine editor on winning the Joe Hachem Deep Stack Series ladies event at the Crown Poker Room.
The field was 114 deep for the $100 buy-in event. With three tables left, Mullins was down to less than a small blind but managed to fight back to contention and on to the win, taking home $2,519.
Congratulations Kirsty!!
PokerNetwork.com has more.
Home Game Robbery
We've said it before, and we can't stress it enough, please be careful at your home games. Over the weekend, a group of shotgun-wielding men blasted their way through the back door of a home game in Austin, Texas. Although shots were fired, none of the 24 players in the game was hurt. We're not sure how much the thieves got away with.
Word on the street is that the Austin police arrested a least one robber when he used a stolen credit card later that night or the next day. This is an unconfirmed report, however.
Pokerati.com has more.