The Nightly Turbo: Peter Eastgate Quits Poker, French Poker Players Boycott, and More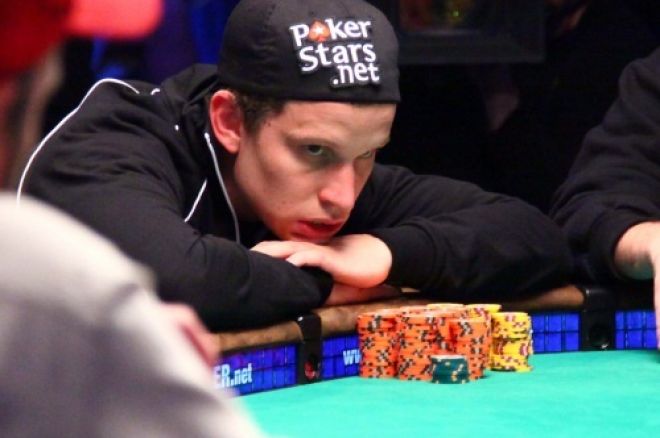 We've heard it before, and we're likely to hear it again, but another young poker pro has "quit." There's an online poker boycott going on in France, and if you missed the World Series of Poker party circuit this weekend, you missed hot girls dressed like poker maids. Don't worry, we're bringing you all that and more in tonight's edition of the Nightly Turbo.
In Case You Missed It
The PokerNews Team has two homes in Las Vegas for the 2010 World Series of Poker. There are quite a few of us. While some of the Team has been living it up at the Hard Rock, the rest have been living the high life in what we've dubbed the PokerNews Mansion.Corporate Mansions helped us out. If you're looking for a place to stay that's not a hotel, check this out.
Day 1b of the 2010 World Series of Poker Main Event saw an increase in players from Day 1a. Some players made it out with chips to spare. Others, well, they hit the rail with crushed dreams. Check out the recap for more.
Poker players are a giving bunch, besides all the taking they do on the felt. Check out Big Money, Big Hearts for a look at how much has been collected for various charities.
Throwing in the Towel
Two years after he became the World Series of Poker Main Event champion, Peter Eastgate has decided to take a break indefinitely at the ripe old age of 24. We've seen players declare they've quit or are taking a break before. See Shaun Deeb, Jonas Danielsson, Gus Hansen (who, according to rumors, isn't playing this year's WSOP Main Event, either), and Mike McDonald, so while another poker player "calling it quits" isn't too much of a surprise, Peter Eastgate calling it quits is. Had we have known his goal was never to spend his entire life playing poker, we may not have been so taken aback.
"When I started playing poker for a living, it was never my goal to spend the rest of my life as a professional poker player. My goal was to become financially independent. I achieved that by winning the WSOP Main Event in 2008. The period following has taken me on a worldwide tour, where I have seen some amazing places and met many new people; it has been a great experience. In the 20 months following my WSOP win, I feel that I have lost my motivation for playing high level poker along the way and I have decided that now is the time to find out what I want to do with the rest of my life. What this will be, I do not yet know. I have decided to take a break from live tournament poker, and try to focus on Peter Eastgate, the person. I want to thank PokerStars, my friends and family for their support over the last 20 months and for their support in my decision to take a break from poker," Eastgate said.
Read all about it at the PokerStars Blog.
French Players Boycotting
At the beginning of the month, the French government passed legislation that made it mandatory for online gaming companies to purchase licenses to operate in France. PokerStars created PokerStars.fr and initially, it was thought that players would no longer be allowed to play for cash. PokerStars.fr did in fact open its site to cash games, but some players are a bit miffed at the situation and are boycotting the site.
French players have banded together to hold a sit-in. They are filling the tables on PokerStars.fr, but rather than playing, they have opted to sit out. They are boycotting to protest the 7.5% rake that PokerStars.fr has imposed on pots whether there is action preflop or not.
A PocketFives member has posted screenshots of the tables during the "sit-in" and you can read more about it here.
Learning a Thing or Two
You may know about the WSOP Academy, the official poker school of the World Series of Poker, from the live training classes it has been holding at the Rio during the WSOP, as well as at various other venues. Well, now you can learn in the comfort of your own home. WSOPA has launched a new interactive online poker school to help players improve their game.
From July 1 through September 1, you can grab the beta version of WSOPA for $14.95 a month. There's a "Training Roadmap" with 12 chapters for the player to go through. Then players can go through a "Certification Course," as well as head on over to the "Bracelet Winners Corner" to learn from the champs. There will be a weekly show dedicated to poker strategy, hosted by Ali Nejad, and Joe Navarro will let you in on his FBI observation skills, so you can read souls at the table.
Instructors include Annie Duke, Phil Hellmuth, Greg Raymer, Mark Seif, Mark Gregorich, and Gavin Griffin. ""The WSOP Academy Online is unlike any other training site. It gives players a clear training roadmap, with a tested protocol that improves confidence and ensures your game is getting better each time you train," Hellmuth said. "We teach players with real hands from real tournaments with exclusive WSOP content, giving them our first-hand view of every flop, turn and river. This is the place where the next generation will learn to become champions."
Learn more over at WSOPAcademy.com.
Blaming the World Cup
We've read that over three million people made the trek to South Africa to watch a 2010 FIFA World Cup game. We've heard quite a few poker players took time off from the 2010 World Series of Poker to head down there too, and we won't even begin to guess the number of people around the world who have watched the games on TV. Quite a few of us at PokerNews HQ aren't regular soccer football fans, but have been consumed by the matches, as well. In fact, the Germany-Spain game was on in the background while we wrote this.
PartyGaming has seen an unexpected dip in quarterly poker revenue recently and is pointing fingers at the World Cup. Since last month, the company is reporting a decrease of 11 to 13 percent (accounted for in Euros) since last quarter in its poker revenue and a dip in daily average players of 8 to 9 percent.
"We are pleased with the relatively robust performance of our business compared to many other consumer facing businesses in what remains a challenging economic environment. Overall the Group has performed in-line with expectations even though the adverse impact of the World Cup on our non-sports betting verticals was slightly greater than expected," Chief ExecutiveJim Ryan said.
The company is expecting total revenue to be up by about 28 percent compared to the same quarter in 2009. We're sure things will be back to normal after the World Cup final on Sunday.
EGRMagazine.com has more.
Red, White, and Black
Bodog.net hosted its World Series of Poker party on the Fourth of July. It wasn't red, white and blue inside PURE at Caesars Palace, however, it was red, white, and black. Gloria Balding takes you inside the velvet ropes for a peek of what you missed.
Be sure to follow us on Twitter for up-to-the-minute news and become a fan on Facebook.